The last Kindred Spirit gig of the year was a return to our semi-regular haunt the Cross Lances in Hounslow, which has played host to various duo and full band performances over the last couple of years.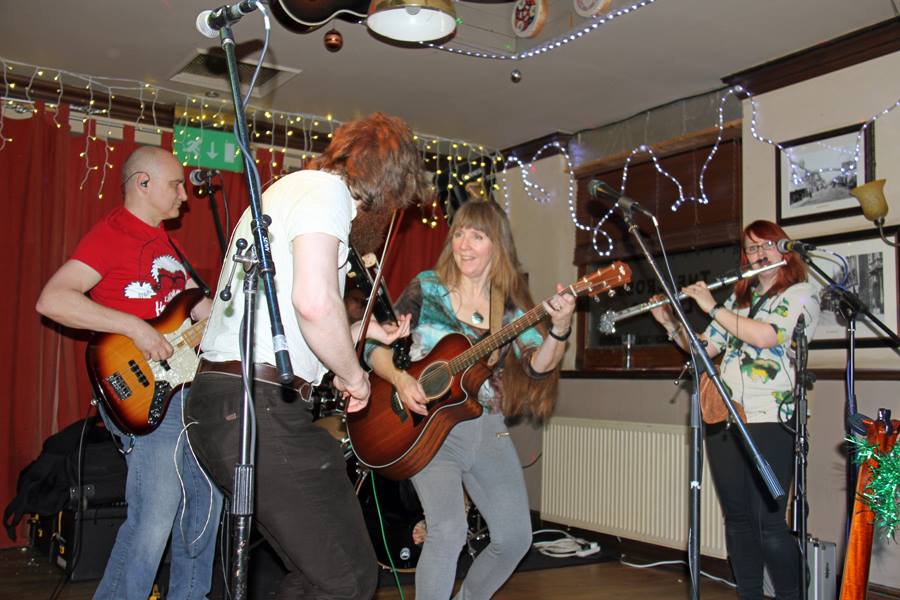 While we're now going to be hitting the rehearsal hours to polish up not-quite-finished songs, and perhaps work on a couple of completely new ones to make up the track list of the forthcoming album, Mike's comment that 'It helps having a few gigs close together' is very true; gigging is always much better rehearsal for a band than actually rehearsing, and we had got not only tighter but more intuitive and more relaxed onstage (both of which are harder achievements for a band with complex structures and quite a lot of improvisation!) over the December run of gigs. Next live date for the full band is currently back at the same venue in June, without me as I'll be off playing Barbra Streisand material (of which more anon); but I'm sure we'll improve on that. Elaine and I are next out as a duo tonight! at the Thames Court in Shepperton for New Year's Eve.
My last gig of the year with Giardino Strings, on 15 December, wasn't their last 2018 gig (a different lineup is doing a different new year event). However, it did call for a more literal kind of wrapping up! We were playing for the ceremonial wedding of two City analysts, one of Indian heritage, at a country house near Saxmundham – a very glam crowd, though I shall refrain from quoting the aspects of the groom's father's speech which suggested he either had a very deadpan sense of humour or was still living in the 1950s. In general this has been a very mild winter so far, but that day in Suffolk at least was bitterly cold and the female half of the quartet could be heard (from my seat in between them, I'm sure the guests didn't notice!) gasping every time the enormous door opposite us opened to admit some more arrivals. Even official photographs (clearly the most important part of any contemporary wedding) were taken in the hall rather than outside. David and I were doing fine in dinner jackets and bow ties; black dresses were proving less practical, and violinist Sabina (who was at this point between rehearsing and performing the gospel extravaganza described in the previous post with me, and must have been sick of the sight of me at the end of 3 days running playing together) was particularly suffering for her sartorial art.
Very few gigs are at a temperature that suits everyone. I was amused lately by a reliable source narrating that when crossover violinist Vanessa Mae tours, her tour manager has to go round the stage with a digital thermometer checking that it is a specified temperature (I can't remember the figure), or she will refuse to play. Musicians on my level can't afford to refuse to play more or less regardless of heat or cold, but would often like to! In general the men, suited up, stifle after a few minutes' vigorous forte allegro if it's anything from a normal room temperature upwards; and many women, in more or less formal / glamorous / non-covering outfits, are chilly most of the time but especially in long rests or slow movements. You'd be surprised how much of this remains true when there is a more relaxed, or no, dress code! Gender revenge is often enacted at orchestral jobs with an all-black (rather than black tie) code for men however, as a great many blokes then show up in shirt sleeves; a bad plan if performing in a largeish medieval, or even Victorian Gothic, church. I played one all-black concert in a theatre which came with the warning not to wear a jacket – this turned out to be good advice as the lighting was the old-fashioned incandescent theatre lights that might be better described as 'stage heating with added dazzle'. I can only remember one job saying 'all black, jackets encouraged', and I suspect that was on visual rather than comfort grounds; but perhaps if my fellow male orchestral players continue chronically naive, the hint should more often be given for their own preservation (or at least to restrict their vibrato to the intentional). I also did one choral-orchestral concert in Warminster where I think we were in the minster, and it was not warm at all; the soprano soloist took advantage of a full-skirted floor-length ballgown to keep her jeans on under it, which is certainly easier than trying to wear extra layers under a dinner suit and be able to play.
On that note, my notes on 2018's music-making are finally up to date. Startlingly, I have three gigs in the next week; after that, predictable January kicks in and I have no scheduled paid performances for three weeks. Time which I intend to spend living off busking and savings, and subjecting my housemates to viola and perhaps mandolin practice. Before you feel too sorry for them, they're both trumpeters.
See you next year …