Yes, I know, I'm about a month behind. Well, besides trying to make sure I have something music-related to do in January (gigging musician readers will appreciate how little of a joke that is), we can put that down to borderline self-destructive levels of busy in places and borderline medical levels of fatigue for much of the time in between. Hence, not much writing (and I apologise to anyone who may feel my Christmas efforts verge on the tokenistic this year – believe me that the effort they felt like they cost me has been anything but!).
Anyway, I was up to the weekend of 24/25 November, and this was one of the several weekends lately that took so much out of me I needed most of the following week to get myself together for, er, the next weekend's gigging.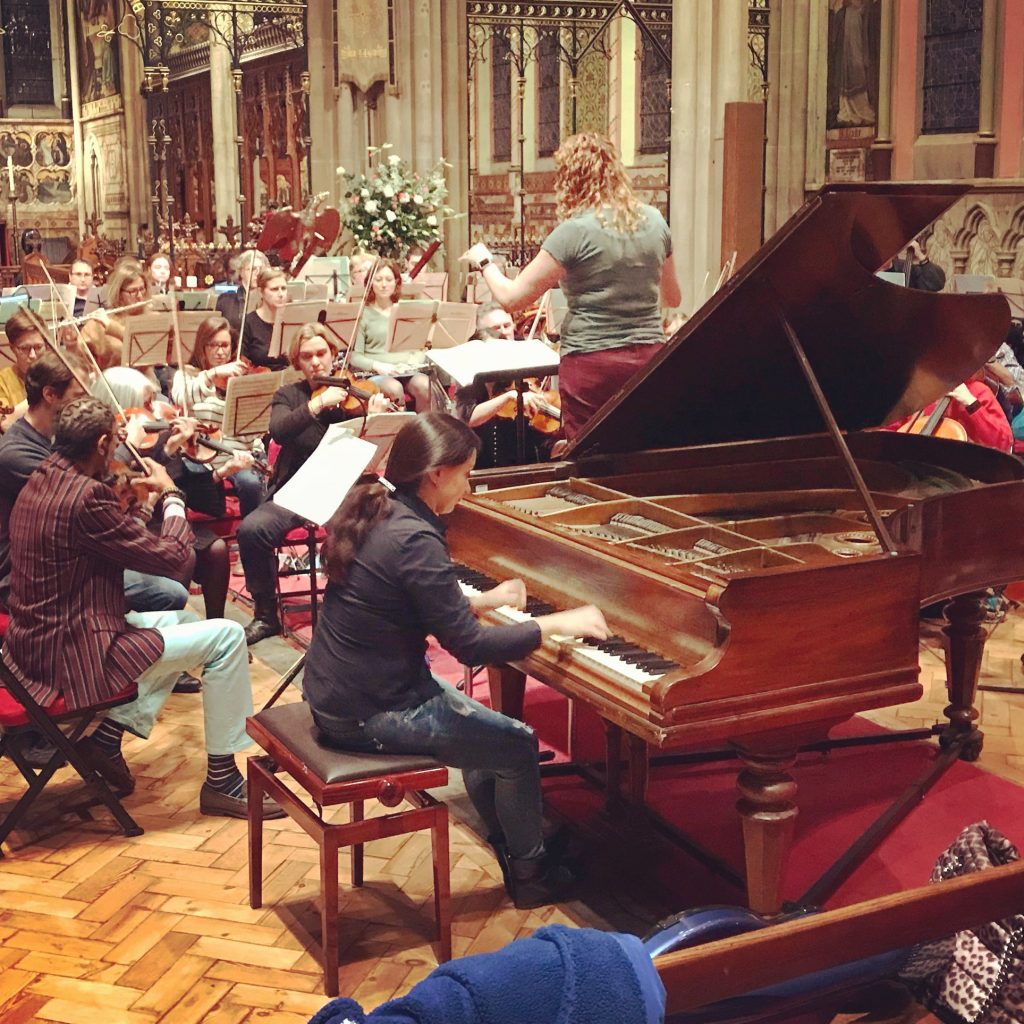 First up, Saturday afternoon / evening: final rehearsal and concert with local to my new-ish home amateur orchestra Harmony Sinfonia, who I've 'adopted' (partly as a bid to avoid feeling I had no roots whatsoever in and around Lee when I moved here from about 140° round London). So for once not an on-the-day-only 'bump' job; I had actually been to about half the rehearsals for this concert. Though the ones I had missed, and a certain sense that Shostakovich's 9th symphony was the real challenge of the programme, did mean I sight-read several substantial chunks of the viola part to Rachmaninov's 2nd piano concerto the previous Wednesday; the only rehearsal prior to concert day with soloist Dinara Klinton. Apparently the orchestra have worked with her before, but nonetheless she (all about 5'2″ and girlishly built of her, the sort of person offstage I feel slightly scared I might trip over without realising, but a both monumental and headlong pianistic presence) drove all of the concerto along at significantly faster paces than we had rehearsed it – not only too quickly for the camera, above, to freeze her fingers in flight but also straining our conductor's ability to follow the solo part in full score; in fairness from the size of conductor's score staves and the busyness of much of the figuration, I imagine Rachmaninov concerto parts rather resemble the trail of a millipede that has got drunk, fallen into a bottle of black ink and then managed to climb out again.
Past concerts have apparently been disappointing in terms of audience turnout; we certainly couldn't make that complaint this time: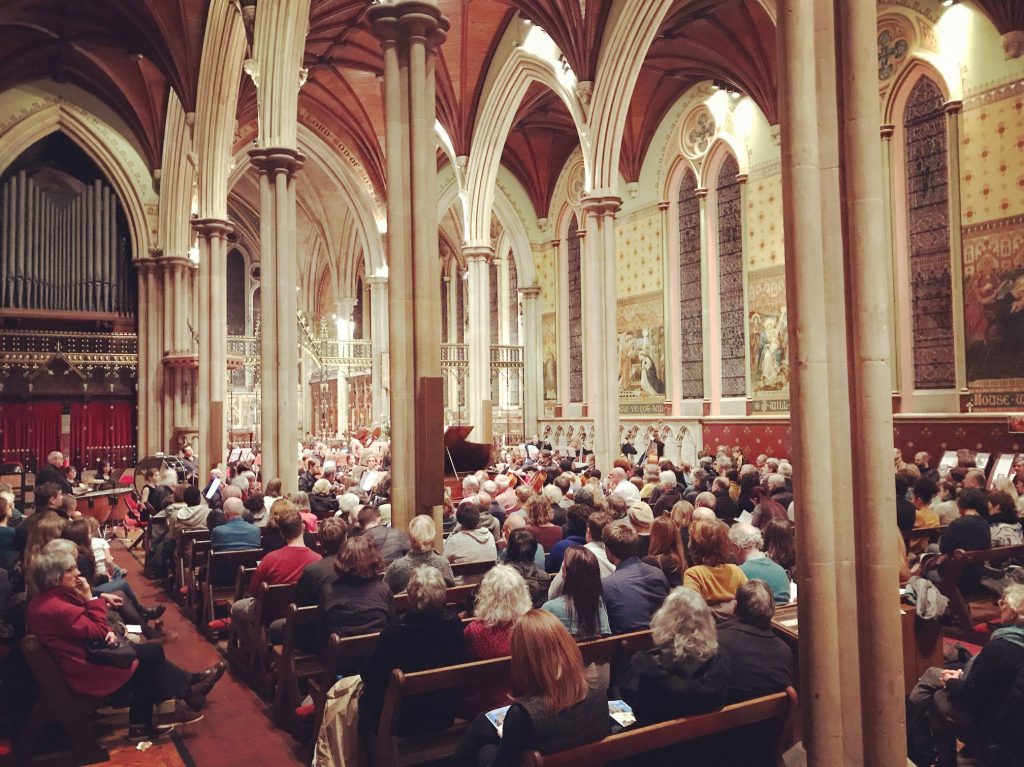 the neo-Gothic / Oxford Movement barn of St Margaret's, Lee Terrace being as near full as it can really get without putting in a mezzanine floor. What was done differently that tipped the balance has not yet been ascertained definitely enough to be shared with the membership, though not clashing with the England men's football team's first World Cup quarter-final in decades probably helped. Either way, while the monumental provision of cake comfortably held out, and no church premises are yet known to have run out of tea (this seems to be one of those less-investigated rules of matter, like the gravitational attraction of rain clouds towards English barbecues), the turnout did succeed in entirely draining the stock of wine by about halfway through the deliberately extended interval.
Afterwards the audience were much too busy being impressed by Dinara (or the wine and cake?) to worry about occasional slips of orchestral timing (and the conductor and front desks of strings were conveniently hidden behind the piano lid, making responding grimaces invisible). The orchestra acquitted themselves extremely well in the Shostakovich, and newly appointed (to the new post of) assistant conductor Sophie Carville equally did so in Borodin's 'In the Steppes of Central Asia' – if she could do with searching for a silent way of shushing the cellos, well, all those of us who work in orchestral music find ourselves regularly frustrated by not possessing a means to quiet some section or other. Compositionally, incidentally, and having travelled to the outskirts of central Asia, I would want to suggest that the only problem with Borodin's piece is that too much happens – but given the reminder numbers of how many bars of 'rest-plunk-rest-plunk' (on the same note) the violas have played at one point reach towards 20, perhaps artistic creativity should be preferred over depictive accuracy.
Having fuelled up (by the standards of a type 1 diabetic) on cake and coffee in the aforementioned extended refreshment break / interval, I packed up as quickly as humanly possible and hurried off to get a bus, a Docklands Light Railway train and another DLR, taking me to Stratford. Where it took me quite some time to find the right bus stop for my remaining bus, and a fair while of waiting in a freezing gale before it showed up to take me to gig 2 of the weekend.
A first for me and a first in its own right, this was a celebration night seeking to be as little like clubbing as possible; marking the full moon, run by a self-identifying Wicca, with UV face paint, dress code: yourself, bring your own booze and some fantastic-smelling aromatherapy candles in the chillout room. My role, a new one as I say, was the not so unusual one of freestyling electric violin over DJ (or in this case playlist) – so all the work is improvisation, and 'finding' each track by ear; a long way from the sheet music of my classical and hymnody roots! It is certainly a testimony that the very laid-back and friendly punters were impressed with what I was doing; it could have got messy when one musically-inclined reveller took over control of the music choice in a bid to stretch what I / we could do, but fortunately I think it only got interesting in a good sense.
Oddly enough, the Sacred Moon Party is repeating at lunar month intervals; the next is in early January (when, let's face it, there's nothing else on), so if you're near Hackney I highly recommend coming down, if only to watch me walk on a musical tightrope again (and for those scented candles): https://www.facebook.com/events/593211764482028/
One respect in which this wasn't that far off the club night it emphatically was not, was the running hours; I got there by 9 I think, things really started picking up well after that, and I didn't get away till certainly gone 2am. Even with Stratford within if-needs-must walking distance (a good half an hour I think) and the Jubilee line through the night at weekends, I resorted to Uber (apologies to black cab drivers) for the leg home from Greenwich. Priorities must be picked sometimes.
On Sunday 25th, I had to get up within the morning in order to meet a fellow violist and travel to a choral society rehearsal and concert in Essex. (Sunday concerts seem to be a rising trend for amateur ensembles, vocal and instrumental; inasmuch as it means I can work on Saturday and Sunday nights (sometimes Friday too) it increases earning potential, but does add to the sense of a seven-day job.) I was in fact woken somewhat earlier than I had intended to stir, having had something like 6 hours' sleep (and I am FAR too well into middle age for working on that much) by a phone call from the conductor. Intended to check that I was travelling with Catriona, this conversation rapidly revealed that he had mistaken her use of Tina as a contraction for another player and was therefore even more pressingly short of a violinist after the latest in a succession of dropouts (I think yet another occurred in the following couple of hours). I eventually managed to find him another, but not before I had secured and then had to drop someone by putting the wrong place in my advert. See? I should not work on 6 hours' sleep.
The concert itself (once we had penetrated to the depths of rural winding roads in the midst of which the village was found) posed me challenges in its own right regardless of sleep deprivation. The main item, making up one half, was Fauré's Requiem. Choral aficionados will be aware that this was originally written for the Paris church of which the composer was organist and musical director, for choir, a couple of vocal soloists, and a rather unusually balanced small orchestra. When its reputation spread after a handful of uses in large funerals, Fauré's publisher (back in the days when publishers of classical music expected both to make a profit on the business and to be able to shape the music towards profitability) persuaded him firstly to publish it, and secondly that it would be a much safer bet commercially to orchestrate it for conventional forces. This version was the only one available for about 80 years, until John Rutter (himself a not accidentally commercially successful composer of church music) reconstructed something like the original. This version has gained substantial popularity; indeed by now I would say it has displaced the revised one as a performing edition. It calls for organ, harp, two horns, a solo violin obbligato, double basses, and violas and cellos each divided into two sections.
The numerically astute will realise this creates problems for concert planners who do not possess a superfluity of cash for players. The solution, or at least amelioration, has generally lain in securing several violin-viola doublers who can play viola for the Requiem, and violin in something more conventionally scored. So it was in this case, and I was of course forewarned to bring both instruments. So far, so moderately challenging, but I have used both in the same performance before, even if not generally classical ones (where the issues of getting my left hand to readjust to play both in tune are somewhat amplified).
However, the wisdom of the organisers had decreed that when I was playing violin, I should lead the second violin section. Section of all of three people, nothing really to get worked up about there. Except that a substantial work by one George Dyson (no, not the hoover / hand dryer / apparently magical fan bloke) called for string orchestra plus solo string quartet; and I had been allocated, by logical extension, the second violin part in said quartet. And I knew nothing of this – had never even heard of the composer – until I arrived and was handed my stack of music. Dyson, I should say, at least in this piece, favours a rather Vaughan Williams-esque line of harmony, with semi-modal (I had nearly said quasi-modal, but the effect is certainly not ugly) tonalities and added-note chords that make it quite possible to think you are on the right note when you are actually one degree of the scale out … Suffice to say that while I believe I did a perfectly creditable job in the concert, I did have to both spend a little time in breaks working out how to tackle some of the part and attract some attention for the seeming pretension of needing to warm up on the applicable instrument before each half – a genuine necessity to make sure my pitching was going to be reliable, since at no point did I have anywhere to hide!
I should issue a vote of thanks to Felsted Choral Society, however. Orchestral bookings involving (only) an afternoon rehearsal and an evening concert are extremely common. Generally, the hired hands are left to fend for themselves in the gap (often while the local players / singers go home for some time, have dinner and change into concert gear, and the 'bumpers' change in church hall toilets and eat at Starbucks faute de mieux). I have at least once before seen the orchestra provided with a cold buffet between rehearsal and concert, which is a grand improvement over having to seek out what can be found; but Felsted definitely win my approval for having booked a pub room for us and block ordered fish and chips in advance (with check, and catering, for vegetarians, naturally). Of course, ultimately this is factored into what fee the client can afford to offer; but it is a much appreciated gesture and makes what are often complicated and uncertain days that little bit easier. Feed your musicians, please!
And episode x+1? Oh, that definitely needs another post.