Sleep when you can; eat when you can. Instructions for emergency medics and the military. Musicians have one more: Work when work is available. Here's five days of going to bed late, getting up early and never working the same hours two days running:
Thursday 8 November
Leave the house early afternoon for a rendezvous on one of the many other sides of London at 3:20. Quartet of Giardino Strings travelling from there to a military base to play for a function dinner. Before we've cleared London, the leader's car blows a front tyre, and it turns out the other one has a puncture too. Not only do Ford Galaxies not come with spare wheels (apparently this is now an optional extra!), but it seems their tyres are a funny size or hard to get hold of, as we only succeed in finding somewhere that has the right ones on the third try. This unsurprisingly absorbs most of the contingency time. Then there is a multi-car crash in front of us on the M11, further delaying the journey and leading to some rather testy text messages from the clients about when we are actually going to arrive. A very quick setup and ready to go, all of us I think struggling a little to get into musician focus after the journey saga. However, the sergeants and warrant officers of this particular REME unit seem to thoroughly enjoy what we do and only wish they could have more of it. Departure somewhat delayed by trying to fit removing equipment and packing up around speeches and toasts, eventually getting everything out as the assembled blokes are starting on what appears to be a team drinking game based on the old TV show Gladiators. Glad I didn't have to actually witness that being played. Journey home much more trouble-free, but still not in bed till gone 2am.
Friday 9 November
Out of the house before quarter to ten (on about 6 hours' sleep, as breakfast, showering and meditation are all arguably more important than an extra half hour in bed when you have type 1 diabetes and clinical depression) to get to an advance soundcheck for an event at the tail end of this month in Hackney. Sadly access issues (bluntly: another event's organisers ran off with the key) mean it becomes a meeting and the soundcheck itself will have to wait; however, sounds like a really great concept. No time to go home between engagements, so electric and acoustic violins and assorted other gear travel on via lunch on the hoof to a rehearsal for an orchestral flashmob with Top Secret Agent and – I last saw him about 14 hours ago – David Giardino. That finishes at 4; I've spent longer out of the house than I did in bed, quite a lot of it on my feet, by the time I get home.
Saturday 10 November
Morning available to do other things for a rare change. Then out before 12 to get a succession of trains taking me to Reading, and then a bus to the university campus. Bumping viola section in a light and magic themed concert including a short tone poem entitled 'Song Under the Stars' by a composer I haven't heard of (it turns out to be more or less a diversity decision having committed to 50/50 male and female composers, evidently on number of titles not running time! Nice enough but decidedly lightweight piece); the Nutcracker suite; and the concert suite from John Williams' score to the first Harry Potter film. (Williams concert suites have definitely caught on in recent years – I played the Star Wars one a good decade ago – and for my money they are as musically substantial as many of the concert suites put together out of ballets, operas and theatre incidental music by 'canonical' composers; but concert organisers need to realise their ambitions, and their demands on the players, are analogous to the latter, not to children's orchestra film medleys!) Some other pieces for winds only (the tone poem is for strings), including oddly the entire Peer Gynt suite (#1); however it turns out on arrival we are only actually playing one movement of the Nutcracker. It also turns out the viola 'section' consists of one player actually a member of the ensemble, and two hired extras including myself; and a substantial number of the items on the very detailed performer briefing never take place. However the university-based community music organisation have managed to sell a good couple of hundred tickets; I wish the same could be reliably achieved for the amateur orchestras I know playing arguably better music to an indisputably higher standard! A 2:30 rehearsal and 5–6 concert (very short!) at least mean I get home early and can have an early night.
Sunday 11 November
Up early again, and on my first train of the day at one minute to eight. This time I'm headed to Hatfield and (via one of the most circuitous bus routes I've ever experienced, which is saying something) to the University of Hertfordshire. The de Havilland Philharmonic Orchestra who have booked me to (again) strengthen the violas turn out not to be a university orchestra as such, but more of a high-standard amateur orchestra in residence. This is my first booking through MAS, and so at least represents starting to get return on the investment of the subscription, though I will have to get another booking this quarter to come out in profit – the fee is good for bumping an amateur section, but some way short of the union rates I'm hoping to get from that connection. A programme of composers who were at the front in WW1: Butterworth's Banks of Green Willow, a subtle piece that undercuts its overt gestures towards innocent English pastoral with dark twists perhaps suggesting something was rotten in the state of the 1913 England in which it was written (Butterworth would be killed on active service in 1916). Ivor Gurney's Gloucestershire Rhapsody arguably a more straightforward piece of post-Elgar Albion music, and I agree with today's conductor a less finished piece of art (Gurney survived the war, including being shot and gassed, but the experience probably heightened existing bipolar disorder which eventually led to him being confined to a lunatic asylum). From Vaughan Williams, The Lark Ascending which requires no introduction and the third symphony, the so-called Pastoral – but a response to the war and intended to evoke more of the eerily silent fields of immediately post-war France and Belgium than England in the springtime (RVW was, at 42 in 1914, too old for the army but signed up to drive ambulances instead and did so throughout the war).
I have been wearing a white poppy for a few Novembers now, having grown increasingly uncomfortable with the interpretations some people place upon the red one – this is not the place to discuss that subject in detail. I'm slightly irked, therefore, by the message that everyone playing has been asked to wear a (read: red) poppy for this concert. I go and buy one specially, while feeling that the possibility of ordaining they be worn is precisely among the things that make me ambivalent about them.
Each movement of the symphony is preceded by a WW1 poem and accompanied by a live painting (carried out from where a concerto soloist would be, next to the conductor, with a video camera streaming to a screen at the back of the stage). The painting evidently strikes a lot of people; it is impressive work, but I would have to say my old Oxford friend Merlin Porter does this sort of thing with more responsiveness to immediate surroundings, more 'liveness' so to speak: the four finished products here are certainly finished, but seem more like illustrations to the poems than engagements with the music. The choice of poems rather goes with the required poppies: Brooke's The Soldier ('If I should die, think only this of me … ') to start, Macrae's In Flanders Field (the poppies grow … ') to end, in between a simple, heartfelt but rather sentimental piece by a horse-handling NCO to the effect that he would rather go to Hell with his horses than to Heaven without them, and another I forget. No Wilfred Owen or Siegfried Sassoon, and so none of the more hard-hitting or descriptive poetry written out of experience of the front (it is no fault of Rupert Brooke that he died of illness before reaching the conflict zone, but it should be considered in reading his poetry; it is not the same kind of 'war poetry' as that of those on active service); it felt somewhat unbalanced, somewhat inclined to whitewash.
A 10:30 rehearsal and 3pm concert, so not too late a return home though a substantial journey once again (Sunday trains both slower and less frequent than those with no choice but to use them would like).
Monday 12 November
Again, not working in the morning. However, plans to achieve anything more than food shopping and paying in the cheque for yesterday's job are stymied by sheer inability to move – in this instance as in around half (this happens far too often for my peace of mind) not unable to get out of bed or wake up but to stay out and awake. Hasty late lunch then out to St Pancras station for the orchestral flashmob rehearsed on Friday.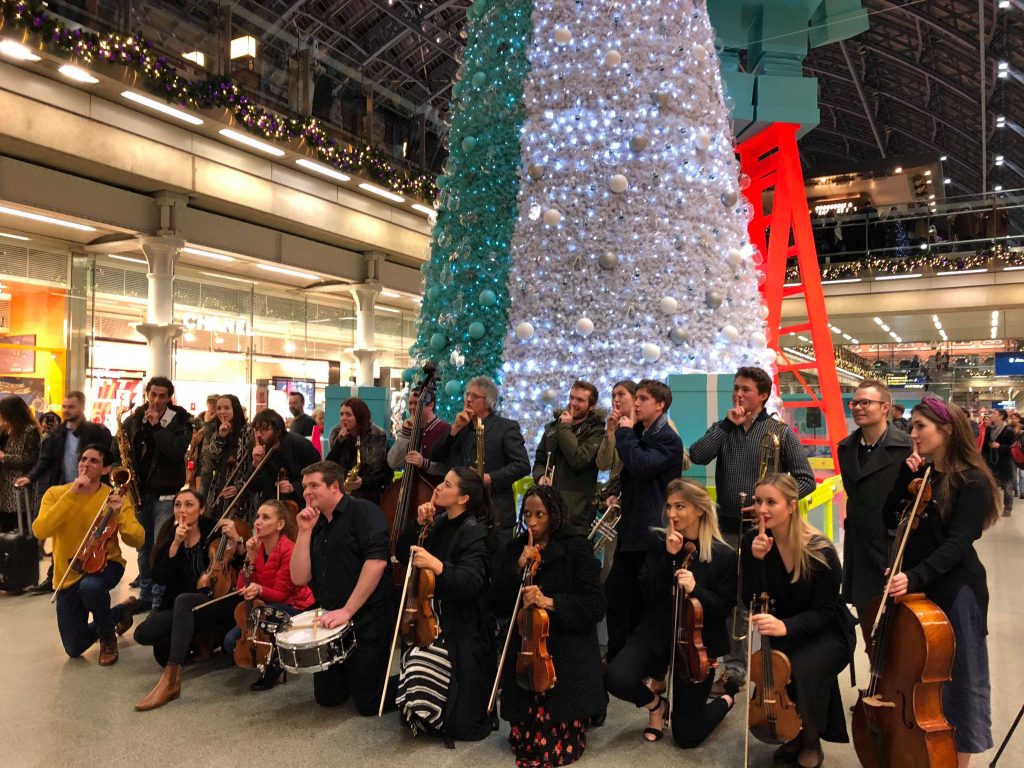 These events always involve a lot of walking through and standing around immediately beforehand (the standing around is comparable to a video shoot, but of course it is all building up to a five-minute performance!). This one seems to be particularly disorganisation-prone: the station staff, who have to give us security approval and safety briefing, were expecting one person not 20 musicians and a video and audio crew that must have been another 8 or 10; they also agreed to move one of the public pianos into a more useful place for us, but it is still chained to a handrail when we arrive, but gets moved after movements have been choreographed and walked through based on its normal position; a hotel room has been booked to use as a green room, but the hotel staff were expecting 6 people and get more than triple that many; the sound team have changed their minds from putting pickups and wireless belt packs on every player to acoustic sound and documentary-type mikes for recording on the afternoon of the event. Notwithstanding, we are able to (eventually!) sort out expected 'choreography' and clear out of the space before the arrival of numerous VIP-type guests of Tiffany's, who are sponsoring the station Christmas tree and lights this year – we are playing for the lights switch-on and however many passing train passengers guess something is going on, the party of 'influencers', Tiffany's management, etc. in a champagne bar above the concourse must not be forewarned! We are too far away to know what they are thinking, but the passing public mostly seem enthused and the photographers certainly love it.
(Tiffany's, incidentally, insisted on no branding of any kind and no visible jewellery of any kind on performers for this. They also have a pop-up shop next to the (white and sort of teal-coloured and utterly un-tree-like) Christmas tree with the slogan 'The holidays, by Tiffany's', illustrating the common fallacy that the US and the UK have a common set of cultural references: in the US, where most people get 10 days' leave a year and many do not take all of that, 'holidays' signifies Christmas (perhaps when there are most bank holidays? I don't know); in the UK, where it's very much the norm to take substantial time off in the summer and go away for at least a week, and children generally spend the long school holiday with their families not away at camp while their parents carry on working, 'holidays' tends to imply summer, which is not the association the company were going for!)
The flashmob was at about 7:15; it lasted a literal 5 minutes or so, but by the time we have done extra photos, packed up and I've got home, what remains of the evening ends up being taken up by admin required by emails and messages received while I was kicking around St Pancras with only a phone to work on.
The remainder of this week only involves busking and rehearsals, until Saturday when Kindred Spirit venture into north Wales for a late-season prog-rock festival (I'm personally so glad the accommodation comes as chalets, not under canvas as for so many of the summer's festival gigs). More unusual doings next week too!