Or the never-stopping tour bus …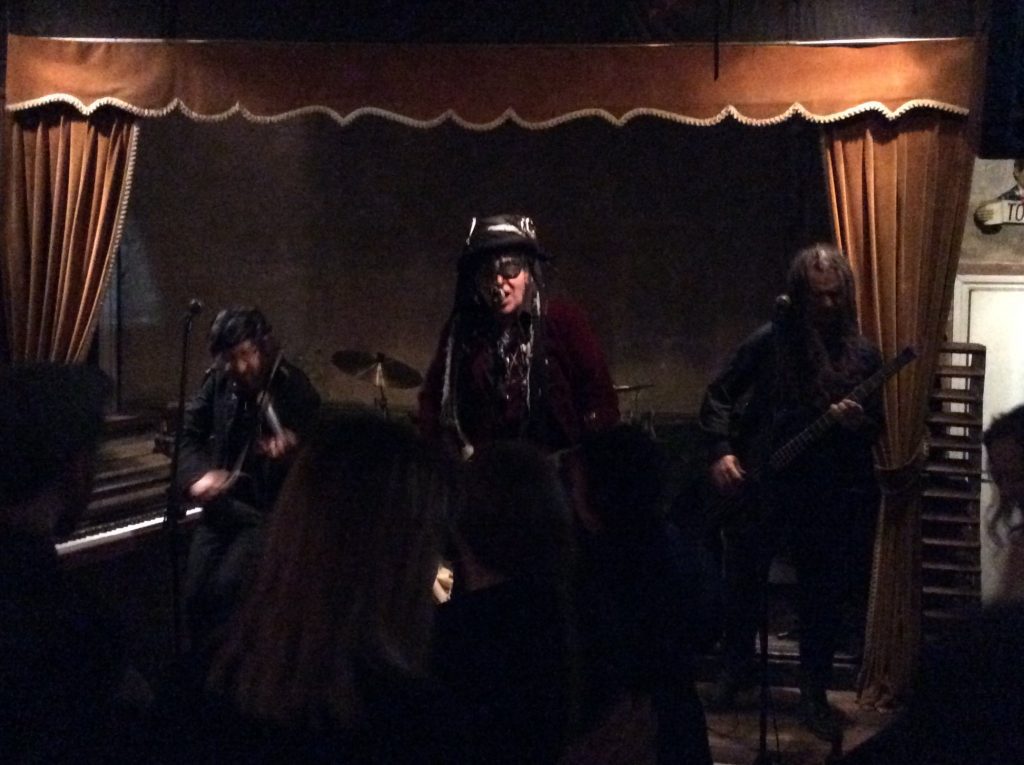 Familiar territory Friday night, The Filthy Spectacula headlining Jamboree with the Swamp Stomp String Band supporting – all of which has happened before. Which isn't to say that we didn't kick 2018's gig schedule off with a bang. Jake and George's high-energy 'fake hillbilly' act is one of the few on the London circuit that can compete with us for sheer energy, fooling around (not even we dare stand on each other's instruments, though none of us plays anything quite as practical to stand on as double bass) and songs about alcoholic excess and death, and Jamboree can always be counted on for an enthusiastic response and a good number of dancers. We hope to see you all again!
Next gig for me (barring busking spots) doesn't come up till the weekend after next, when the duo form of Kindred Spirit return to the Cross Lances in Hounslow (after two gigs there as the full quintet). To keep up to date on forthcoming performances, see the list (now kept comprehensively up-to-date) on the home page.
A fortnight between gigs doesn't mean a slow start to the year though:
The Filthy Spectacula are auditioning new bassists (as the Dreadful Helmsman's departure for a more settled West Country homeowner existence is imminent), and starting to lay plans for our second album.
Kindred Spirit are going into the studio, for the first time since I joined, in just a couple of weeks; arrangements (including some tasty string section overdubs) are nearly finalised and perhaps the biggest question at the moment is whether the 7 tracks we've prepared will be a standalone download or the backbone of a full CD album.
Gratifyingly to my sense of classical viola career progression, I'm booked in for another performance with the Lincolnshire Chamber Orchestra, accompanying Louth Choral Society in a programme including Fauré's Requiem
I'm finally learning to drive! Should save a lot of money and inconvenience on out-of-town or simply late-night gigs, and open up more options for weddings and other 'site' performances that aren't in urban areas.
So watch this space …