Big thank you to everyone* who tuned in to Martin Ash Music Lockdown Livestream 2 on Tuesday. I believe you can watch it back at https://www.twitch.tv/martinashmusic/ until 2 weeks after it was 'broadcast'.
(*except for someone using the username 'arekkusuwow' who was only interested as long as s/he could (implausibly) argue the stream was pre-recorded. I didn't know livestream trolls were a thing … )
So here's the next in the series!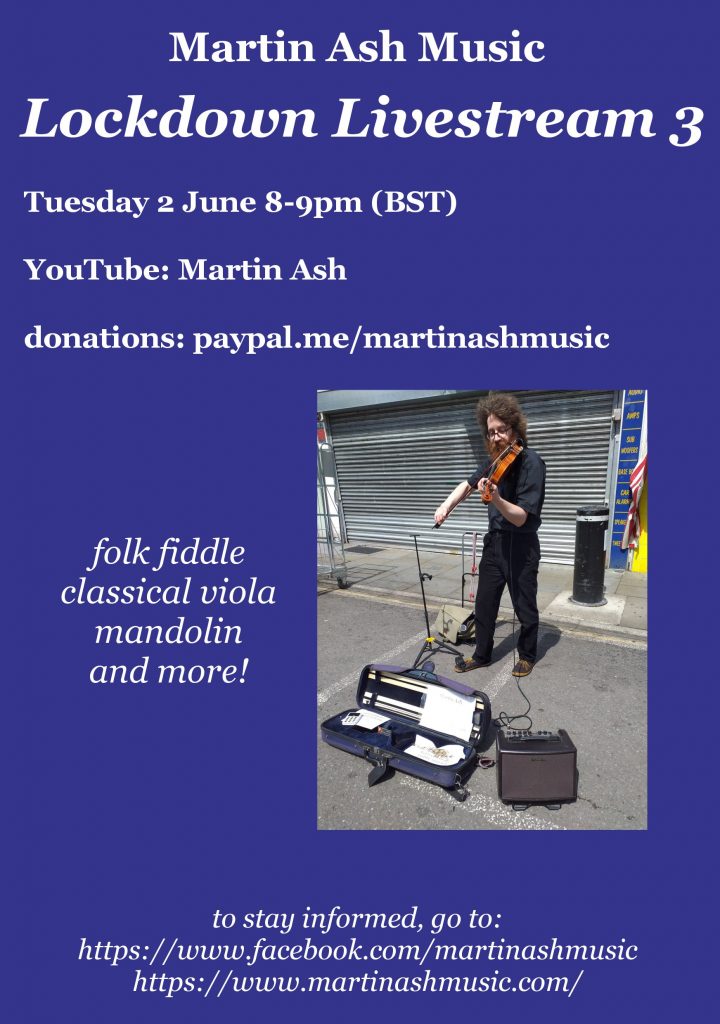 This one will be on my YouTube channel, https://www.youtube.com/channel/UCgi190Hw0K7Yd_F9ZEZ-fwQ
This week's programme includes jigs and reels, polkas, an old-time waltz, Bach and Telemann and an Americana folk-club singalong finale, so get it in your diaries, ready your PayPal accounts and see you there!
Plus advance notice: the plan for the Zoom and ReAttendance streams on 16 & 23 June, if I go ahead with doing them, is to give the passwords and also one request for the programme – can be anything you want to hear me do! – to everyone who sends £5 in advance with a covering message with their contact detail and request. You've got two more 'virtual coins in the virtual violin case' streams to gather inspiration, so get your thinking caps on!