I'm still slightly unable to believe the scale of response to my first livestream on Tuesday night, both in terms of appreciation and tipping. (If you haven't seen it yet, by the way, you can still catch up with it as a Facebook video.)
But I have another five planned, so I'm definitely in this for the medium haul at least!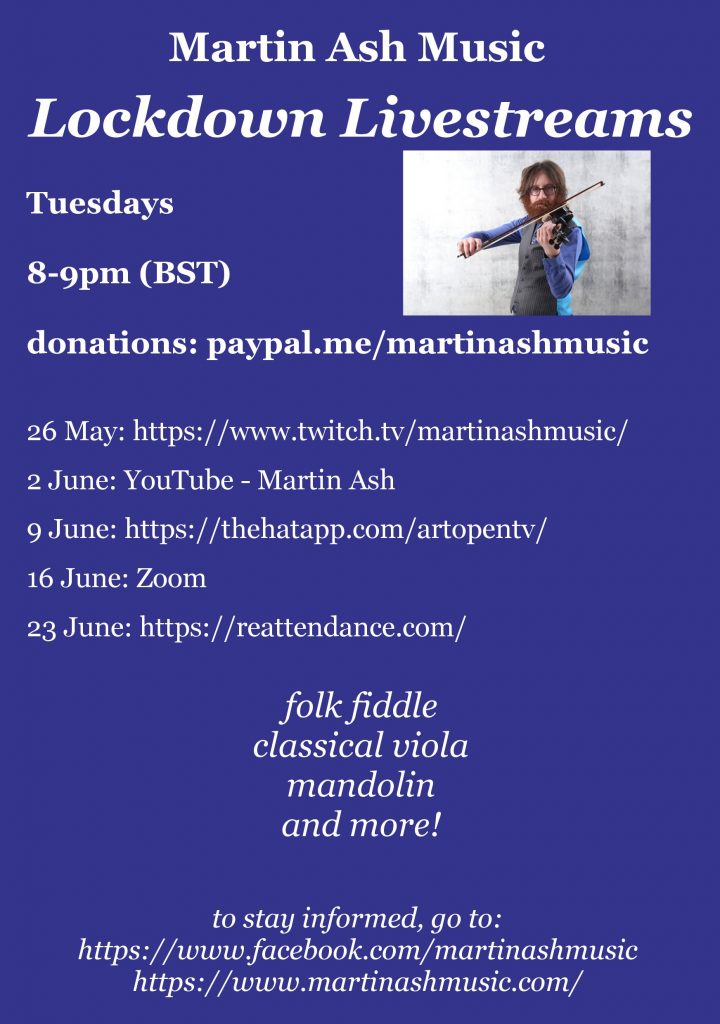 The next one is going to be on dedicated streaming platform Twitch, and I'm hoping it will deliver similarly good results in terms of quality to what some of my musician friends have been getting out of it. Twitch is free, and you don't need an account to watch, but you might want to set one up so you can join in the chat box and otherwise interact during the gig!
I did discover through the first livestream you do need a PayPal account to tip me via the link on the flyer, but I haven't yet found a web payment channel that doesn't require the person paying to either have PayPal or set up an account with their card details; so for now I'll keep pointing you to paypal.me/martinashmusic, though if you already have any other means of subsidising my music-making you are of course welcome to use them too!
Besides getting 8-9pm (British 'Summer' Time!) this Tuesday at https://www.twitch.tv/martinashmusic/ in your diaries, I wanted to give you a heads-up about the last two dates confirmed for now: 16 June on Zoom and 23 June on ReAttendance. These will be different to the previous ones, as I'm doing them on a 'ticketed request' model. So you'll need to send me a minimum of £5 (of course you can choose to pay me!) and an email address or other contact detail to get a password for each event; and with access to the livestream you automatically get to request one number (yes, it can be anything! I'll do my best … ) for the performance. I haven't specified finish times for those yet in case I get so many requests I need longer than an hour to do them all …
So get your thinking caps on about requests and consider making an early purchase in the ticketed gigs; and for the moment see you on Twitch on Tuesday!