…my new band, Finezza Strings!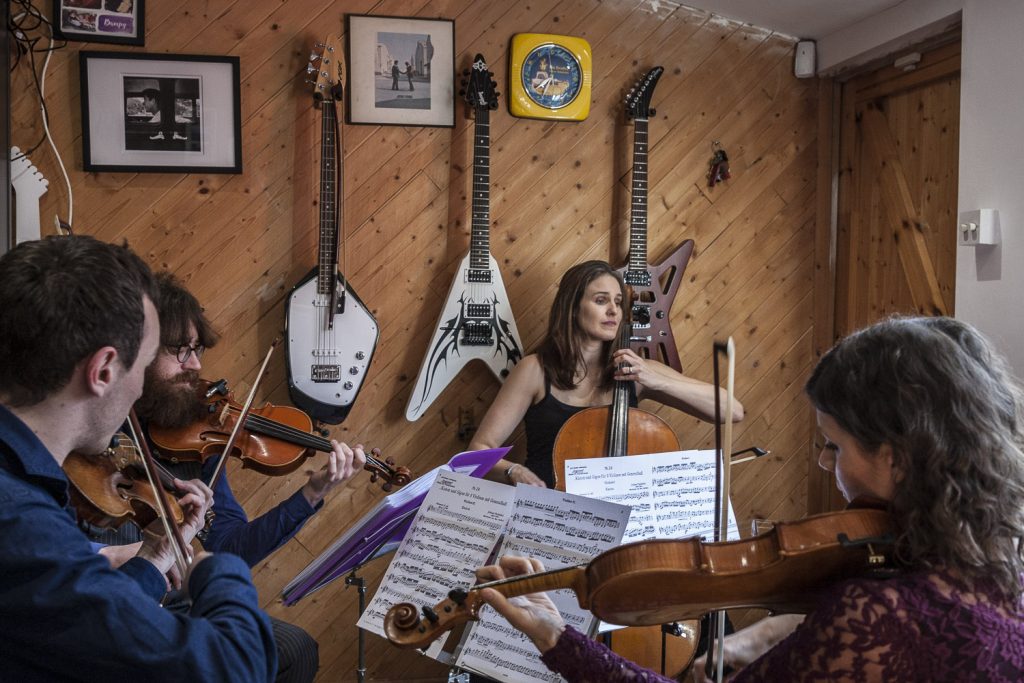 Not my baby as a project (that would be Hannah, cello and concentration face above), though I've been involved sourcing music, editing website copy, brainstorming and eating 'business meeting' curry and falafel as well as playing. But certainly a major new feature on my musical / professional landscape.
We are a chamber group, able to work as anything from a duo up to an octet (double quartet), though most bookings will probably be as a quartet (which means we can send regular members if someone is already booked, rather than being dependent on deps if four diaries don't align for the event date). While functions and weddings will be the commercial backbone, we are keen to play 'real' chamber music in a concert environment as well, and discussions have tentatively begun about possibilities like exploring some of the piano plus strings repertoire.
I spent a thoroughly enjoyable January morning (it was freezing outside but thankfully not in the studio) with the group and engineer / producer Kim Halliday (highly recommended by the way, technically and as an all-round generous and lovely person), recording and filming promo material for our function showreel. When that's finished editing we'll launch the website (mostly already built), but for now you can keep up to date by liking and following our Facebook page: https://www.facebook.com/finezzastrings
For the more social media keen than I, I'm assured Twitter and Instagram feeds are also imminent!
Musically it might seem like I'm stretching a point to talk up a wedding quartet showreel, but having played a number of weddings with a number of quartets this did really feel out of the ordinary in terms of sheer class of delivery. Pachelbel's much-derided and abused Canon actually sounded like Baroque music (dare I say abandoning arrangements in favour of me swapping from viola to violin may have helped reduce the usual gloopiness?); the Meditation from Massenet's Thaïs would not have sounded out of place on the concert platform (all credit to Marian Givens, first violin for this session, since this piece is very much a violin solo with accompaniment nobody really notices or remembers); and I could practically see the lighters waving in Elbow's 'One Day Like This'. Once the website goes live, a look through the biogs other than mine might well explain why this was musically a cut above much of my function quartet experience! In the meantime, we await your call (or Facebook message) to demonstrate our abilities for real …