For the last five evenings, and tonight still to come, my workplace has been the Questors Theatre Studio in Ealing. Musical engagements rarely last that long, so it won't take much guessing to know I'm playing for a musical: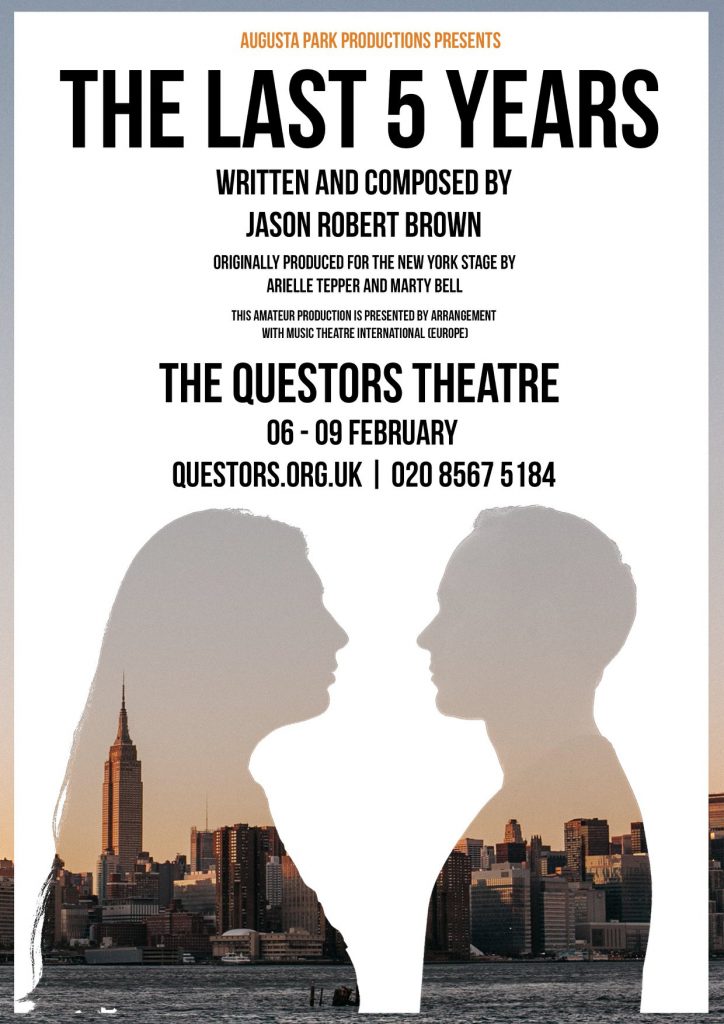 A rather unconventional one however.
The Last Five Years is a two-hander, the halves of a couple. Jamie's timeline moves straightforwardly enough forward through the relationship; Kathy's backwards, from separation to first date. They only get one actual duet, in the middle of the show, though in some other numbers one is talking in gaps between the other's singing (and they are where their timeline has got up to, not at the same point – even from the band, this is a tad confusing!). That minimal cast are accompanied by a small and unusually-textured band for musical theatre: piano, guitar, bass guitar, violin, two cellos. The show is of course being MD'd from the piano, directing from the keyboard appearing to be as normative in the theatre today as it was in the concert hall in the eighteenth century.
Stylistically, there's a lot less of the Broadway grand gesture too, with punch lent by Latin, rock-n-roll and piano-led gospel-funk styles, humour from Sinatra-and-Basie swing (seriously, I'm sat next to the guitarist and his part is marked 'à la Freddie Green'), mannered pseudo-klezmer (Jamie is Jewish) and country, and emotion from an unexpected near-Riverdance minor key gig, some surprisingly artful referencing of 'Jesu, Joy of Man's Desiring' and an all-too-rare ability to handle recitative-like singing and drone / pedal point-based rather than chord progression-derived harmonic structure. All six instrumentalists are worked hard though (I wish someone censor telling orchestrators about false harmonics, and make double stops sound a lot more difficult), and there is of course musically nowhere to hide with such small forces. Visually too in this case as we're located at back of stage in plain view of the audience (though at least as the run's progressed I've been able to watch bits of the show in some of my rests, themselves much shorter than usual in pit work!).
What with this and renewed recent work on the Streisand show (see previous post), my violin technique has been unusually thoroughly drilled lately! However, back to more familiar territory soon as I learn a few more Irish covers and fiddle tunes for a wedding at the start of March – and they should hopefully be free from harmonics, double stops, awkward key signatures and tricky rubato timings, though not necessarily from extended fluid runs of fast notes!