Some people (mostly either outside the music business, or who play their own non-classical material and rarely make much money at it) still refer to what I do as being a 'session musician'. It's very rarely true; recording has ceased to generally be profitable with the advent of downloading and streaming (yes, this is the reason even DJs now do stadium tours) and so the budgets and work are mostly in live, except for a few people who got in with the right other people and now certainly aren't keen to give up any work to anyone else. However, towards the end of November I was on a rare paid recording session job.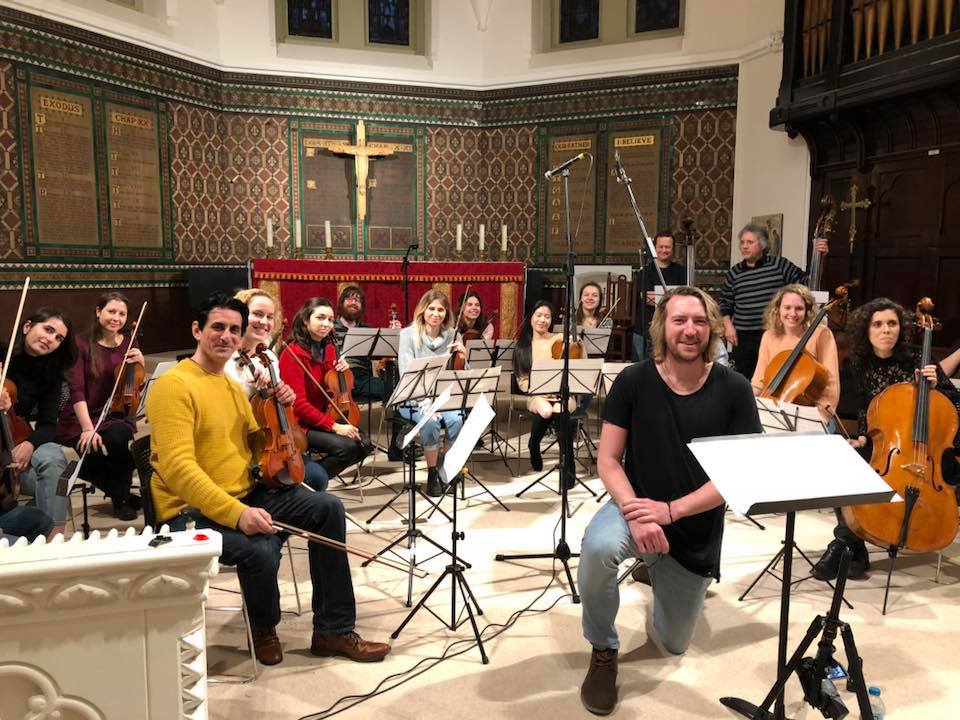 We were recording string orchestra scores that were going to become bedrocks (presumably as there were no click or rhythm tracks) for parts of Phil Braithwaite's solo album (yes, the guy not holding an instrument above. How did you guess?); apparently a side-project from mainly working as Vanessa Mae's touring guitarist. This session became rather illustrative of several battlegrounds in how the music industry / putting music in front of a public works, or doesn't work, at present.
You can't see this from the photo above, but the entire session was in fact filmed, presumably for insertion into music videos and/or behind-the-scenes making-of documentary-type footage, probably for YouTube. Not only were there several cameras overlooking the whole group, but there were also a couple of GoPros on players' music stands (changing places between takes, of course), and during the numerous and extended breaks some of the film team were wandering around taking artsy panning shots of things like instruments left in open cases. My only personal objection is that this could be a little distracting (somewhat to my surprise, I hated having the GoPro on my stand and definitely played worse than the rest of the session), and we did actually sacrifice a noticeable, though ultimately not critical, amount of audio recording time to video setup, camera battery changes, etc. etc.
Is this common? Yes, absolutely, though it's fairly recent. The internet / digital era has brought about a particularly intense desire to experience everything in visual form, not audio alone, and also rewards having lots of spin-off content to drip-feed and tease and remind your audience you're there frequently, rather than unveiling the main act out of nowhere. So an awful lot of recording time is filmed, friends who work in studios confirm. Those of us who aren't very visual and so don't get very enthused about film-making will just have to accept it as part of the job! (and perhaps start thinking more carefully about wardrobe choices)
The second area of tension was more complex, and emotional, by far. Yes, you guessed it, it's partly money – but also unionisation, contracts and legalism, and indeed to some extent personal vendettas.
Phil had asked a contact to fix his string players for this – not with any control over arrangements or finance, but simply as possessing the right contacts and, I suppose, some quality assurance. The fee was not career pro rate – but it was a Thursday afternoon, there's never normally any work going at that point, and there are plenty of players like myself who will sign up for anything up to the whole afternoon, within cheap travelling distance of home, for £60 and feel that we aren't getting exploited (or at least no more than usual).
However, commercially successful and prolific musicians tend to attract envy – and the internet means few musical dealings are private and it is easy for the envious to take action. Some party, probably with a grudge, reported the session to the Musicians' Union for underpaying. I should say at this point that while the MU issue general guideline rates and campaign for decent pay, there is no obligation on fixers / clients to follow them unless it is a specific employer, or a member of a professional body, with a separate and concrete agreement with the MU – very much not the case here. So nobody had to do anything, and as I say the players were probably largely fairly indifferent, though of course we would all like the market rates to move northward in general.
In any case, MU staff and the fixer discussed this session and the upshot was that nothing changed in practice, but the fixer was asked to get all the players to fill out standard MU recording session permission forms. This either was never communicated to Phil, actually running the session, or he was too busy to look into the detail of the forms. However …
The forms function by tick-boxes where there are standard MU rates. This includes rates for short (2 hours), medium (3 hours) and long (4) sessions. The rate for a short session is £60, the fee offered for the job, and that box had been pre-ticked in the form provided. But, we were actually recording (with breaks, but they were at Phil's choice and are supposed to be included) from about 1pm to 4pm: 3 hours. We had in fact been told we would start at 12, so 4 hours on site even if we were standing around for the first hour (it's not like we could do anything much else; we weren't told 'oh, actually we'll start at 1. This sort of lag is common, especially in recordings, but still constitutes time we are effectively 'on the job'). And we had been asked to make ourselves available 12-5: 5 hours.
Secondly, there are options for recording audio, video, or both. Audio was pre-selected; I though nothing of this until turning up and finding that everything was being filmed – the only advance warning of this was being told 'dress code: informal casual', but that could have been simply to make sure people didn't feel they had to dress for a classical concert to record audio in a cold church (it wasn't actually cold, but many churches used for recording are and it was bitter outside).
Thirdly, the MU form is predicated on musicians following the union's advice regarding selling rights to recordings; which is to agree only to part with rights to the product for which the session is being done. So if you play on an album track and then it gets remixed and the remix released as a single, or the track is used in an advert, film score or TV background music, the producers have to come back and agree that use separately, presumably with an extra fee or royalty share for the players.
I emphasise this is the MU advice because it's certainly not the only legal option; and remember communication did not seem to be seamless here! In practice, one of Phil's team was going round in one of the breaks distributing payment, and gathering signatures on a single form contract with phrasing along the lines of 'I assign to Phil Braithwaite rights to all audio and video material recorded in this session to use for whatever purpose he may see fit'. Which is perfectly legal, and a written expression of what is probably the assumption behind most relatively low-budget recordings; but I have no idea where any of this would end up legally if someone tried to put spanners in all the works by bringing both sets of contracts and all the correspondence and real-time events before a court.
In general, I love the MU, I'm proud and glad to be a member, I'm pro-unionisation in general and I think the situation (whether you want to talk about rights or privileges) of working musicians in the UK deserves significant improvement. But in this case, whatever the motives for involving them were, their involvement achieved no practical benefit, nothing illegal was prevented and really the upshot was confusion and unproductive admin. Non-union-scale jobs happen, everyone knows it and anyone with any sense deals with the situation, even if they resent it a little. We just can't have it all.