Nothing new about a Saturday night Kindred Spirit gig. I went to the right venue first time on 8 December! However, there were some unexpected features.
This particular gig was in High Wycombe, at the Belle Vue where we have played annually in December for as long as I've been in the band. (It is traditionally our last gig of the year, but not this time!) Wycombe is a 30-minute train journey from London Marylebone, and in that half an hour I must have heard the bunch of middle-aged and upwards drunks heading home from some Christmas do discordantly bawl out verse 5 of 'The Twelve Days of Christmas' at least a dozen times. I pity those who had to stay on that train to Banbury or Leamington Spa, as apparently there were going at least that far. Earplugs stayed in the whole time, but being musicians' ones they're supposed to let you hear everything, just quieter. They did … sometimes I wonder if ordinary commuting would be any worse.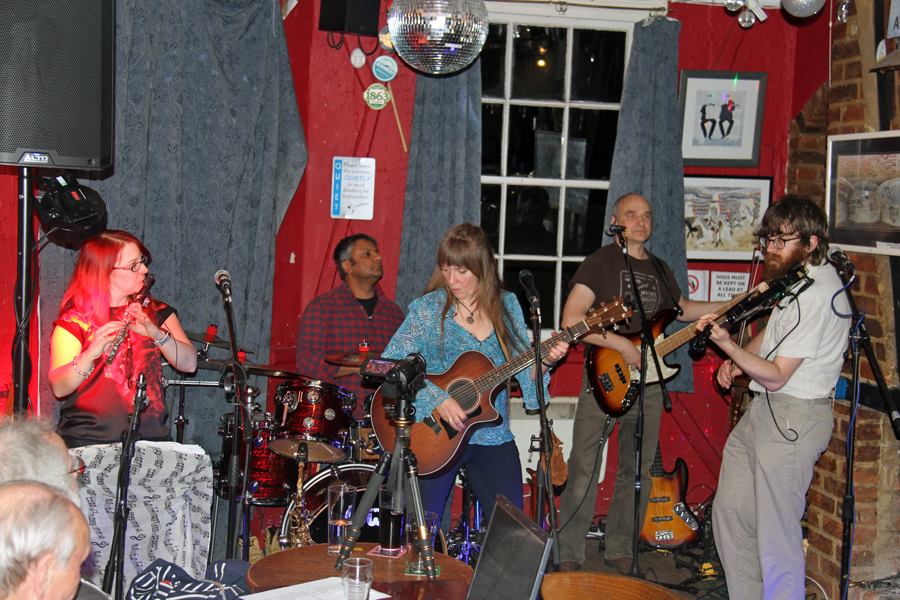 As you can see, the Belle Vue is a bit of a tight fit for a five-piece. Also, you see that behind me? Yes, that is a chimney over an open fire. At previous December gigs here, it's had at least the dying but far from cool embers of a log fire on it, leaving me sweating like a roasting pork joint (and feeling like it too). I accordingly dressed for anything but winter (as you can, again, see) … to find this time the fire had not been lit and it was actually a little cool inside for shirtsleeves. Never mind.
Payment at the Belle Vue is partly by 'jug', passed round for audience contributions. I do think this is an interestingly direct insight into what the audience think of you – in a bar gig like this where they haven't paid to get in, and may just be in their local anyway rather than having chosen to come to live music. It was a rather thin crowd even for a very small pub – there can't have been more than a couple of dozen punters in – so the fact that we got £10 each (by 5) from the jug suggests most of them significantly enjoyed what we were doing. Not bad for a part-time band playing about 80% originals, with an unusual line-up and sitting across several not particularly mainstream genres!
There used to be a just past midnight train from Wycombe to Marylebone that I could make by taking a very quick stride out of the Belle Vue as soon as I had packed up. This has evidently been got rid of, as the last train known to National Rail this time was halfway through our last set. Cue lift to Hounslow, night Tube (Piccadilly) to Green Park, night Tube (Jubilee) to London Bridge, night bus (the last train having long since gone) to Lee. It takes about 2 hours.
Hence, the following day, in order to make my 12:30 rehearsal to bump SELO's Christmas concert, I had had something like 6 hours' sleep – a bit insubstantial for sight-reading an orchestral programme to perform it shortly afterwards! Not that there is anything much to worry about in Leroy Anderson viola parts, but the Malcolm Arnold that opened the rehearsal was rather a different matter. Fortunately (especially in a section consisting of one regular player, two who had come to one prior rehearsal, and two (including me) who were only there for concert day) I warmed up as the day went on.
Ordinarily, I would complain as a diabetic about the meal disruption created by a schedule of 12:30 rehearsal, 4pm concert. However, on this occasion I hadn't had breakfast till something like 11am, so lunch at about 3 seemed perfectly reasonable!
Come back next post for more evidence of my December not having slowed down, including reflections on a career advice and networking event before reaching the last two weekends' gigging of the year (we'll disingenuously count New Year's Eve as falling into 2019. Well, the audience probably will be (falling into 2019 that is)).