For the last few months, Flux Ensemble's performances for Fever London have effectively constituted my music career (ignoring my efforts to prepare for a degree-level viola diploma anyway). They've also been intensely busy compared to the general state of the entertainment industries, and provided a sort of narrative barometer of the regulations applying to live performance in London.
Back when I last posted about the group, indoor performances were still a novelty (and a welcome one as our initial outdoor run had stretched well into September!). Soon after that post, we appeared on a Thames cruise boat, playing Chopin transcribed for string quartet (our last amplified gig to date, boosting us over engine noise through a rather constrained acoustic). That gig came on the first weekend after a 10pm curfew was introduced on alcohol sales, and all musicians whose gigs are in effect subsidised by the bar take discovered how civilised it is to leave the venue by 10:30 and be able to get the train home rather than a night bus …
That was followed by finding what seems to be a more settled home, at Grand Junction (the function-space brand and business of what is also the parish church of St Mary Magdalene in Little Venice). Arguably it's even more spectacular in daylight than candlelit mood lighting, but either way atmospheric and with an excellent acoustic for chamber music to boot (not mentioning big enough to fit in a profit-making audience with two-metre gaps between each household group, which in practice usually means a couple … ):
Our first offering there was a repeat of the seemingly indestructably film music, but we moved on to a Halloween event that was popular enough to eventually be performed five times over two days.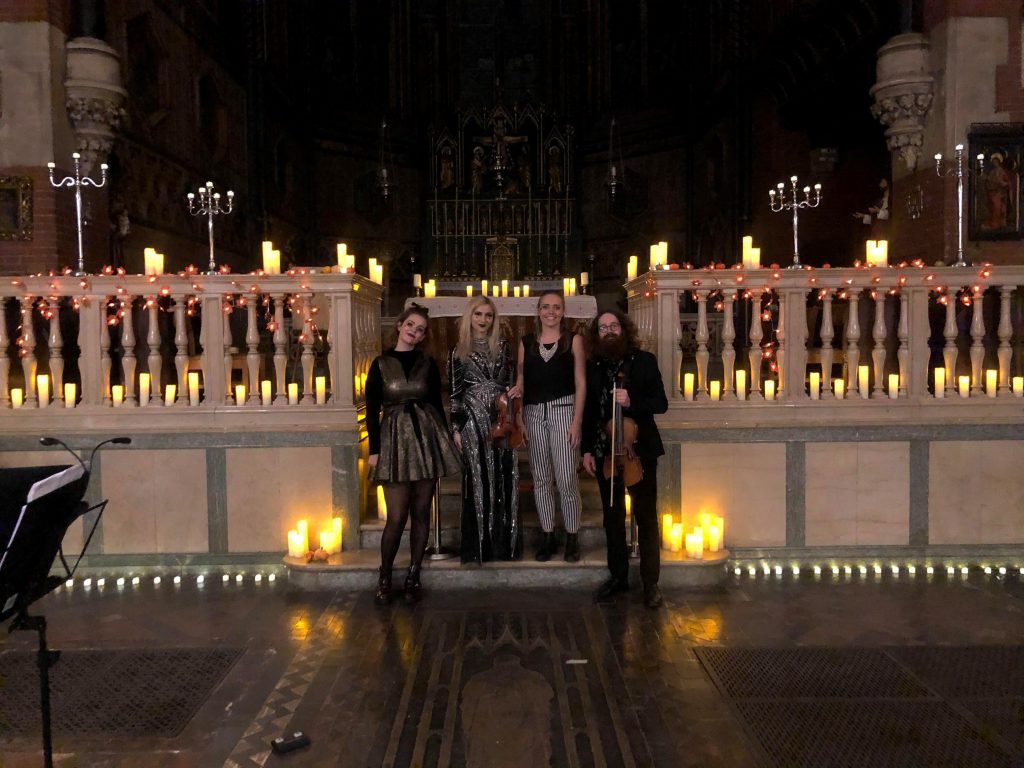 Wondering what a string quartet plays for Halloween? Well, you can get one sample on our Soundcloud account, but we also included versions of Danse Macabre, The Sorcerer's Apprentice, In the Hall of the Mountain King … and The Murder from Bernard Herrmann's Psycho soundtrack … and Michael Jackson's 'Thriller', complete with me declaiming Vincent Price's closing monologue. From the pulpit.
The first week of November was overshadowed by the announcement of an impending England-wide lockdown, but as fluke would have it, our next gig (another film music set) was the night before it came into effect.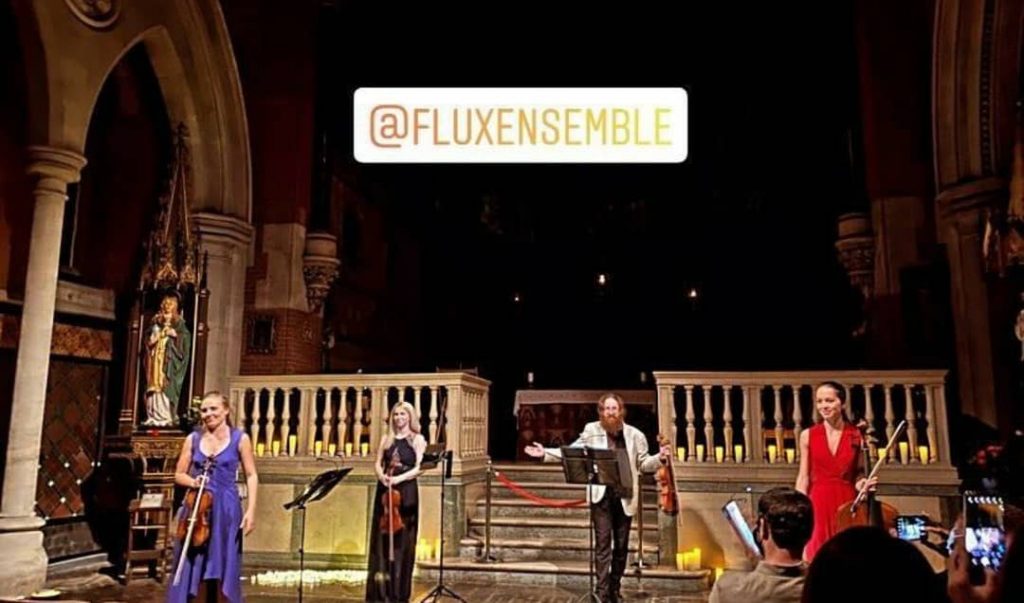 There, of course, the situation has rested – as I write, the lockdown still has four more days to run.
But, now that the next steps of pandemic restrictions have been committed to, it seems just about safe to write about what we're doing next without fear of jinxing it (even while parallel performances in Birmingham, Bristol and Manchester I was helping organise are all on hold due to tier 3).
London will go back into tier 2, and the next review of tier position isn't due until the 16th of December. That means we will be able (with the same precautions as before) to do three early December dates at Grand Junction: another evening of film music, and two nights of classical Christmas favourites, the latter built around the Nutcracker Suite (entire, arranged for string quartet), with some more Tchaikovsky ballet numbers, Prokofiev and carols to round out the programme.
We'll also be making a return to the even grander and more reverberant (but much older and arguably more architecturally tasteful!) surroundings of Southwark Cathedral for two nights of Christmas pop and jazz songs, in collaboration with fabulous singer (and one of my best friends) Lauren Lucille.
That should see us through to the end of the year. Beyond then, we're keeping all digits and anything else crossable crossed for live music being still 'on' in January and February, as we prepare a new set entirely of John Williams film cues; an evening of Mozart 'greatest hits'; a ballet selections performance with live dancers; and brush up our serious classical chops for an evening of Beethoven string quartet movements.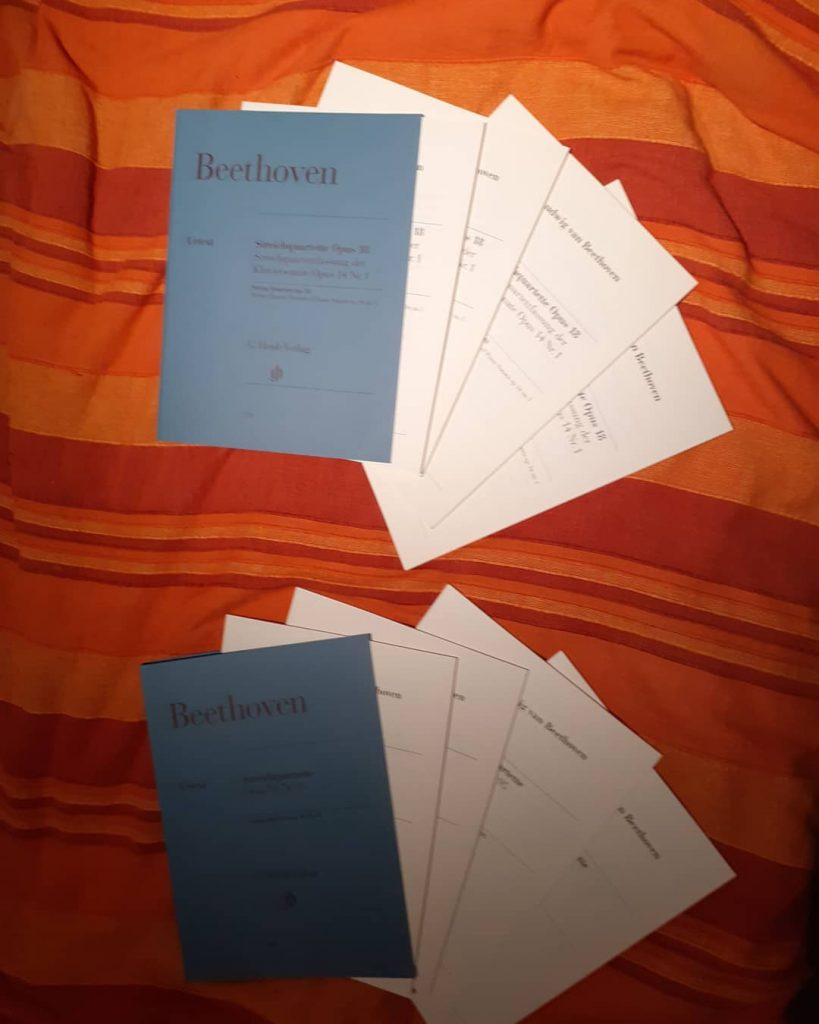 Keep up to date with scheduled performances in the gig list on our webpage, and I hope we see you at something soon!