Not a huge amount, but there literally was some!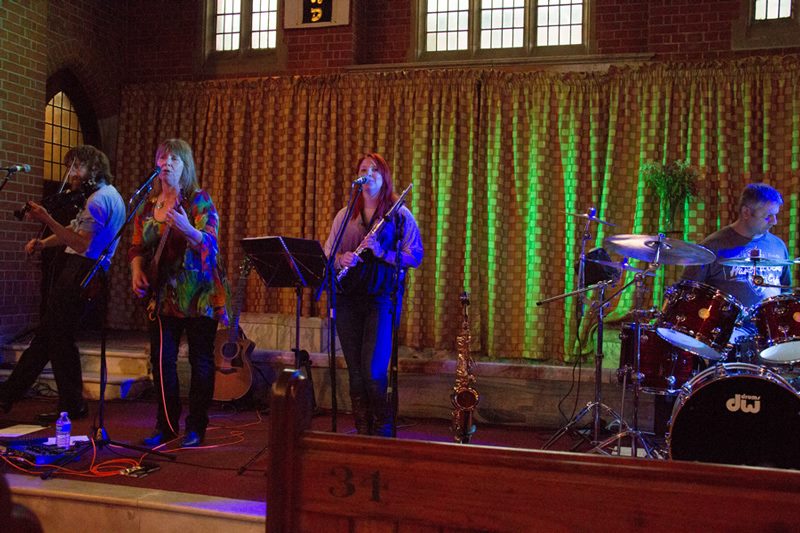 I think this is the first time I've done a performance where it was considered a major risk that one of the band might stumble backwards into an (empty, and uncovered) baptistry from the stage …
If Kindred Spirit's gig at Twickenham Green Baptist Church on Saturday proved nothing else, it showed that rock audiences can come from all manner of unexpected places – and be as unexpected in their behaviour. This was a sizeable audience, much bigger than our last gig in a Twickenham church (!), and for my money the most responsive and lively crowd that band have played to for a while. And where many audiences look somewhat blank at all originals (or anything else they don't know) and suddenly liven up when they recognise a song and reckon they know the chorus well enough to sing along, this bunch were pretty much equally responsive to numbers most of them couldn't have known. I'm tempted to construct a theory about how frequently the church's musicians throw previously unknown hymns into services, but it may be down to long-term band followers in the crowd or any number of other things. Either way they gave a lot back, and despite intense heat and very little ventilation (and, in my case, being the second public performance since lunch that day) that spurred us on to pushing a lot of energy out.
Proof that (if you pick your words with a little care) sanctity is no barrier to being rock-n-roll…!
Next gig with the full band isn't till the 21st of July, in Farncombe; but Elaine and I are out this Saturday (1st July) as a duo at Hornsey Music Festival in the afternoon and the nearby Great Northern Railway Tavern in the evening. And I have a very English classical early July, with Baroque music of my 'homeland' in Chichester on the 8th and its Modernist descendants in Wantage on the 15th. Plus, less in keeping with a notional theme, one-act Puccini in central London lunch breaks and after work. Catch you soon!