The observant among you may have realised the gig list on my homepage has run out of gigs with the Filthy Spectacula. The super-observant might have realised I haven't written about the several performances I've done with them this summer. There is a connection between these two things, and it isn't by any means that the band is ceasing to exist.
However, the real news will, I appreciate, probably come as a disappointment to several highly enthusiastic fans, as it did to the rest of the band. I think I owe it to those people to offer some kind of public explanation (if only to save me explaining the same things repeatedly to different ones). It is simply that Saturday's gig was my last with the Filthy Spectacula; I have now, bar a couple of bits of admin, left the band.
This is not the result of some epic rock-n-roll feud, involving torrid sexual liaisons with band members' wives and communicating only through lawyers; nor of irreconcilable artistic differences that will see me release a solo album carefully opposed to the band's idiom as soon as possible; nor of being in such a state of drug-addled collapse that I've been booted out in favour of someone who can actually turn up able to play. Rather more prosaically, I realised the band had been ending up further and further away from my musical needs and I probably should have got out earlier for my sake, even if it might not have benefitted anyone else.
Firstly, in case anyone needed reminding, I am trying to music my career or more importantly my job, and work towards (though I may well never manage this) making my income entirely from it. Certainly I want to drive the money I make from music up, even if it means being slightly less of an artist. The reasons for this are too lengthy to delve into here, but are largely tied up with observation of my mental health. Conversely, the Filth have always been a hobby for everyone else in the band. This makes a difference to how they go about business, and also the finances of the band. They aren't always paid peanuts and don't play for free or in general for door share, but the overheads are huge compared to the gig fees, and on thinking seriously about it I realised I was making a massive loss on the band. Hiring rehearsal rooms for frequent practices makes up one proportion (ten quid a time EACH), as does travelling to rehearsals and more importantly gigs – and this summer we have done a lot of far-flung gigs from my starting-point, including in Powys, Derby, Matlock, Hartlepool and Durham. Sometimes I have had to book accommodation overnight to be able to do the show, and there is always a bundle of takeaway or restaurant meals whose cost I don't keep track of when I could be eating cheaply at home otherwise for 24 hours or so.
So if the band wasn't going to help pay my rent, could I see it as a hobby like my bandmates? Plenty of pro musicians do some other music – often something they don't get to do in their regular gig – on the side, because most of us are kind of music addicts. Well, besides my restricted finances to pay for an expensive hobby, this too has ended up being out of kilter with my needs – emotional rather than monetary this time. This next explanation may make for surprising, even disillusioning reading for people who only really know what I do on stage. When the Filthy Spectacula formed in late 2014, a point when I was desperate to be playing paying gigs and establishing myself as a musician and also was on a fairly high point of mental health in the range of the last 6 years, I developed a massively extroverted, hyperactive, irreverent stage manner. Partly because it suited the music; partly to act as a kind of banter sparring partner to Gary; partly in order to get a response out of crowds (and we started off, of course, playing generic original music unsigned band nights where it was pretty difficult to achieve that); partly because I do believe that if you're going to play rock-n-roll you have to put on a show. It's simply inappropriate (and perhaps pretentious, or perhaps just lazy) to play this sort of stuff standing rooted to the spot looking carefully at what you're doing, as if either the playing took all your concentration or the music would, and ought to be allowed to, 'speak for itself'. Hence why a fair bit of this schtick was transplanted to Kindred Spirit when I joined them 18 months later.
However, I also try really hard to be professional about music-making, whether or not I'm really doing it professionally in any real sense. So as my depression has deepened again, particularly over this spring and summer, I have maintained the act. It's a significant part of what people, including the band, expect to see and hear from a Filthy Spectacula gig. But it has been done out of commitment and as hard work rather than from spontaneous joy in bouncing up and down, cutting little jigs and jumping off stages while playing. I have found that even with earplugs the gigs are very loud (I swear the worse I feel, the more hypersensitive my hearing becomes), and with earplugs and hastily-mixed wedge monitors I can only hear a very imperfect version of what I'm doing. Antidepressants mean I should (would that it were so easy!) avoid alcohol altogether, and Filthy gigs have always cultivated an atmosphere of inebriation even if it was always partly a pretence onstage (usually not at all from the audience). And the high-energy, slightly aggressive extroversion of those performances has gone from being partly the right-seeming way to behave in that context to a painful effort to do what I'm not feeling, leaving me drained, miserable and sociophobic by the end of most sets. At which point if the audience have 'got' us I usually have to try and deal with enthusiastic congratulations, when what I really want to do is pack up as quickly as possible, not deal with any people especially strangers, and run away to bed. Bed usually being a long way away by night-time public transport.
So Filthy Spectacula as hobby hasn't been working either. And so it definitely seemed to be time I got out; and pursued things more appropriate to where my career and life has now led, 4 years after this story started. Do I regret having been in the band? No – I have had great fun at some points, have learned a lot about rock and stagecraft and many other things, have done a lot of playing and of effectively collaborating on arrangements, solos etc. (and even written a couple of songs that have entered the setlist permanently), and have acquired an assortment of startling onstage photos and videos which do seem to have pushed my career forward (especially in increasing the likelihood of Elaine taking me on for Kindred Spirit). But do I regret leaving? Just as emphatically, no.
Some people have asked me what I'm going to do now (as if I had just abandoned music altogether!). Of course, a large part of the answer is that my time and effort can go into projects I find less destructive and more profitable. For starters, I will have an extra dozen or more Saturday nights a year to try and fill with performances I will make significant profit on instead of loss. And even not having to pay for rehearsal rooms and Tube fares to rehearse on the other side of London will reduce the amount I have to do of the publishing work I really dislike (anyone in touch with OUP or Richmond, I didn't say that). And extra time to practise my classical viola technique and try to push that angle, which I still see as perhaps the best hope for my career, further forward.
As if to illustrate the point, this weekend sees me gigging twice with very different groups. I may not be getting suddenly rich or famous, but I'm certainly still performing busily.
Friday 14th: Dream Logic at The Underdog Gallery, opening act of a bill of three
Saturday 15th: Caravan Circus at Luna, starting at the peculiar hour of 6pm
See you out and about!
Most of you will probably have read enough. If you really want to dig into the experience of the original rock music circuit, what follows is a sort of summary diary of the last few Filthy Spectacula gigs, so as not to waste the wonderful potential of tour disaster stories, an Eeyorish perspective and my raconteur inclinations. Times tend to be approximate recollections and a lot of names are omitted to avoid accusations of reputational damage.
19 May, Coventry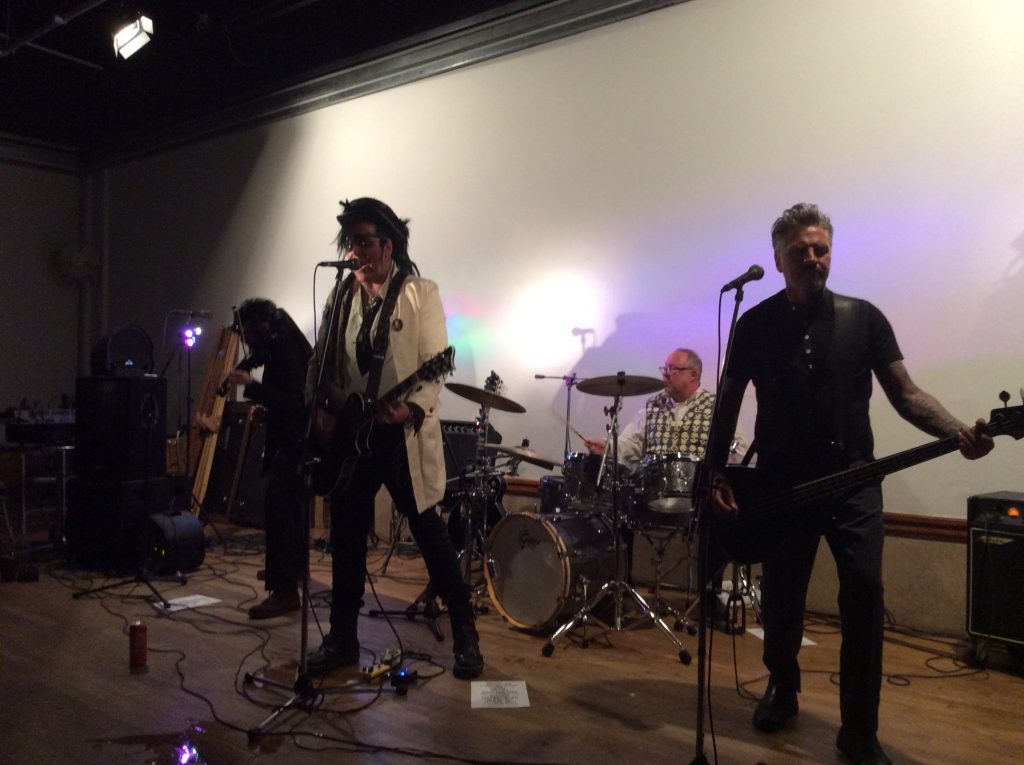 After a lift from west London, went first to the hotel, prebooked by the promoter. Rooms have been reserved but not paid for; collecting keys involves pre-approving my credit card, on the assumption I can invoice the promoter later.
Get-in and soundcheck scheduled for 5pm. We arrive and find the performance space is not a grand high-ceiling part of the art gallery cum museum where we are playing, but a small and rather featureless 'studio' room within the same building. Start setting up, but there is no sound tech and only half the PA until he arrives. A frazzled-looking member of gallery staff tells us yesterday's event was too loud and they had to ask them to turn down because the vibration was starting to pose a hazard to centuries-old paintings and artefacts. Last night's gig did not involve an acoustic drumkit, which usually forms the 'floor' for rock band volume.
One band member is lost and rings to get directions. Doesn't know exactly where he is either, and keeps citing landmarks (eg pubs) we can't see. Phone gets passed round the other three of us; lost bandmate gets frustrated and aggressive, particularly when I tell him the postcode is in the email (assuming he can locate the email and feed the postcode into a map app, all on his phone). By this point the support acts (we are headlining and so soundchecking first; everyone else will soundcheck in reverse order afterwards), who can't do anything till we are set, have got bored and started bringing beer in from the off licence over the road.
Band eventually complete about an hour late, which is still rather earlier than the arrival of the sound guy (actually one of the performers from the daytime events) and his remaining gear. Soundcheck hasty (though he displays little sign of hurry), support acts effectively do not get one, job is finished as punters are starting to drift in.
We perform late, after a long cabaret-style sequence of acts including other music, circus skills and burlesque. Many audience have sloped off home by our set, and of the remainder only about half a dozen dance. However the room is small enough that that does not feel stupid!
26 May, Peterborough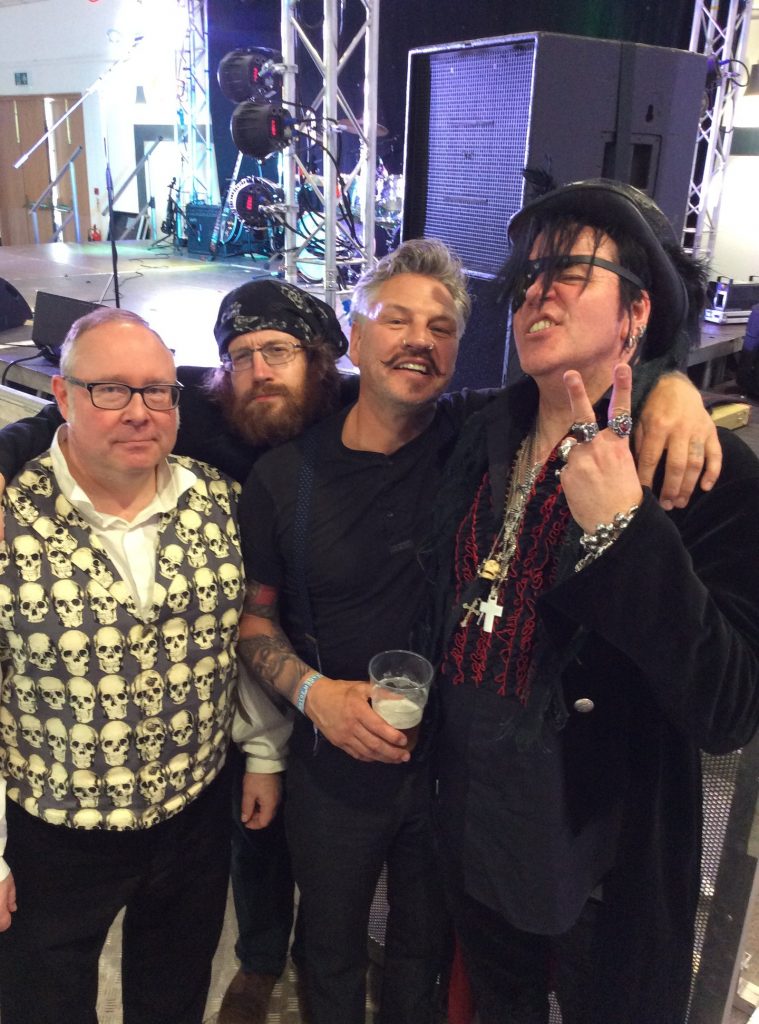 We are playing 4 half-hour sets (to be timed pretty much when we choose) in a bar space at a hot-rod / custom car show and tattoo convention in the vast Peterborough showground. We are told start playing at 11. The bar doesn't open till 12. At no point are we much more than background music to a bar queue or entertainment for other halves and children dragged along by car-mad attendees but who are bored or tired of walking around looking at motor vehicles.
Stay overnight in the least welcoming AirBnB – clearly effectively a guesthouse – I have ever stayed in, though it still has a comfortable bed, a shower, electricity and WiFi, so at the price I shouldn't be complaining. Dinner and breakfast at Wetherspoon's because coffee shops do not seem to exist in Peterborough (and, again, WiFi and electricity).
27 May, Crewe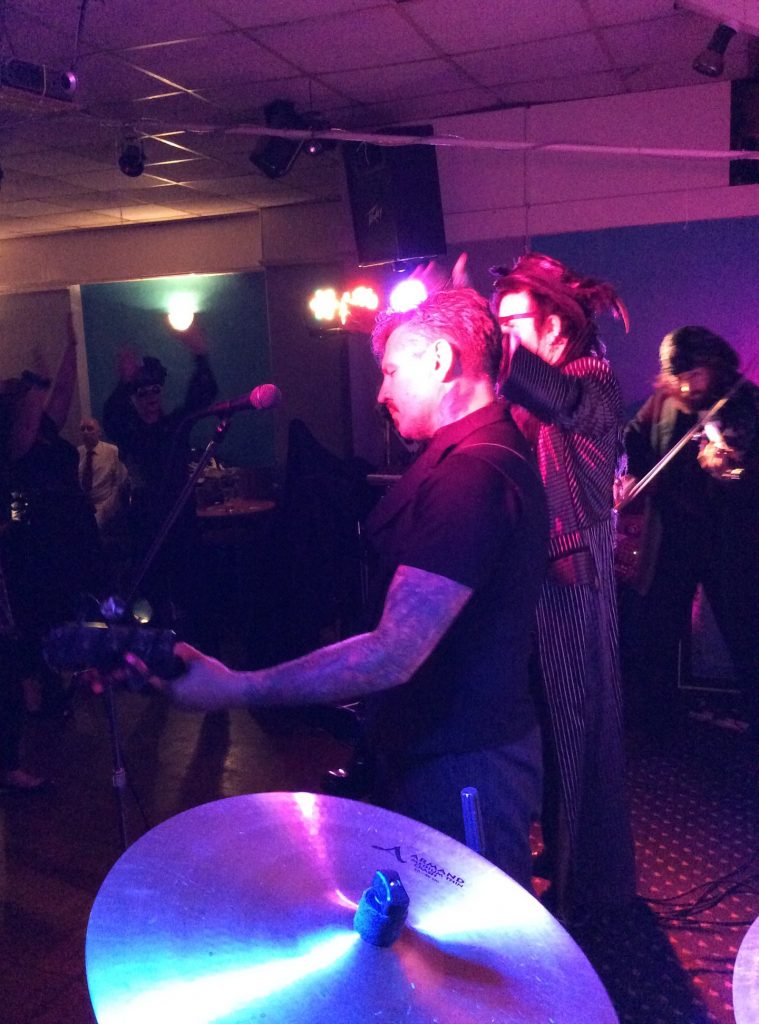 Same organiser and sound man as Coventry. Once again sound tech arrives hours after the arrival time we were given, almost at doors time; on this occasion about two hours after we were told he had 'just gone for something to eat'. One bandmate wanders off, we think just for a cigarette, and comes back having scored drugs. After we have line checked, I am mindful of blood sugar and diabetes and set off to find some dinner. Coming out of the door and not knowing the town, I can turn left or right. Left it is; I find no cafés or takeaways open, not even the Starbucks where I had lunch. Pub kitchens have closed for the evening (apparently no one here makes getting drunk more expensive by eating on weekend nights). Eventually I despair and my tea consists of a pork pie, a bag of crisps and a pint of porter (the latter probably having about one-third of the nutritional value). Fairly good set however, and a decent fee plus accommodation organised (and paid for in advance this time!). Vegetarianism unheard of at breakfast (included with room), but they are happy to simply remove the meat items from the full English and there is plenty of stuff left.
28 May, Hay-on-Wye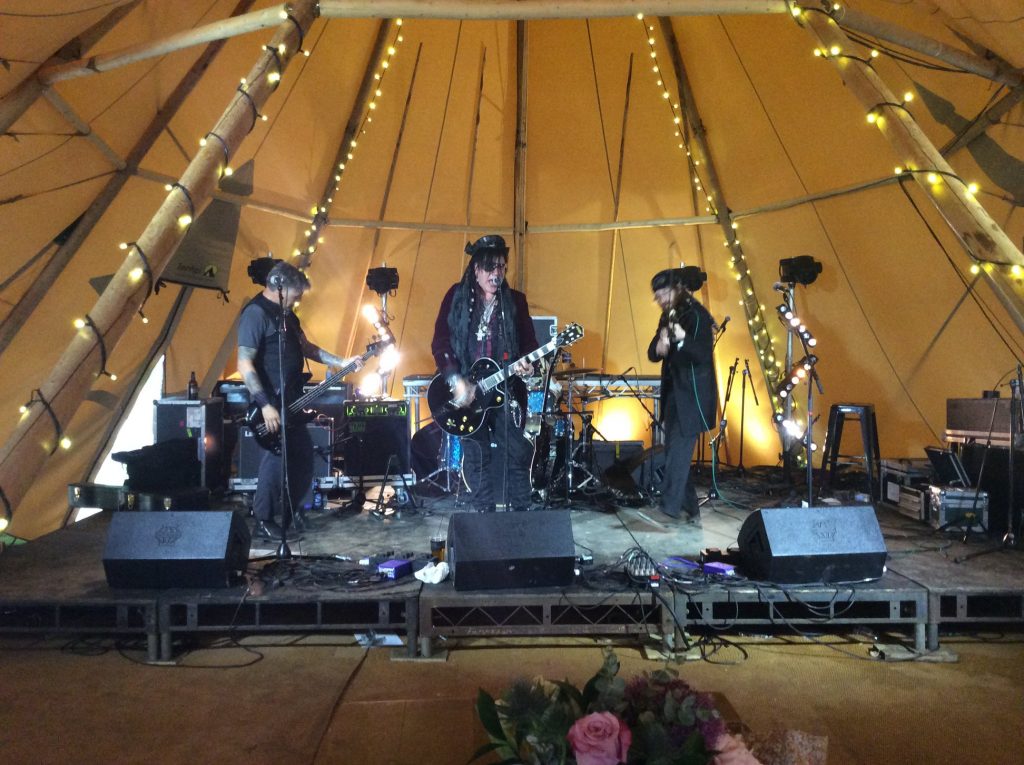 Long car journey to a festival gig. We are playing early evening at a philosophy and music festival. Exhausted so not doing much looking around at other acts and speakers, but this is the best treatment I've ever had as a performer – backstage area with deckchairs, haybales and a gazebo in case it rains, a container to lock up possessions while we are hanging around and then playing, and stewards, seemingly all walkie-talkie equipped young women, getting free entry by basically waiting on us hand and foot, including free drinks. In this area, I encounter a former Oxfam colleague in whose kitchen I once attended a jam session. I still have a book by her husband.
We are the first act in our particular outsize tepee construction, followed by Badly Drawn Boy and then some others. David Miliband, a late addition to the line-up, is doing a talk and Q&A at a marquee a hundred yards along that will overlap. He hears our soundcheck (once again set to the volume that will balance the unamplified drums) and protests to the stage managers we will drown out any discussion. After protracted negotiation, the entire schedule in our tent is pushed back by about an hour. However I think those who turn up to our set were ready for something less demanding than philosophy panels!
We had to wait about 6 weeks to get paid a couple of hundred quid for this performance.
5 July, Hemel Hempstead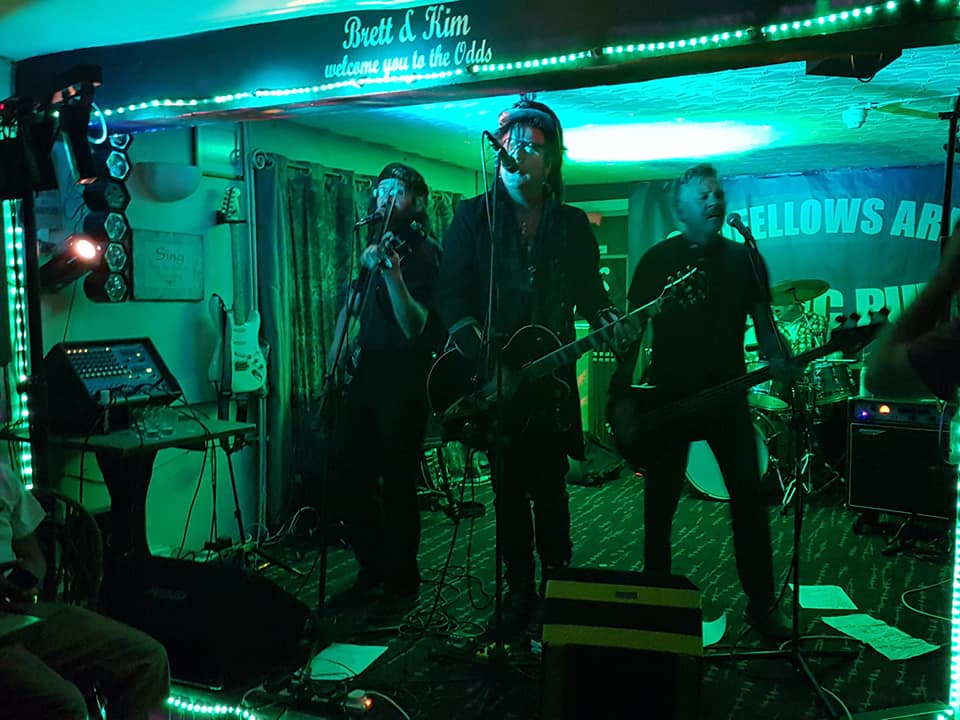 This is effectively a homecoming gig for our frontman, who had his first band and played some of his first gigs living round here. We are even doing that band's encore number (itself already a cover) with another of their old members as a bonus – the only cover the Filthy Spectacula will ever perform in my time with them. I'm rather proud of my violin part to a 60s surf song. I am massively delayed arriving due to chaos on the rather short train line from Euston – by the time I arrive I have spent considerably longer hanging round that station than actually on a train. One of the band is hanging around edgily and has already set up, another has left stuff and gone to a hotel room (I later discover he hates driving in the dark) to change, the drummer is nowhere to be seen. I haven't really missed anything.
It eventually turns out the drummer had gone to the Oddfellows Arms in Watford (which also does live music), not the one in Hemel.
That sorted out and soundcheck completed, I remember this going rather well from an audience point of view but me feeling like death by the end. I leave as quickly as possible (would rather be on an empty platform than in a crowded pub), but have a long wait on a station platform followed by an unannounced platform alteration leading to a desperate sprint along, up and down a footbridge and a yell to the guard, fortunately heeded. When I get to London I've forgotten it's a weeknight and so there is no night Tube. My phone is also dead so I have little chance of identifying a route home by night bus. I despair and shell out for a taxi from Euston to Lee. The first taxi driver takes a while to realise where I'm talking about and, when he does, changes his mind about taking me because it's so far away, though he drops me by a taxi rank and doesn't charge me.
14 July, Durham
Strictly speaking, not Durham but an outdoor adventure centre nearby where a small steampunk festival is being held (its first year). At least we get accommodation in bunk dorms and there is good value cooked food from the kitchen, so less fend-for-yourself than a traditional canvas festival. For reasons I forget, I arrive quite early in the afternoon and have effectively nothing to do for hours. I don't want to spend money on steampunk-aligned clothes, home décor, accessories and craft stalls, let alone old-fashioned sweets, and should have brought a book.
We play after a rather interesting but totally not steampunk local band who have the elaborate arrangements, feature guitar solos and tight drilling of heavy metal, a lot of folk-derived rhythms (and their only non-original songs are traditional) and a social/eco sensibility, dress sense and occasional drops into rhythm from hippy reggae. Also an incredibly virtuosic bassist. Two people dance during their set closer of What shall we Do with a Drunken Sailor; one of them is me. Then an eccentric, middle-aged, gaunt American who invents his own instruments in decidedly Heath Robinson vein. Some things are highly effective, notably his use of a pocket electric fan to play tremolos (and tremolo chords, by moving it around all six strings) on guitar, which is atmospheric and ethereal and I actually want to try for myself; some are definitely comic gimmicks. We are politely received but the two people most consistently visibly enjoying the set are only prepared to do so from the back of the tent until our last number. I conclude most people are there for subculture superstar Mr B, who raps in a very posh English voice and plays banjolele, using backing tracks, loops and one startling solo on a purple plastic trombone. Steampunks would probably pay and show up just to see his striped blazer, horn-rimmed glasses and immaculately waxed moustache.
The following day, I take a bus into Durham and the train all the way down to London.
4 August, Matlock Bath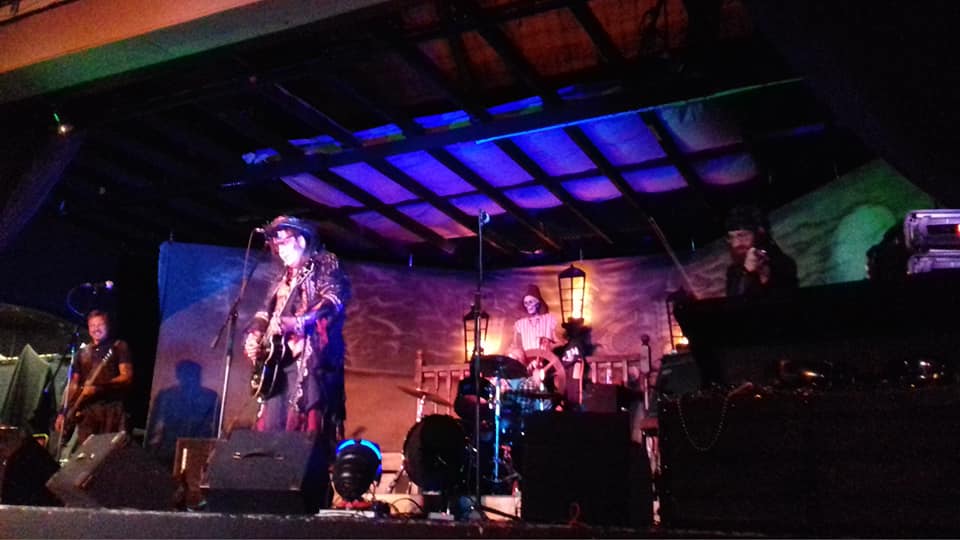 I have combined this gig with an early afternoon set with Kindred Spirit, at a beer festival in Fleet, Hampshire. Not the best idea for my energy levels and mood, but less of a whacking loss than turning down the relatively nearby gig. Trains towards Hampshire are disrupted by strike action, with last-minute cancellations, so I end up getting a train to Basingstoke (further away) which should enable me to get a slow train back to Fleet and arrive at a not disastrous hour. The Basingstoke train is delayed and I sprint through the station with instrument, assorted audio-electrical gubbins and an overnight bag to emerge onto the platform as the Fleet train is accelerating away. I talk my way out of the barriers (my ticket isn't valid to go to Basingstoke of course), grit my teeth and jump in a black cab, watching all profit for the weekend evaporate. I text a comprehensive tech spec ahead and we are set up with enough time to spare before starting for me to tune, go to the loo and drink water (it's a swelteringly hot day).
The beer connoisseurs really get into our set in the last couple of numbers and will not be denied an encore. Once I have done a speedy pack up, a moderate jog of the mile to the station enables me to catch the necessary train to London – just about. (I was going to get a later one, but it was cancelled due to strikes.) The Thameslink to St Pancras is also cancelled, but it's quicker by Tube and I have a lot of time to kill there in the end anyway.
St Pancras has at least two public pianos – these in train stations have become a thorough fad, though I wish someone would donate money to tune them periodically. While I'm eating lunch, I have difficult in working out if someone nearby is operating a pianola or playing live. On walking past in search of the loos, I find that an elderly gentleman is indeed playing the same ragtime/early jazz-like number over and over again, in barely-varying arrangements involving the same set of variations; while his mate is playing a tambourine but without the combination of desire and ability requisite to actually stick to a beat for more than about 16 bars straight. They seem to be having so much fun that I force myself not to say something sarcastic. As soon as they are more or less out of earshot, I encounter another piano, this time with a toddler bashing it at random. Children's sense of discord develops so late, and they have such delight in appalling noise at younger ages, that I am forced to conclude any notion of harmonious or unharmonious sound (as opposed to of rhythm) is purely culturally conditioned.
The train journey to Derby is actually rather pleasant – quiet, air-conditioned, comfortable and with phone charging, though WiFi is charged for. And I have a book this time. If I waited for a train to Matlock Bath I wouldn't arrive until partway through our set (largely due to waiting time at Derby), but thankfully the drummer's wife is giving me a lift.
The Grand Pavilion is a vast old space dating from when this was a spa resort. The stage is impressively large and very high; the body of the room appears on arrival dark, shadowy and containing very few people, which remains my impression. We are playing middle of three acts as part of the Matlock Bath Pirate Mutiny. When I arrive what seems to be the most numerous covers band ever are mid-set. Several women of varying ages are doing backing vocals and tambourine, but I think I can only hear one of them and suspect the youngest (slim, blonde and definitely inaudible) is there either because her parents are in the band or to up the sex appeal. Besides two guitars, bass, drums, keys and male lead vox, there is a three-piece horn section. When I start listening, only the baritone sax player seems to be playing and he can barely be heard, which given my love of the instrument I am inclined to resent. Later, I hear him and the trumpet and trombone clearly and wish I hadn't – out of tune, ragged and with no blend of sound whatsoever.
No accommodation with this gig and no joy whatsoever with local B&Bs and pubs (those that weren't fully booked when I tried only take bookings for the whole weekend, not Saturday night alone). So I have booked a room in Matlock proper through AirBnB and warned them I may be somewhat uncivilisedly late arriving. When I come off stage and have packed up (about 10pm on a Saturday), I google 'Matlock taxis' and try the numbers that come up. Most do not pick up the phone and those that do say they are already busy for the night. Eventually I walk, with luggage, already exhausted and drenched in sweat, two and a half miles, the last half steeply uphill, to my room.
My hosts, on the other hand, are lovely, their house immaculate, possessed of stunning edge-of-Peak District views and over-equipped for my needs. And for less than every B&B going I get a fridge full of water, tea and coffee equipment, WiFi, an Alexa had I wished to use it, and a good-natured telling-off for not ringing to ask to be picked up. In the morning, breakfast to die for (fruit salad, cereal, toast, orange juice, a home-grown egg) and a lift into town to get the train. I feel myself relaxing after the previous 24 hours and wish I had stayed an extra night to get a mini-break out of it.
11 August, Abingdon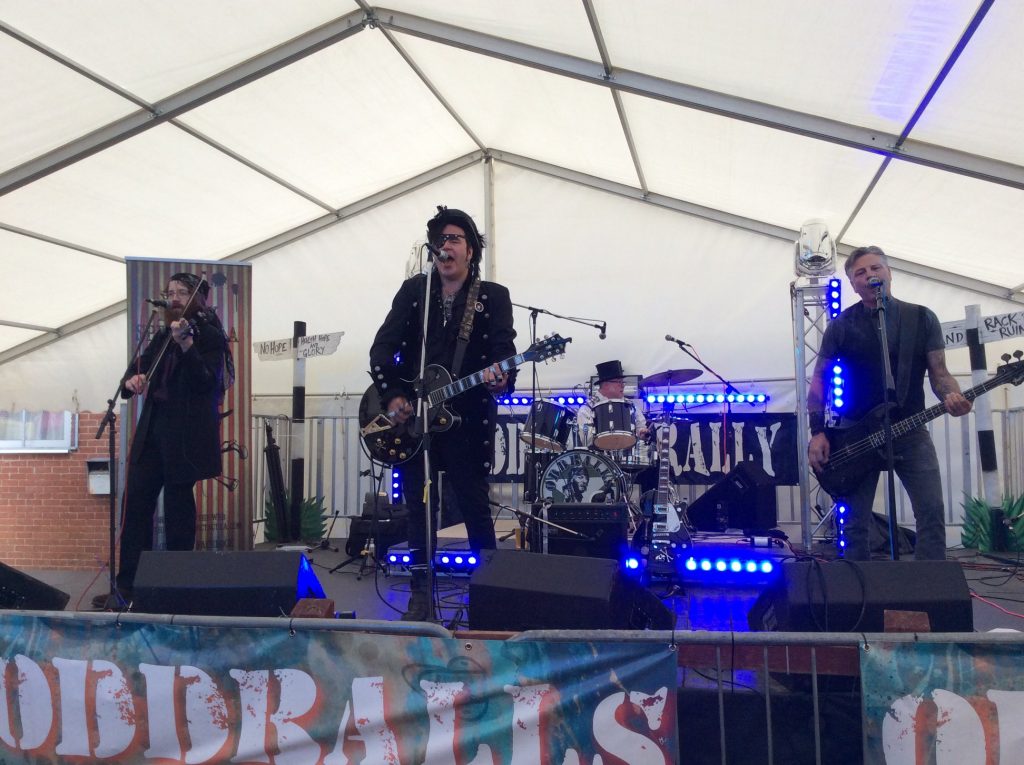 The night before, Elaine and I had played a Kindred Spirit Duo gig on the Isle of Wight and been put up overnight. However, Elaine wanted to catch some of Cropredy (north Oxfordshire), and so barely had to go out of her way to drop me in Abingdon with plenty of time to spare before our afternoon set at a scooter rally. I have time for a coffee and phone charging / internet using burst and a leisurely though pricey pub lunch before wandering along the river to the rugby club.
Timings seem to be extremely approximate here and I think we eventually play about 90 minutes late. Most (NOT all) of the crowd are a little too sober, dozy and probably hungover at 4 in the afternoon to enter fully into the spirit of things, but we / I individually make some enthusiastic new fans anyway.
18 August, Rhayader
Earlier this day, I played a late-afternoon set with the Mechanics at a wedding near Henley. We aren't starting our festival set until midnight, so I reckon this ought to be doable. I should have looked at a journey planner before making that assumption.
Taxis have to be taken from Henley station to the wedding, and then on from there to Reading station in order to make a reasonably timed train further west. I meet a bandmate at Bristol Parkway about 8. He has been having car trouble, and has eventually had to resort to borrowing a car from one of his dog-walking clients. He only picked it up that morning and it's a left-hand drive Audi TT, a little dome-shaped sports car designed for two people, two small children in the rear seats and minimal luggage, with the speedometer only marked in km/h. It already contains himself, bass guitar, a tent, overnight luggage for two and his girlfriend (who comes to all our gigs though he lives with his wife), before we add my violin, mandolin, tent and rucksack (I had asked about accommodation and been told 'you're welcome to camp'; I had to buy a tent specifically as my old one seems to have moved to the permanent possession of my ex-girlfriend). After a very stressful night drive through Welsh country roads the driver has never seen before, plagued by his glasses not allowing him to focus on night roads and a satnav without moving them (I navigate after a while), undipped headlights coming the other way and a Range Rover parked on the wrong side of the road with full beams on that nearly kills both of us with belief we're about to smash head-on, we eventually reach the festival site about 10:30pm. We pitch tents (pop-up thankfully) by the car headlights and find our way to the stage. Our set is enthusiastically received by a willingly engaged audience who are smoking so much weed I smell it on the same jacket wearing it weeks later. Sleep is deferred by being able to hear the last main stage set perfectly clearly through my earplugs from my tent, and considerable bickering and canoodling from the other two in their tent about five feet away.
In the morning, we are clearly not going to get breakfast on site until much later, so we wrestle the pop-up tents back into their bags (an exercise for which they were clearly never designed) and agree to eat on the road. Not long after breakfast, we encounter a road closure and diversion the satnav refuses to comprehend or adapt to. By the time we've gone round the diversion the wrong way and then I've found a way out by looking at Google Maps without any computer navigation, we are so fed up of the car that a stop to stretch our legs (literally in the case of the poor lass stuck behind me in the just-for-show seats) becomes a stop for lunch. When we set off again at about 2pm, we haven't even got as far as the south Wales motorway to the Severn Crossing!
31 August, Isley Walton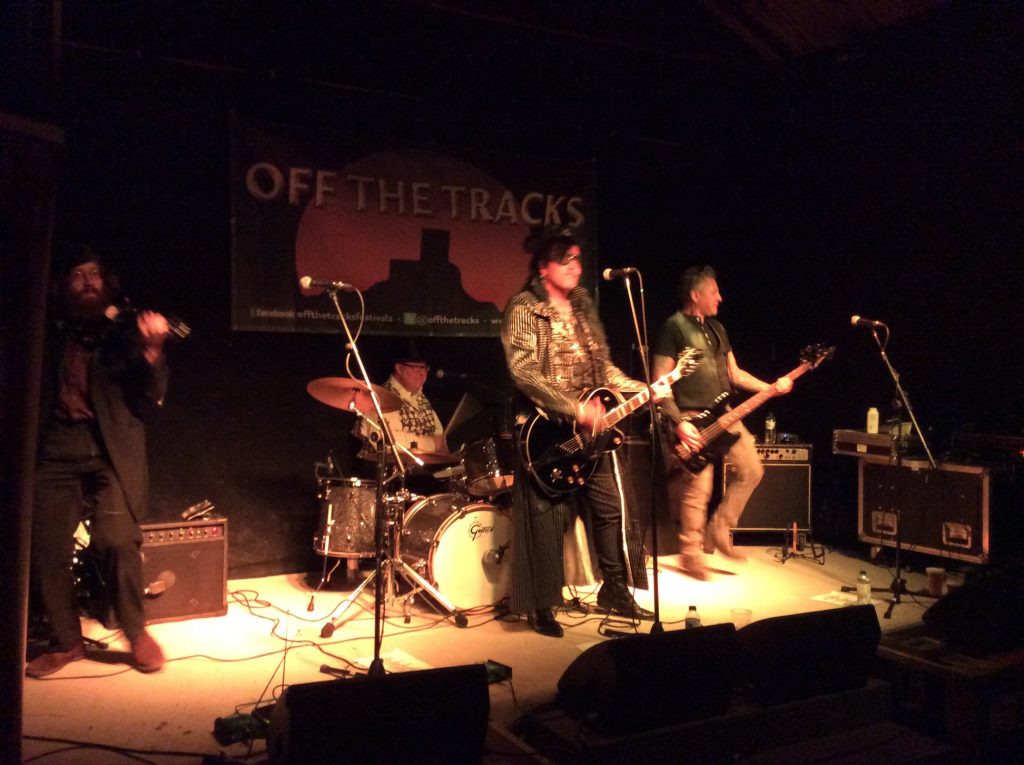 Another genuine green field festival. Therefore, of course, in the middle of nowhere. Driving looks increasingly like it will be coming from the wrong direction or some such, and so I work out I can get to a couple of miles away by dint of a train to East Midlands Parkway and an advertised shuttle bus to the same-named airport (I only know about this because it was announced on the train to Derby for the Matlock gig). I arrange to be there well within daylight hours to avoid subjecting last time's lift-giver to night driving, and to minimise the distance with me in case he is driving the TT again! In the end he doesn't pick me up because he can't leave London till after work on Friday and so will be travelling much later, but I reason that getting a taxi for 2 miles from an airport can hardly be difficult.
Shuttle between station and airport is not free (must be wishful misremembering of the announcement!), it is £6. Notionally a bus, usually operated by a Transit van turned into a minibus, I am the only passenger for this trip and it is taken in one of the same company's ordinary taxis. The driver drops me off at the taxi offices in the airport penumbra and points me towards the main complex.
East Midlands airport rivals, for smallness and depressingly faded air, many of the places I flew in and out of on my backpacking gap year. I have lunch from Greggs. Wandering round the buildings, attempting to follow one sign and eventually asking an employee establishes that there are no black cabs here and one taxi firm has a de facto monopoly on the place. I grit my teeth and book at the desk inside Departures; the fee is a predictable leveraging of absence of competition, £15 for just over 2 miles.
At the festival, I have arrived with hours to spare before there is any music, let alone our set. I pitch a much better tent borrowed from my housemate, unroll a sleeping mat, blow up a neck pillow I reckon I can use as an ordinary pillow, and generally set myself up – no artist camping even here, just a free-for-all in a field. I wander around, decide not to buy somewhat expensive clothing or hats in a style that wouldn't really suit any of my performance environments, get some food and have a reasonable amount of fun watching some of the earlier acts. I make a point of seeing almost as much as possible of the two acts on before us in the same barn. Both get crowded audiences and play originals-heavy music on the Americana side of 'folk' (whatever that means in a context of writing your own music). I reason we have been put here because of my violin in the line-up.
For some reason there is no house drum kit or backline (and the previous band were using cajon not kit), so we have to set up our drums from scratch, with (unnecessary) miking and together with miking up guitar and bass amps. The sound engineer spends 10 minutes working on the bass drum sound, leaving him with about 5 for the rest of the band.
A better night's sleep this time, though the large group across a walkway from me seem to spend half the night arguing about the little bonfire they have built. It sounds as if they would have been happier without it. In the morning, wanting to get home, I pack everything up, consider getting a taxi to the airport and shuttle, and instead ring a taxi direct to the train station. It comes out cheaper than shuttle and taxi outbound did.
8 September, Hartlepool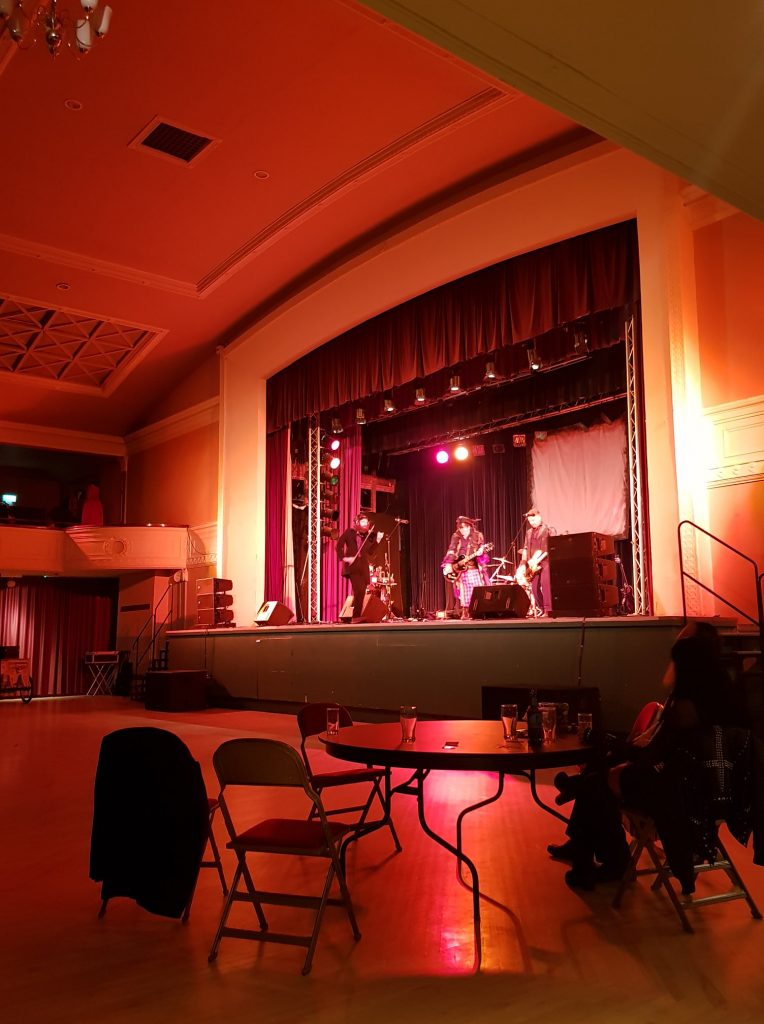 Travel looked increasingly complicated for this, so as it's urban and there should always be means of getting around I decide to take the train (and break journey to visit friends in York). The return ticket costs £40 more than the fee for the gig, although we do get accommodation as well.
On arrival in Hartlepool (it's further north than you think – check a map), it turns out I've been on the same train as one bandmate. He prefers paying for a taxi to the booked accommodation (one mile south of the station, whereas the venue is over two miles north) to getting the bus, and for a free ride I'm not complaining. On arrival at something that looks like the set of a B&B rival to Fawlty Towers and smells of gas, the sour woman at reception checks with her husband before telling us the bookings were cancelled because the promoter's card was declined, and by the time he showed up in person to pay the previous day they had let all their rooms to other people.
The two of us retire out of the County Durham drizzle to the nearest bar to regroup and replan. We do not have a phone number for the promoter and I know he doesn't check emails while he is away for events, so I decide to book accommodation on my credit card for as many as need it (one bandmate and wife booked their own accommodation anyway) and invoice the promoter, hoping this will work as smoothly as in Coventry. Some googling and a text conversation with the fourth bandmate and his partner later, I have booked online two twin rooms near to the station. Another taxi back to where we started ensues, followed by collecting keys and a third taxi to the venue.
Of course, when I arrive the first thing I encounter is the promoter telling me the hotel has changed and trying to give me a card for where we are now booked in. I have to sheepishly explain I've gone over his head for the whole band.
The town of Hartlepool rivals even Crewe for rundown post-industrial shabbiness. Half the businesses of any sort appear to have closed. Almost all the shops are shut on a Saturday afternoon, and options for eating between soundcheck and set are a couple of low-end takeaways and a pub-hotel (which I opt for). Pubs seem to be mostly thriving, though some of those have shut too, but they only provide alcohol, no coffee or meals, as far as I can tell. The hotel place has an extensive menu, of which the only vegetarian main is lasagne. Our teenage waitress comes back after taking our order to inform us the lasagne is all gone but there is vegetable curry. It was probably better than the lasagne would have been.
Hartlepool Borough Hall is a grand place, set up with a theatre stage and a vast sprung dancefloor, clearly dating from a point when industry and trade up here were making lots of money and establishing a public-minded urban middle class. It is set out tonight with round tables and chairs 'cabaret style', and we have been told it seats 420 in that format. I would be very surprised if more than a tenth that number of tickets were sold. By the time we took the stage past 10pm, a few of the mostly elderly audience had already melted away. I watched in the first couple of numbers as about half the rest seemed to decide we weren't for them and followed suit; only one table group turned out to have gone to the bar. I don't think more than two audience members danced: the drummer's wife and the burlesque artist who had been on earlier.
In the morning, I headed out fairly early. It was abundantly clear that I wasn't going to get breakfast on a Sunday by wandering around looking for somewhere, and the station café turned out not to open Sundays either. I resigned myself to overpriced train food. Actually, the prices were fairly reasonable, but the hot water had broken, denying me coffee, tea or porridge, and they had run out of orange juice. I had apple juice and a croissant. Matters improved significantly when I got off at York and moved from gig trip mode to visiting friend mode – which is perhaps a remarkable statement considering Kim has an 11-month-old baby.