Wednesday 22nd August saw, as far as I can recall, the first time I performed in a bona fide jazz club or venue. (I've been to a few jam sessions, but I'm going to consider those a different class of beast.) And hereby hangs a tail of London's, and music's, habit of trying to reduce the six degrees of separation theory to two …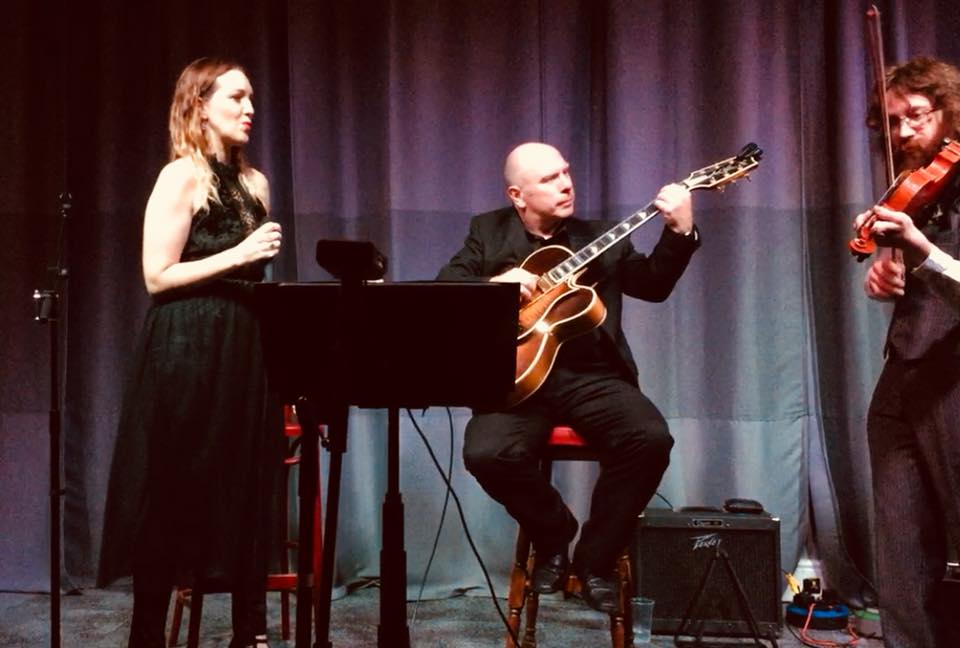 Back in mid-July, I went to to a Musicians' Union London social (always aiming to get the maximum benefit out of my subs!). I gave out about half a dozen business cards and had interesting conversations with several people, including an illuminating but hardly cheering one with a freelance orchestral violinist who has been in this trade a lot longer than me. She was keen to draw my attention to her father, with essentially the same career path, having bought a five-bedroom house in the London inner suburbs, while she has a mortgage on a flat over a chippy down the road. I also learned that a certain well-respected south coast professional orchestra pays additional string players, when required, rather less than I have got for some concerts bumping amateur orchestra sections in London in the last couple of years.
One of the people I chatted to later on the evening – when my 'networking' will was starting to flag – was Australian expat jazz (and other) singer-songwriter Lauren Lucille (see photo above. No, not the bald one. No, not the one with the beard, that's me.). My impression at the time was that I didn't quite know what to contribute in a conversation largely between her and an, also expat, soul singer-songwriter whose name I have sadly forgotten who tours Europe on a regular basis with pickup bands. However, we sustained a meandering and intermittent email conversation afterwards, notionally about writing and collaborating to write music but reaching all sorts of comparatively far-flung corners along the way.
Ten days on from meeting, I decided to spend a Sunday evening trying something different. I have known jazz and eastern-Mediterranean focusing cellist Shirley Smart (whose music is fascinating, artistically ambitious and yet accessible, and I recommend to your attention!) slightly for what must be at least three years. I've seen her at a duo gig in Oxford and we've even jammed together once, though never gigged. This summer, she started running free improvisation nights in the tiny, L-shaped downstairs bar of near-legendary Camden jazz / folk / world / anything acoustic and interesting venue the Green Note. The format is fairly straightforward: a shortish 'set' from a combination of two or three invited musicians, followed by a series of jams involving the guest players and whoever has turned up and wants to play / sing, in revolving combinations of no more than again about three. I was intrigued, and I know very little about completely free improvisation (although isn't the point in a sense that there is little to know about it, because it comes from no fixed material? Discuss … ).
The house group on this occasion consisted of Shirley on cello, a double bassist named Ollie (I could go and check these names, but maybe it's better I don't) and a tenor saxophonist, Rachel I think. Their two or three extended improvisations, totalling something like 45 minutes, included some spontaneously gorgeous moments, some effective uses of extended techniques and some (perhaps deliberate) temporary forays into sheer noise barely akin to most conventional music. Hearing Shirley's cello in company of a bass (which I hadn't before, live) had the enjoyable virtue for me of pushing her away from using the instrument plucked as a sort of piccolo bass instrument (which is the jazz role in which cello probably has most history, though often tuned in fourths an octave above string bass rather than its natural fifths), and towards a low-to-mid-range melodic role more like trombone, baritone sax or bass clarinet which interests me much more.
I've commented on how tiny the space was; it has hard surfaces as well, with pretty much only the people there to soak up some of the sound. I would probably have ended up putting in earplugs (musician's earplugs, not the ones for totally drowning out a factory while working in it) for any tenor saxophone player in there. But the saxophone family are particularly abrasive played at the extremes of their range or with alternative techniques, and it felt to me like this one spent about 20% of her time playing the instrument conventionally, and the rest in the honks, squeaks, harmonics and rasps that are usually considered fringe (though by no means external) to sax playing. Perhaps this represents a release of, or rebalancing towards, what most gigs do not allow or only in very carefully restricted doses. Perhaps, though this would worry me more as to the player's wellbeing, such extreme emotional territory is what she most wishes to express, given a blank canvas. In any case (and I am in danger of sounding like the carping and prejudiced jazz criticism of Philip Larkin here) I found it bruising both acoustically and mentally – ironically, the emotionally overwhelmed (those with, say, clinical depression, or anxiety) are usually terrible audiences for overwhelming emotional expression!
At the end of the 'house' set, I turned round to find Lauren stood right behind me (I cannot convey just how small the space was; suffice to say it would have made an unspectacular corridor), having managed to recognise me from behind in near-total darkness on one previous meeting. Clearly my hair is getting out of hand again. It seems she had met Shirley quite recently and been asked along in person (I just picked up a Facebook plug for the series).
First up in the open spots was a duet between the bassist and his uncle, who engaged in surreal yet unexpectedly hilarious stream-of-consciousness spoken word (sometimes, spoken noise!) improvisation – a welcome contrast from intense expressionism. Pretty early in proceedings, Shirley had me (viola in hand on this occasion – I want to give it as much jazz practise as I easily can) and Lauren join Ollie on bass for a stint. First dry-throat moment: when both the other two look at you (rather like the photo above) for an opening gambit and you realise you'll have to take the lead for the first few bars at least. As we got going, I found ways of developing what I was doing that felt to me like they created satisfyingly ensemble music – I have yet to find real satisfaction in two or three musicians playing simultaneously but without reference to each other: a lot of what I did was probably nearly modal, and there was a lot of copying or semi-copying motifs, rhythms, phrase shapes etc. between all three of us. And some lending structure simply by repetition, or repetition with slight variation, particularly in Lauren's hummed or scatted vocal phrases which seemed to be tracing out some kind of gradual large-scale architectonic arc much bigger than I was (consciously!) working with.
If that was a pleasant surprise, even if perhaps a little conservative for the free improvisation aficionado, I found my other slot that night rather a return to earth. Ollie was again in action (I hasten to point out he didn't get made to play all evening, though he must have worked harder than anyone else), and another trio was made up with a virtuosic and wide-ranging clarinettist. On this occasion, while his playing had plenty of contrast and range, I felt it lacked any 'gaps' into which I could easily insert myself, or obvious responsiveness to surrounding players. Echoing his phrases under the next one did not produce results I found satisfying, I never really found courage of my convictions in any modus operandi and ultimately felt the other two would probably have produced a better duo for the audience than adding me to form a trio.
Major discoveries of the evening: I rather like having themes and some fixed content; my ears are over-sensitive for saxophones in confined spaces; and as a player I only really feel comfortable also always being a listener.
In the second week of August, my email thread with Lauren sprang into life again. Did I have any evidence of me improvising on standards? And was I free on the 22nd?
Yes, though not much, really just this:
and I could arrange to be. It turned out Lauren was doing a gig at Mill Hill Jazz Club, performing material from the substantial off-and-on collaboration between Ella Fitzgerald and Joe Pass with fellow Aussie guitarist Carl Orr; she was thinking of opening this up to an 'and Friends' vibe with trumpet, cello and perhaps me guesting on a few numbers each. Lauren duly picked a couple of numbers for me to look at and sent chord charts in the right keys (bandleaders take note – this would save me so much time on YouTube and Spotify!) and we were in principle 'set'.
By the time I showed up, the other guests had pulled out, and despite some attempts at replacement I was the only guest (apart from Lauren's father Craig, a retired genre-spanning pro double bassist, rolling out his Louis Armstrong voice for an encore version of 'Mack the Knife'), leaving my presence rather unexpected to the club runners – I was greeted with: Lauren: 'Oh, hi Martin!' Organiser (to Lauren): 'I thought you said this was a duo!' Turns out this was only a panic over possibly being expected to provide 50% as much fee again, and was quickly disentangled.
Lauren and Carl's performance was a superlative example of what one rehearsal, shared knowledge of a style and excellent musicianship can bring about. Carl, incidentally, was delivering a distinctive if not unique mix of mainstream jazz and contemporary practice. Inevitably, almost every performance started with an introduction, followed by a vocal theme statement (with more or less rewriting!). During that initial vocal chorus, Carl stuck to accompanying patterns, chords and basslines; but he was playing these into a loop pedal, enabling him to follow this by replaying his accompaniment and soloing over the top. What I find most testament to his musical sensitivity and prioritisation of good jazz over showing off is that, instead of leaving the loop running for the outchorus so as to noodle prominent lead-line responses to Lauren's vocal, he reliably switched it off and returned to accompanying 'live' and interactively.
One anecdote from while I was not playing deserves preservation. Lauren has the endearing habit when 'fronting' of introducing songs by reference to other numbers by the same artist, but rather than purely listing titles, often singing a bar or two of them off the cuff (usually whichever bit of the tune contains the title lyric). Introducing (I think) 'Solitude', she did this with a call-and-response structured Ellington number, which I therefore think must have been 'Don't get Around much any More'. Carl, as if either not thinking about it or having been rehearsed, came in time- and note-perfect in whatever key Lauren had plucked out of the air, and it took them about 8 bars to establish they weren't actually going to do the song (which wasn't on the set list or the charts for the evening!). Lauren commented along fairly expected lines on Carl's ability to do this, including finding the key etc., to which Carl responded 'It's because this [playing guitar] is the only thing I can do!'
Of course, this is a slight exaggeration, but it brings out a very important point about professional musicians. In order to join someone in time and in key without warning or pre-arrangement; in order to perform a concerto from memory not just flawlessly but interestingly and artistically; in order to hold a part in an atonal unaccompanied choral piece by yourself well enough to be recorded for posterity; music needs to be your full-time job. If you're not performing or recording or rehearsing or (sadly) doing the admin and promotion that is a necessary part of a performing career, you need to be practising and studying up to a cumulative time total that probably approaches the horrifying hours per week of the medical profession. This is the single biggest threat posed by the underpayment of musicians: of course we can all do other work, but having to put time and energy into something else, even something as flexible as my self-employed proofreading from home, is a constraint on musical achievement – I've watched it in myself, to my chagrin, and continue to work to try and minimise it. Underpaid musicians will not lead there being no musicians, but to the standard of their playing, their musicianship, their understanding and how much they can do with a given set of circumstances gradually but unpreventably falling. In this regard, even the teaching which almost every professional musician except me seems to be engaged in is perhaps a necessary evil, though perhaps we should expect those who are truly good at something to share their insights with students advancing towards their level. Maybe we shouldn't make them teach six-year-old beginners whose presence is entirely due to pushy parents though.
But I digress.
My contribution to the evening was joining Lauren and Carl for two numbers: the venerable blues-based standard 'Why Don't you Do Right', and Toots Thielemans' (representative of two rather small bodies: Belgian jazz musicians and jazz harmonica players) strangely un-blues-related waltz 'Bluesette'. I had been warned not to interfere in the opening choruses, and so although my instinct to accompany or interact as well as, perhaps even more than, solo led me to a certain amount of carefully kept-in-the-background filling out of guitar solos and closing choruses, the main spotlight on me was on my solos. It's not too evident in the photo, but there were literal as well as metaphorical spotlights, which is one way of making someone feel very visible; and there is really nowhere to hide in an understated jazz trio, especially when it is effectively a duo while you are soloing – vocal accompaniment to instrumental solos is definitely an experiment that will have to wait for another gig! Carl's guitar playing is excellent, supportive and has the distinctive quality of really good jazz guitar since about the 1950s of being able to play at least three roles (timekeepng basslines, extended-chord harmonies and melodic improvisation) and at least two of them at once, but it certainly wasn't going to cover me up if I parted company from the song, even playing acoustic violin. And the audience were very much an audience, all ears and only breaking silence during numbers to applaud particularly appreciated solos; no buying drinks and chatting during sets here.
If this wasn't clear, I felt certainly outclassed and slightly out of my depth as a jazz musician in this context. I was certainly more following cues, including when to come in and when to continue (or not) for another chorus, than taking any command of proceedings! After all, I make a lot of my living from music but only a tiny fraction of that from jazz, and the improvisatory approach required in my rock bands is very different, not least because of the totally different harmonic language involved.
In that context, and the slightly ground-breaking nature of the gig for me (as I started by saying two and a half thousand words ago), I consider myself well content with having produced some nice sounds, been complimented by those who spoke to me and simply not having derailed anything (if I made one flub of structure then Carl jumped to catch it, I couldn't now be sure) – even when 'Why Don't' underwent an unexpected (by me) mid-performance key change from a fairly unremarkable B minor to a rather eyebrow-raising C# minor (try improvising on that in your own time). Here's hoping I can make it the first of many (especially if I'm in for an equal cut of the fee next time!) rather than a one-off.