Well, when it's in a church, uses a full PA and is advertised as part of an arts festival fringe (and has no 'floor spots' – open performance opportunities), there must be room for significant doubt.
I don't scrupulously write up every gig with the Filthy Spectacula or Kindred Spirit – it would not only leave me even further behind on blogging, but rapidly become boring for everyone, including me. News flash to nobody: bread and butter bar gigs are often quite similar to each other, and originals bands recycle a lot of their repertoire because writing, arranging, learning and rehearsing new songs takes significant time.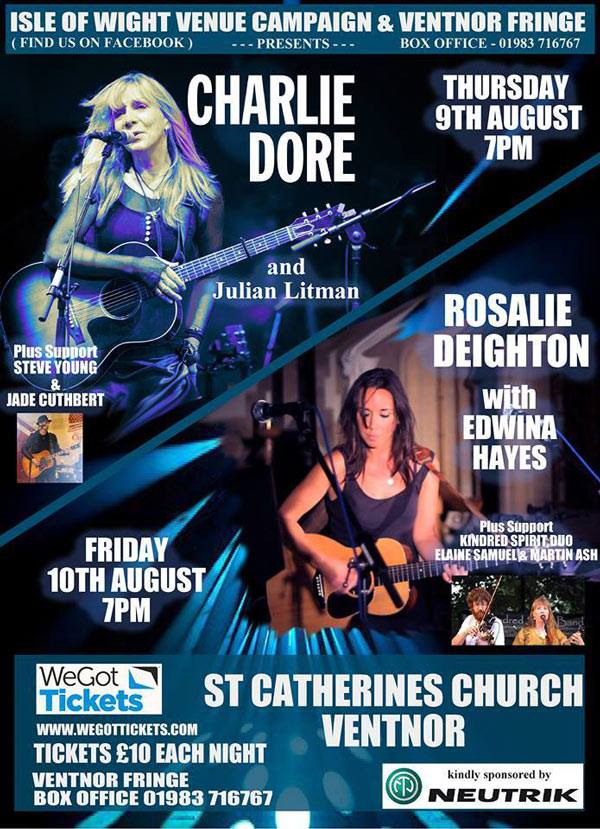 However, several things made 10 August's gig worth writing about. For one thing, it was a rare duo outing for Elaine and I focused on her original songs – usually, the duo play at functions or in bars, social clubs and so on where the audience haven't paid to see live music as such and covers they've heard before are very much the order of the day, and the original material is performed by the full band in ticketed gigs.
In this case, though, the gig was on the Isle of Wight. This in itself marks an unusually far-ranging engagement for Kindred Spirit, who (unlike far-flung festival-trotters the Filthy Spectacula) rarely play further from my current hat-hanging spot than Hampshire. The promoter was very good in providing a substantial fee (between two of us!), paying for the ferry, feeding us before the gig and putting us up in his house the night after (the headliners had to settle for a B&B being paid for for them!), but unsurprisingly couldn't have found the budget to do the same for the full quintet.
We were opening for Rosalie Deighton and Edwina Hayes, whose performance I shall come to shortly. Our own set made up roughly half the evening though – no hasty 30-minute support slot for an expansive headline set here. In a way, it was a shame that going on, without coming home, to a Filthy Spectacula gig the following day had led me to bring the electric violin rather than the acoustic one – the church being used as a venue had a very nice acoustic, somewhat flattened by having a substantial PA put in it and everything plugged in; I'd like to think I could have 'filled' it unplugged. Another time perhaps; though if this weekend had followed, rather than preceded, the one in which I doubled up the second Mechanics gig (see previous post) with another Filthy Spectacula festival appearance, I might have changed things round anyway. Such is hindsight.
St Catherine's is a medium-sized church, I would guess potentially seating nearer to 200 people than 100, and must have been something like two-thirds full; a fairly substantial crowd then. However, this is where the folk club element kicks in. We rapidly found that not only did the audience fall attentively silent during her quieter and more introspective songs (after all, a ticketed audience without a bar to visit may do something similar out of mere disinterest!) but they also joined in – both bidden and unbidden! – on her bouncy celebration-of-life numbers too:
Despite the bigger space, PA and spacial sense of an audience separated from performers, this was a combination of attentiveness and active involvement typical of unamplified, acoustically 'vulnerable' (even in-the-round) folk-club settings. Both Elaine and later Edwina fell naturally into the distinctively folk club habit of dictating the chorus lyrics to songs with easily joined-in choruses to the audience before they started (folk clubs are the only place I've repeatedly come across this presenting of the words alone done, as opposed to either leaving the audience to pick things up for themselves (rock gigs) or singing them the participation section in advance (churches learning 'new songs', and Jules Buckley at the Royal Albert Hall for last year's Charles Mingus Prom)).
You may have gathered our set went down well – over significant hurdles in my case (wow, that must be my mixed metaphor of the year!). The single most frustrating thing about playing electric violin for me has to be that it makes so little noise under my chin and so I'm dependent on monitoring to be able to hear what I'm doing. In 'touring' gigs with house PA systems and sound engineers (even more so as here when the latter does not know the hired former well), my preference would be to not be dependent on monitoring at all, given it is usually and ultimately rightly bottom of the pile in limited setup time! On this occasion, we had plenty of time, but I still had a conversation with the engineer that went roughly:
Could I have a bit more violin in the monitor please? Because I can't really hear it acoustically … OK, not that much! … Erm, still a bit less … Little bit less violin again please? … Thanks!
The bigger issue was that my A string chose to snap half way through the second number. Not only did I have to fit a new one (and tune it up a couple of times as it 'stretched in'), but the change in tension had sent all the others out of tune as well. Luckily Elaine regularly plays solo, and was able to pull a number out of the bag while I changed the string – but it unsurprisingly felt pressured, and it slipped my mind to head backstage where there was normal lighting. For the record, I cannot recommend trying to get the end of a violin string though the hole in the peg, especially when the pegbox is painted black, against the clock with trembling fingers by dim lighting. Except to psychological masochists of a subtle bent. After that interruption we picked and chose a new route through most of the prepared set list – fortunately something we are used to doing in response to how rowdy, drunk or otherwise punters are at bar duo gigs and so not an extra source of stress!
Edwina Hayes and Rosalie Deighton (it seems invidious to worry about what order the names are listed in) performed more as a double act than a duo. Both write in what might be called a broadly Americana vein, without trans- or mid-Atlantic accents or restrictively ten-gallon-hat lyrical content, but with a distinctively country guitar approach (notably, playing almost everything in G with a capo used to arrive at the right key for the singer's range) and harmonic language, rarely beyond four chords in a song but potentially swapping between them at high speed; and both perform a mixture of their own songs and ones by professional friends. Their set might best be described as a two-sided songwriters' circle (geometrists, chew on that concept), with them alternating performances, occasionally harmonising on each other's songs or adding a few extra guitar notes, and offering quite substantial explanation of and comment on the songs. Indeed they commented on having been barred from playing sitting down as it wouldn't have been gig-like enough – which didn't make their manner any less in-the-round, unplugged, again folk club-esque.
Both are north-easterners, but Hayes' stage manner (or manner in general – she is barely different in conversation without a microphone and an attentive audience) conforms much better to 'northern lass' stereotypes in harmlessly mocking garrulity (she also has the slightly less gloomy song repertoire – but by a narrow margin; heartbreak is the chief vein worked by both). In the course of the evening, besides lots of specific information and one long story about a two-minute song being made up on the fly by Rosalie to try and impress a man she was trapped with during a New York power cut but who had already expressed distaste for 'really depressing country songs' (he turned out to be gay), we also gleaned the following nuggets:
both are members of different weight-control associations
being in a thriving relationship is highly damaging to the songwriting output of both
Rosalie's guitars are custom-made by a relative (I forget which), but unfortunately the one she had with her was having an off day for holding tuning
I'm sure there would have been less chat had said guitar behaved itself impeccably – sure not least because of the two statements of: 'I need to tune this – say something funny!' Each followed by a (brief, but dead) silence.
The evening had one more surprise up its sleeve for the audience (not for us thankfully). At the previous night's gig, both acts had joined in an impromptu collaborative encore. So much had this impressed the promoter's wife and general fixer that she asked after soundcheck if we would do the same. I must have looked slightly uncertain about what we would all know when this was first mooted (Rosalie and Edwina had not yet arrived at this point), but it was pushed through on Elaine's grounds that I would busk whatever it was perfectly well! Edwina, on being presented with this situation, took about 10 minutes to come up with a very practical Northerly solution: 'Let it Be in C. I've written out the words – me, Rosalie and Elaine can take one verse each.' Apparently what I played (unrehearsed) was lovely – as the near-silent electric violin hadn't been brought back up in the monitor on my side of stage, I didn't really hear most of it! I just wish I'd worked out the right note to start the descending scale prominent in the original lead guitar before we did the song, rather than nailing it down (it's the second of the scale – D in the key we were doing) just after that figure's last occurrence in our performance. Well, you learn something new every day they say.