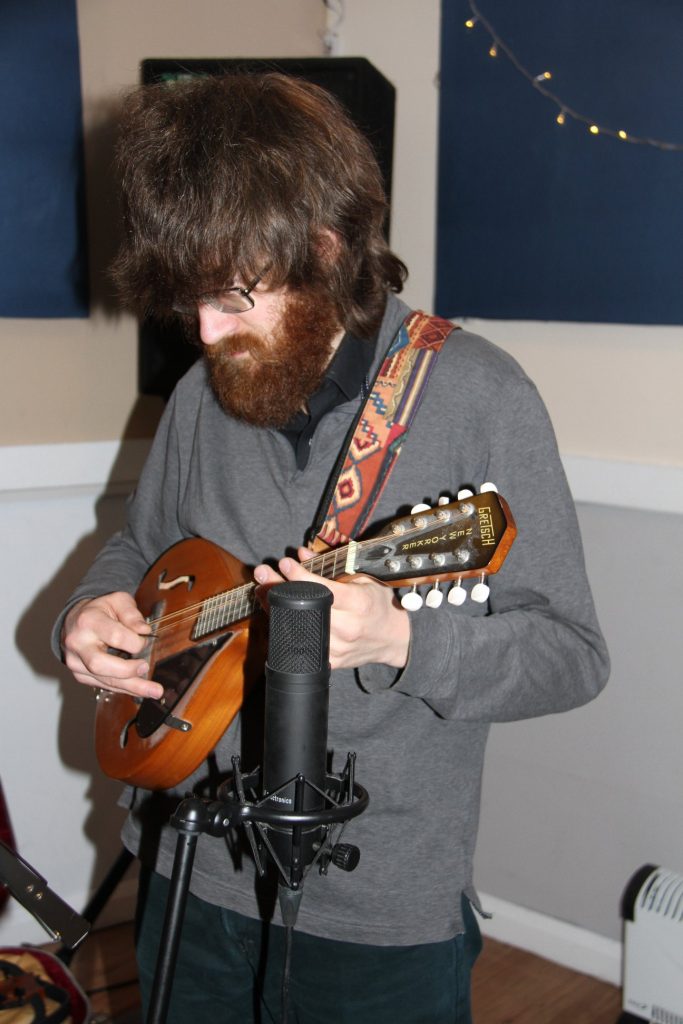 Last Friday (9th March), I was back at Skyline Studios to do five hours of recording, alone in a live room. That covered almost all of my parts for the Kindred Spirit recording currently in progress, and it became a day of all acoustic instruments.
First off was mandolin, as above, a brief overdub (but it will become certainly my most public outing on that instrument!). Then came violin as joint lead instrument on all 6 tracks – recorded with my good acoustic instrument and a nice mike, but that doesn't stop us from applying filthy rock overdrive for the final album, as achieved with electric instrument and stomp-box in gigs. Finally, my parts in my backing arrangements – first and second violins, double-tracked, for two tracks, and viola for two (but not the same two, confusingly). Tomorrow (16th), I need to go back and do a couple more background viola parts. Then I can pretty much sign off (though I think I will be joining the choir for their one song on Sunday (18th) as well), leaving guitar, vocals, flute, saxophones, bass and cello to be added respectively, over coming sessions.
Recording is always draining, particularly solo tracking where there is absolutely nowhere to hide, and I was glad I didn't have to do this for much longer in the same day. Although the times were actually set by when engineer Jez had finished tidying up the drum tracks for me to dub over, and when I had to leave in order to manage the other half of my double whammy day – Oliver! in Chesham, which I also did twice (matinee and evening) the following evening.
Those double headers seem to be getting more common – today (Thursday 15th), I busk in Victoria over lunchtime then support Gryphon as one half of the Kindred Spirit Duo; tomorrow I finish Kindred Spirit recording and then play an evening gig with Dream Logic; Saturday I record and film a promo set and play a St Patrick's Kindred Spirit Duo gig. Sunday's one musical commitment and Monday's driving test may seem comparative rests!