I've long been a fan of ceilidhs. They're almost the only form of public dancing I'll engage in these days (unless being paid to play in a rock band, and I'm not sure that really counts as dancing). I'd also suggest that if you have a big event with a lot of people who only know a few of each other and you want them to relax, mingle, have fun and perhaps even get to know some people they didn't know beforehand, a ceilidh is one of the best options – with the greatest of respect, better than a DJ or a covers band. Embarrassment is limited when you're all doing the same steps, and not knowing what to do is limited (even though experience does help somewhat) by having someone tell you what to do and walk you through it before really kicking off. What sort of gathering might fit that description? A wedding reception, perhaps? Maybe even the more informal kind of corporate event? Of course called dancing is pretty much impossible to make Covid-secure, with all that exercise leading to breathing heavily and all that touching strangers (especially in the dances where you spend your time changing partners!) but we live in hopes that will only be a serious issue for the next couple of months or so. There's less I can say about it's unsuitability for stilettos. Put a warning on the invitation. Or follow the example of one wedding reception and put a huge washing-basket of cheap plastic flip-flops in front of the stage.
Elaine and I are no strangers to playing for ceilidhs, either as individual musicians or as Kindred Spirit Duo. But, much to my personal satisfaction, this seems to be a growth market as the country unlocks and event planning builds up again – certainly one we're seeing more enquiries about lately.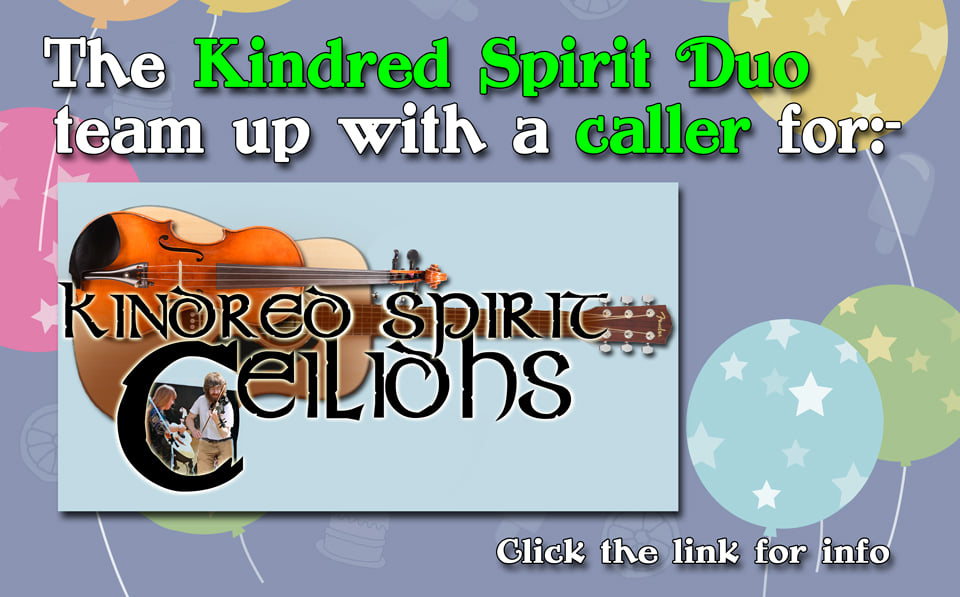 So it makes a lot of sense for us to join forces on an ongoing basis with an experienced pro caller (well in fact we have two, a reserve is always a good plan) to offer package deals. A completely self-contained (own PA and lights, we just need space and electricity) three-person act comes at a competitive budget, but we can cover all the bases musically (especially if I start using the stompbox and foot tambourine again … ) and play / sing appropriate 'performance' material between dances as a trio to let your guests have a sit down and a drink.
Enquiries welcome for any future events and to establish more details – you can find us on our own main page, Elaine's website, or our Last Minute Musicians listing. You can even watch some excerpts of ceilidh-suitable music in this showreel. Look forward to playing you through some gallops, promenades and right-hand stars this summer!