It has been a very busy month. Here's another project I was working on alongside the subject of my last post (sleeping was something I didn't work on much at all for 2 or 3 weeks).
Firstly, let me introduce Myriam Cavalli – singer, actress, model, from southern Italy but studying musical theatre at the London College of Music – possessed of near-perfect pitch, seemingly limitless energy and enthusiasm and (fun fact!) degrees in fashion design, chemistry and environmental microbiology (you didn't see that coming, did you?). This is primarily her project and absolutely her initiative.
It starts with a message – would I be interested in doing a voice and violin collaboration for YouTube? It rapidly turned out Myriam had the song picked – a number from The Greatest Showman called 'Never Enough'. I'm not going to get side-tracked into a discussion of the film or the musical, not least to avoid annoying the many people with a significantly higher opinion of it than my own! However, one of the strengths of the song as a performance number is that it is a song within the show – I believe the opening number of Jenny Lind's tour promoted by Barnum – and therefore does not require mangling to disentangle it from dialogue or other characters' singing on the one hand, nor knowledge of the plot to be made sense of on the other.
Workshopping the arrangement and rehearsing the song revealed rapidly that Myriam had quite a clear vision of the nature of the performance (as well as that she was already working within the framework of a video brief while we finalised the music), and one I'll admit that wasn't my knee-jerk reaction or my usual default. I admit this because I think it came out very well once I gave up my scepticism! The concept was essentially to treat the track as a cappella, rather than voice accompanied by violin, with the instrument duetting and mostly playing in the gaps in the vocal line instead of harmonising.
Also involved were reworking the lyrics, partly to introduce a substantial amount of Myriam's native Italian, and partly to shift the emotional focus of the verses from a rather dependent romantic love to an unashamedly childlike rediscovery of enchantment with Christmas. This was definitely going to be our 'Christmas single'!
Unsurprisingly, in the course of refining the arrangement, several details were bounced back and forth between us, but one major aspect of the 'concept' did shift rather late in the day – which was moving the instrumental part from violin to viola, and so moving quite a lot of material to a lower octave (not least because on that instrument, I could often avoid echoing the vocal notes directly by playing an octave below, whereas violin could only do so by playing an octave higher), but also changing the timbre and resonance of the sound quite significantly. I won't comment on how much of the latter is intrinsic to the instruments' natures, specific to the viola and violin I have and how I have them set up, or due to my playing of the respective instruments …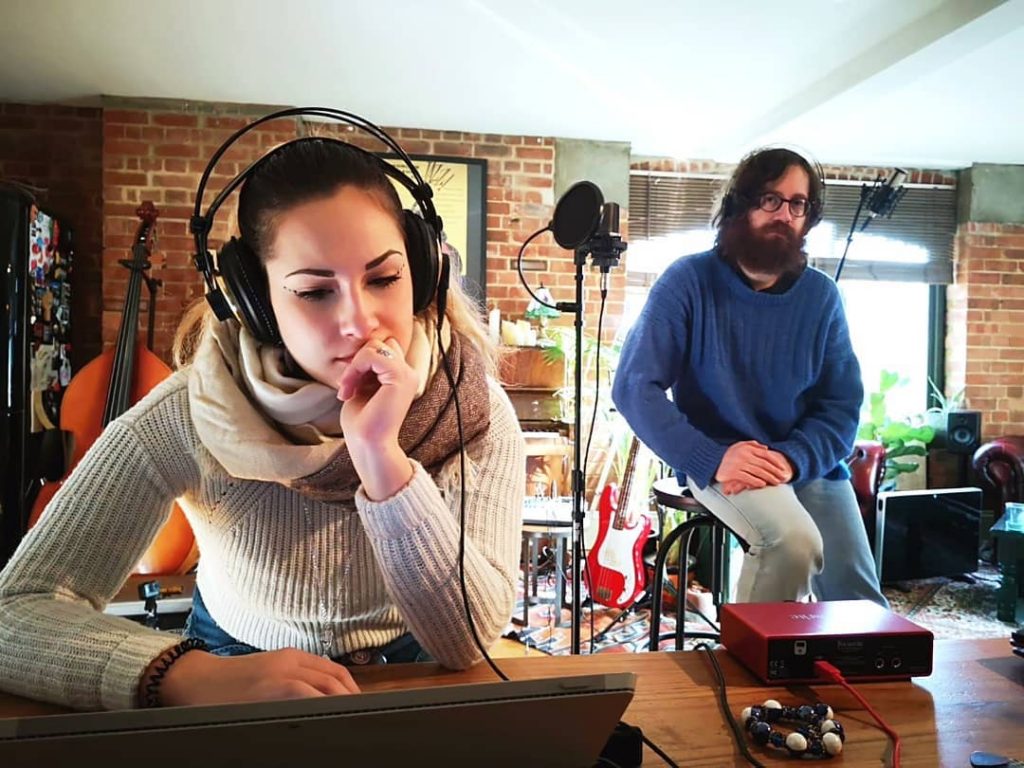 Audio recording was done, without guide track, click, overdubs or 'grid' (of beats and bars over time, for editing facilitation – only feasible if recording to click track of course), by Dani Ricci at his converted warehouse home studio. We were miked separately but within the same audibly resonant live room, allowing for chamber music-style ensemble playing but meaning that while splices were fine, isolating one part from the other was certainly not.
All credit then to Dani for doing such a good job of editing, mixing and mastering a track without almost all of the usual reference points or shortcuts. A lot of this had to be 'freehand', and a lot more like a classical recording than a rock or pop one. And yet not only does it all come together fluently, it also has much more warmth, atmosphere and fullness than would generally be expected from a two-part arrangement with the parts mostly alternating rather than combining.
As soon as the audio was edited (for timing – before mixing, EQ or mastering were final), it was on to video shooting. This took most of three days in different settings, of which I was needed at two. Events took an interesting turn at the university filming studios (Myriam's day two, my day one), where I turned up expecting to mime footage to the recorded audio. It turned out the large crew of students, and a few staff techs, who were doing the video side as an assessed part of their degrees were intending to record audio and video in live takes, Jools Holland style. Not a problem of itself, but had I anticipated that setup I would have memorised the arrangement rather more thoroughly (as not relying on hearing my part blasting at me), and brought my clip mike to facilitate getting some separated audio while allowing me to move without wildly swinging levels. Instead of which there was some hasty improvisation with a tieclip vocal mike, electrical tape cushioning and resting in the soundhole (no, tape cannot be stuck to the viola, I remain surprised by how much varnish is involved in the sound so it's certainly not being partly pulled off!). Moral: communicate clearly in advance; students may have everything within ten minutes' run and not care about overrunning, but I had come 90 minutes' journey by train and two tubes from south-east to south-west London to be there and couldn't go home for alternative gear! However, you can (in my unhumble opinion) always tell the real quality of musicians by what they can do live, rather than in the studio, and in the end we did a lot more rehearsals and restarts for set dressing, lighting rig and the four fixed-tripod and one moving-dolly (on a mini train track and everything! 'Big boys' toys' … ) cameras than for musical glitches.
The final day's shooting was outside and fairly high-concept – Myriam having loaned a bespoke dress from a designer to feature, and me in all white (sidenote: my white jeans now fit so badly, being formerly tight and now worse due to insulin, chronic fatigue (think about it: less exercise, less cooking from scratch … ) and perhaps the beginnings of middle-aged spread, that it took me 10 minutes to do up the fly and I have since despaired and charity shopped them). But bare shoulders or not and December in England or July in Rome, cinematographers will insist on trying to shoot outdoor footage in the 'golden hour' – a bit longer than an hour thankfully, but the particularly warm light at the ends of the day. Before-dusk was unavailable as we were shooting the same day of the Secret London performance (told you it's been busy). So post-dawn in Gunnersbury Park it was – and dawn may be about as late as it gets a week before the solstice, but 90 minutes' journey before dawn was still a very early start in professional performer time (I mean, I'm working at 11pm much more often than 9 or even 11am). Caffeine may be one of my demons, but it was a necessary friend that day!
So if you're a Christmas pop person, vary up your Wham and Mariah Carey by getting this in your playlists while it's not quite Christmas Day, and give us two the present of some serious play-count acceleration.