Being briefed as background music to a sit-down meal usually means decent money, not much attention, not much pressure; though mind you the last time Elaine and I did one of these as the Kindred Spirit Duo it involved a significant exercise in finding out how low we could turn the volume on the PA!
However, appearances or booking notes can be deceptive, and were for our waving of the calendar over the line into 2019 at the Thames Court in Shepperton. In principle, we were largely there as part of the 'package' for those celebrating the turn of the year with a four-course banquet. The money was certainly excellent for pub work, but we were in practice playing at least as much to the pub 'side' as the restaurant one – and the latter were eating less, drinking more and listening at least as much and more noisily. By our second set we had clearly got people's attention enough for them to notice (and applaud!) when we finished a number; by midnight there wasn't much 'sit-down' about anything: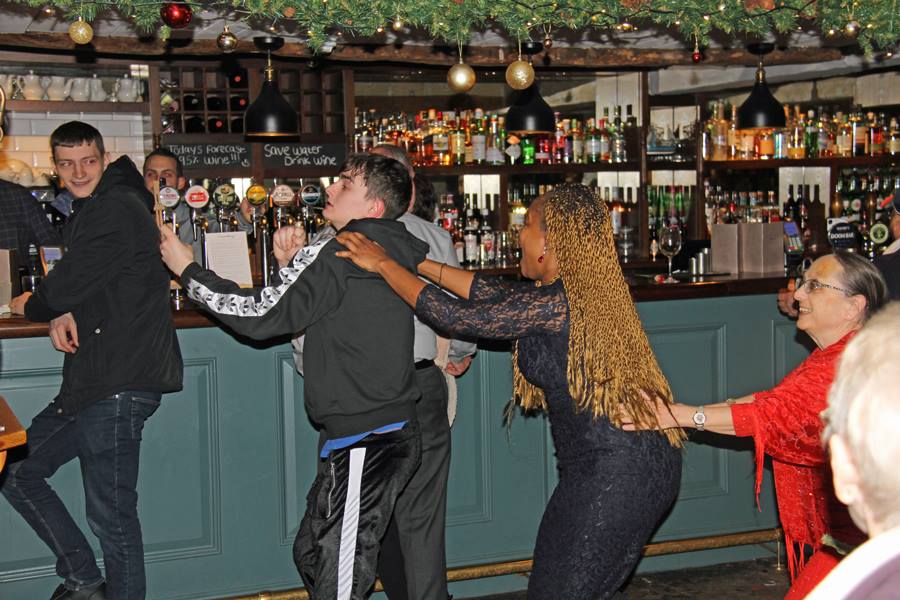 Requests for 'one more' (and then another … and so on … ) are not unusual at full-blown Kindred Spirit band gigs, but inevitably rarer at pub / function background duo performances. Though the organisers of Fleet Beer Festival (the full band are there again this August), where our shows arguably sit somewhere between the two, did recently claim:
The crowd love em. Can't recommend them highly enough. First band to ever get an encore!
On this occasion, the pleas for more (after countdown, midnight, 'Auld Lang Syne' and conga-inducing '500 Miles' … ) were sustained and energetic, and even after having resolutely declined (we had played around 3 hours of music already!), we managed to get this impressive plaudit from a customer (of Irish parentage and therefore clearly impeccable taste in music, particularly involving fiddle):
We didn't know what to expect from the band playing here tonight, but you were 100% better than anything I anticipated. I thoroughly enjoyed everything you played.
Someone had even complimented us on our harmonies earlier, which those who know of my history of struggles as a backing singer will agree really counts for something as musical progress!
So, book us now! Your customers will love us … and so will my finances.