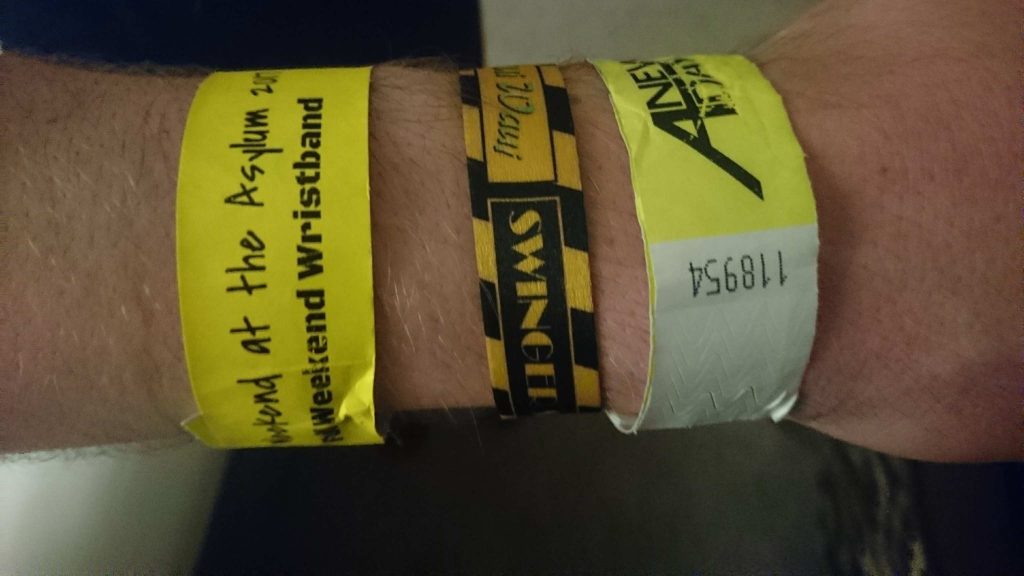 At least they colour-coordinated.
Here's how Friday and Saturday of the bank holiday weekend ran for me this year:
Friday: leave the house soon after 3pm, get a train out a few suburbs in order to meet up with The Filthy Spectacula's drummer and his wife. Who because they are lovely people are giving me several lifts over the weekend (and when Andrea isn't driving I'm buying them drinks … ). We drive from Twickenham to Theberton in Suffolk, something like 150 miles, to Maui Waui Festival.
Everything on Friday has moved back about two hours because we were told to expect a stage time of about 8pm when we were first booked, but have actually moved up the bill to penultimate act of the day (on that, second, stage) with our set running 10:30-11:30. This is a definite compliment and gives us a larger, drunker, more enthusiastic audience but less sleep. We play a high-energy hour, and our bassist (who's at the festival most of the weekend, and decidedly merry) persuades the can-can dancers who do a short set between the previous band and us to come back on and improv something to our second number. As you do. I may be the most sober person on festival site who isn't driving. Photographers are very keen on our set though, as are the act following us. Dancing is predictably in a style to endanger public health and safety.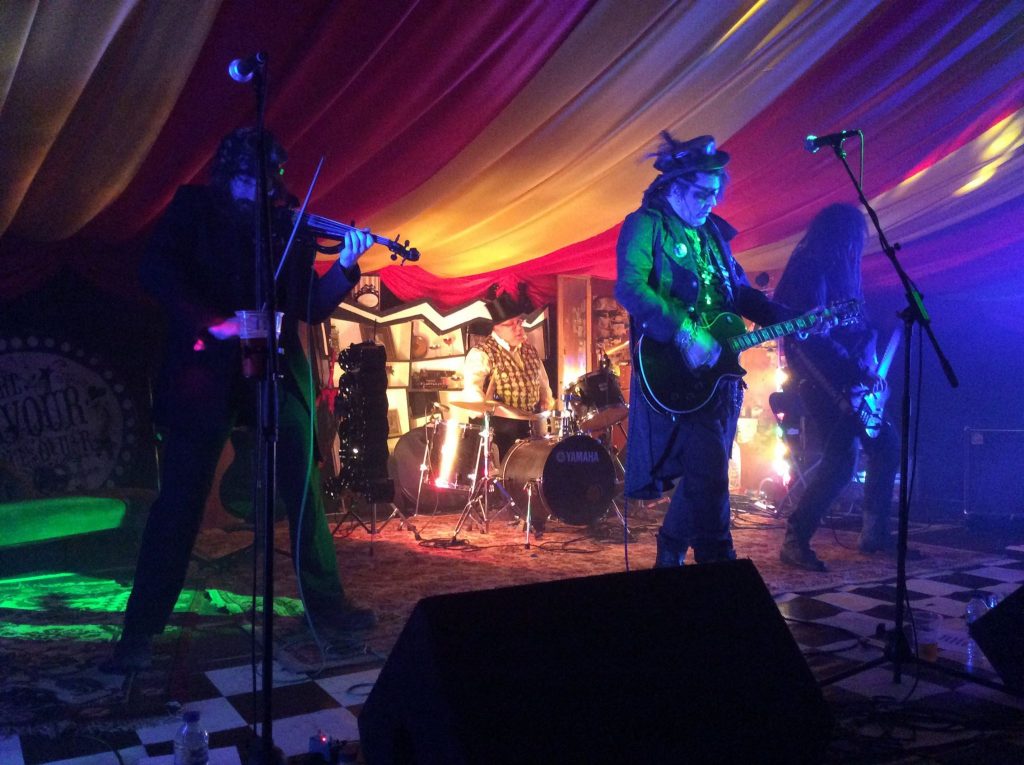 Back in the car with Andrea and Jeff and to Cambridge (which is most nearly geographically convenient for all concerned, for reasons that may eventually be apparent if you compare this to a map), a mere 75 miles. It's technically Saturday by the time they drop me at the youth hostel – 1:45am or so – and head slightly further north to stay overnight somewhere else.
Four and a half hours' sleep later and having changed some of my clothes, I check out again (it's still the same bloke on night reception today) and wander to Cambridge station. Luckily most of the cafés and food shops open at 7, a quarter of an hour before I need to be on a train. Cambridge to King's Cross, St Pancras (over the road, once I've disentangled myself from St Pancras International which will only put me on the Eurostar) to Faversham, Kent and meeting Elaine Samuels of Kindred Spirit. Just a few miles up the road this time to A New Day festival. We're opening the main stage for the day, but the day's headliners – Uriah Heep – are soundchecking first, and we were given a very early arrival time (probably allowing vast contingency for disorganised rockers), so I have time for my second coffee of the day (this one's free), some rehydration and as much enjoyment as I'm likely to get out of being in a 'dressing room' between Soft Machine and Martin Turner of Wishbone Ash when it's actually a curtained off area of marquee which resembles an opaque greenhouse in the unexpected bank holiday weekend sun.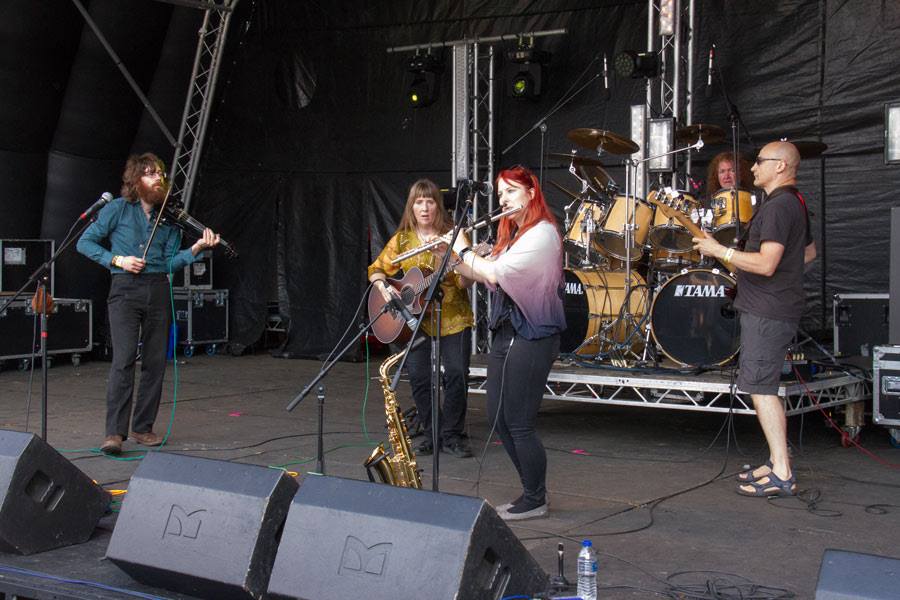 This is the biggest stage I've ever played on I'm pretty sure, big enough even to dwarf the massive kit of Les Binks, drumming for us today. No leaping into the crowd either with crush barriers eight foot in front of it. the crowd are very engaged though, being mostly awake by 12 (there's already been a band on the second stage before us) and having no other acts to watch at the same time. Disconcertingly, there are two girls in Uriah Heep T-shirts right down the front and I wonder if they're going to stay there all day. I discover that wandering forward onto the bass speakers in front of the stage isn't as simple as it looks because the one in front of me is both very shiny and somewhat unsteady (the ground is anything but flat or level). It's like standing on a polished table with one short leg. I put off the obvious – moving forward again to the step on the back of the barrier – until the end of the set because I realise there's going to be no graceful way of getting back again. We get a great response though, and the merch stall sell through the first box of our albums so quickly several people think they're all gone and buy them online afterwards. I see an email later from someone who'd never heard of us before but wondered in the end why we weren't further up the bill!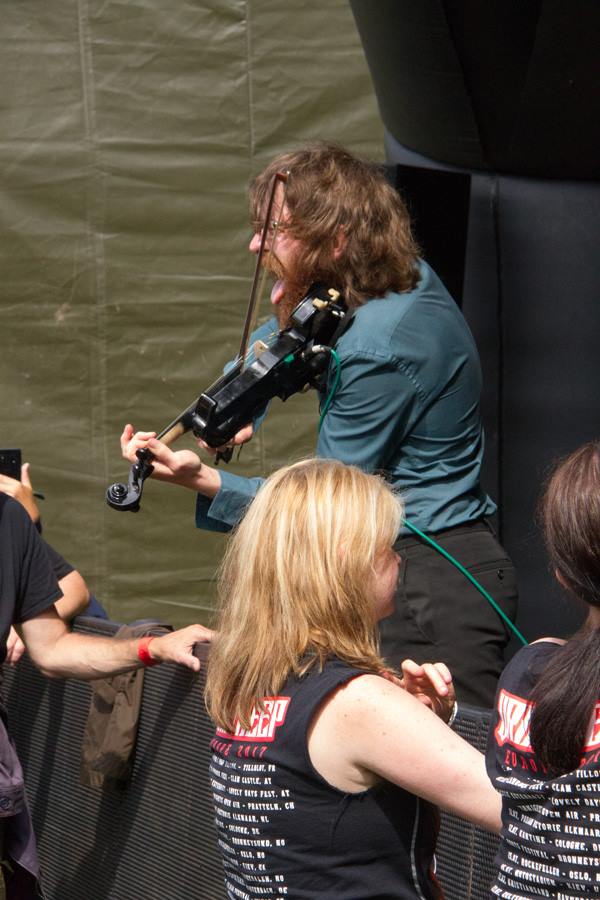 This set was originally scheduled for 15 minutes earlier, and that small difference gives me a very tight transport turnaround. I pack up as quickly as possible and jump in a car with Kindred Spirit's bassist, Mike Hislop, who gets me back to Faversham in record time so I make it onto the platform with 4 minutes to spare before my train.
Back to St Pancras and King's Cross, there meeting my partner Stevie, who's coming to the last gig of the saga. We take two trains to get to Lincoln, where we look for a taxi. Finding no black cabs in the station car park, we ring the number on the side of the first minicab we see and get allocated – that car. The driver turns out to be an arrogant, voluble paranoid conspiracy theorist, but he does get me to the Georgian County Assembly Rooms in time to play my part in soundcheck with The Filthy Spectacula (and stand-in bassist due to other commitments on Ian's part). By this point I've gone beyond tired to that sort of hyper stage where you kind of cope. We're headlining, so soundchecking first, and Stevie and I have up to 4 hours to kill (depending on how much of the earlier two acts we want to see) before our set. Stevie makes it back from checking in at our hotel (no public transport out of Lincoln after about 8pm tonight, and by the time I realised that all the AirBnB beds were gone) about 15 minutes after I finish one of the shortest sound checks of my life, and we go in search of food. This is interesting as for Lincoln it's not just bank holiday weekend but also Weekend at the Asylum – Europe's (apparently) largest steampunk convention. Lincoln's old centre (up the hill, as opposed to the modern city centre almost vertically below by the river) is heaving with people affecting posh accents and strutting around in various degrees of faux-Victorian costume, more or less adulterated with Jules Verne-era sci-fi touches. You've never seen so many corsets in your life, unless you've been in the Ann Summers stock warehouse. Pubs are heaving, with a mix of steampunks and locals just out enjoying a sunny long weekend and wearing looks somewhere between bemusement and admiration at all the visitors.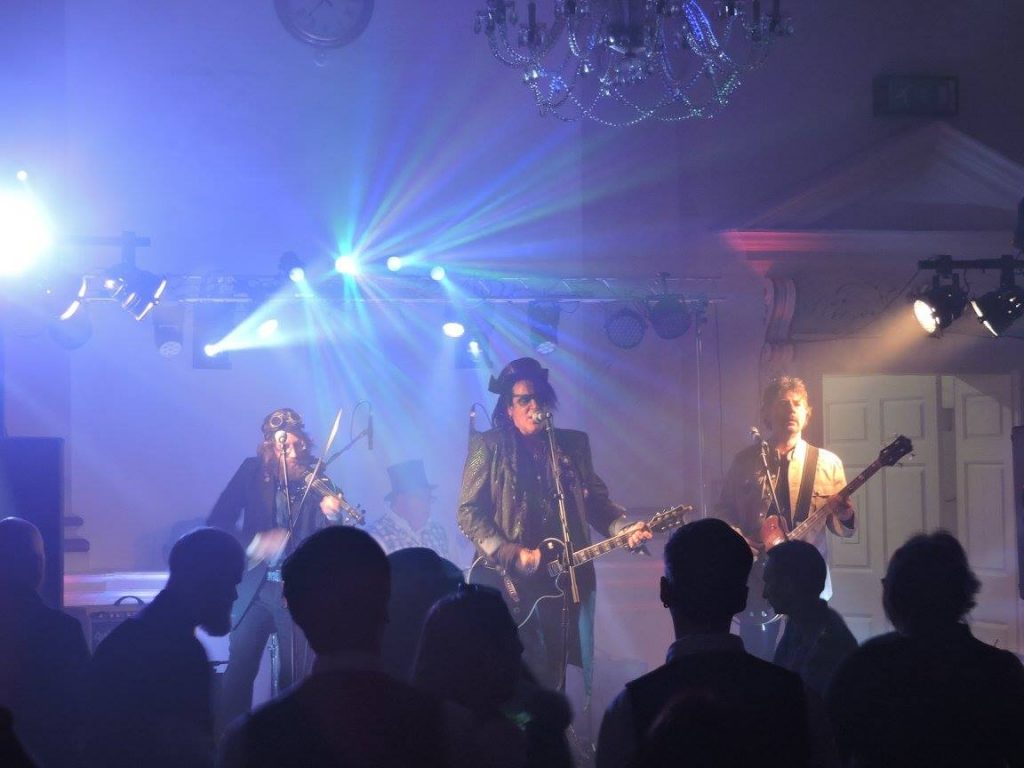 It seems the Filthy Spectacula have become more or less Asylum-specific celebrities since playing effectively the same slot last year. This is supposed to be the down and dirty rock-n-roll evening's entertainment of the weekend (there are various much more refined musical spectacles, generally with more affinity to Noel Coward or the very clean end of music hall), but even so steampunks are generally a somewhat reserved lot, with honourable exceptions (it's very hot work dancing in all those layers, and with the money and effort that went into fitting into a subculture that's almost entirely about the clothes, you wouldn't want to dishevel yourself. I'd have thought). Not only do we sell merch before playing (which is unheard of) and encounter so many people who already have our album that I become converted to the idea that we should record another one, but there are more people dancing through most of our set here than there were at straight up (albeit self-consciously freaky) music festival Maui Waui yesterday. And a lot of them seem to know the words to many of our songs (arguably more than can be said for our frontman, not that it impairs the vigorous confidence of his delivery). That kind of reception plus, in fairness, excellent sound work and a merciful and all too rare absence of technical hitches means it would really be hard not to deliver a good set, but I think that would be an understatement of the outcome (though I mostly just remember darkness and lots and lots of sweating). I'll take Lord Harold's (Jeff's onstage Filthy persona) word for it instead: 'I think we should deprive this man of sleep more often.'
Last taxi of the weekend just about got us to the hotel before Saturday technically blurred into Sunday. Returning home may have only been a matter of a mile walk, three trains and a bus, but I think recovery is still in progress!
Regardless of which, of course, the show must go on – the next show being tomorrow's viola recital in Chelmsford. If there is rest for the wicked I evidently haven't reached it yet!