The weekend of 21-23 July saw me wearing all my band gig hats in succession. I haven't got so much use out of the electric violin since I played a week's run of a musical on it! And it's always good to have performances with regular collaborators and material I know, however interesting the one-off freelance jobs can be.
Friday night, Kindred Spirit full band at Farncombe Music Club. An interesting event this; the organisation put on regular gigs, with ticketed entry, merch stalls, licensed bar, full PA and all the usual trappings of a rock gig … in the village church. Perhaps surprisingly, it seems to work to everyone's satisfaction, and they clearly have a decent number of regulars who show up repeatedly and support the acts booked in (which range from unsigned originals groups like ourselves, to classic rock names now heading towards the nostalgia circuit, to polished tributes). We were backed up by the monumental drumming (and monumental kit!) of Les Binks, seasoned session pro and one-time Judas Priest rhythm man, spurring me on to perhaps even greater energy than usual: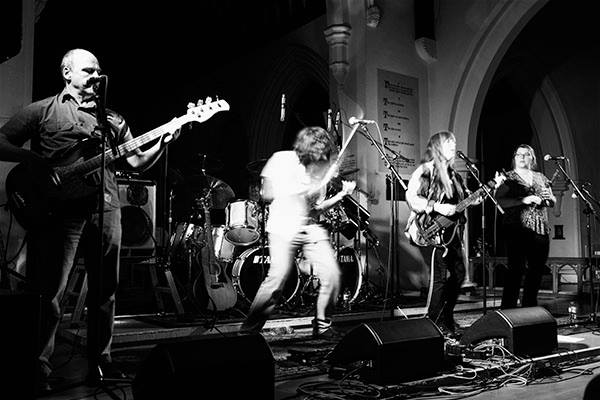 (photo courtesy Chris Davenport)
Saturday night, Kindred Spirit duo going upmarket as a function group rather than our more frequent bar gig bookings. Very upmarket in fact, in the surroundings of a northern London-rural fringe hotel with its own helipad and arboretum. I kid you not.
Sunday afternoon, the Filthy Spectacula making a rare appearance in daylight, headlining the inaugural (hopefully to become an event series) Steampunk Sunday in Nottingham, spearheaded by our long-term superfan and patron Greg O'Regan. This has to be one of the most diverse bills we've played, opened by a lookalike and soundalike George Formby tribute (with backing tracks and live banjolele), and further warmed up by a goth/folk/blues duo, with circus act slots between music. All set in a Victorian music hall converted into a pub, with pop-up printing press (genuine Victorian letterpress technique) and other trade stalls doing business in corners and those punters who weren't there for the event bemusedly eating and drinking – or getting into the spirit of things. A very small stage, a very large horseshoe balcony and a wireless belt pack constituted a challenge I was only going to resist for so long. As the opticians say, better with one?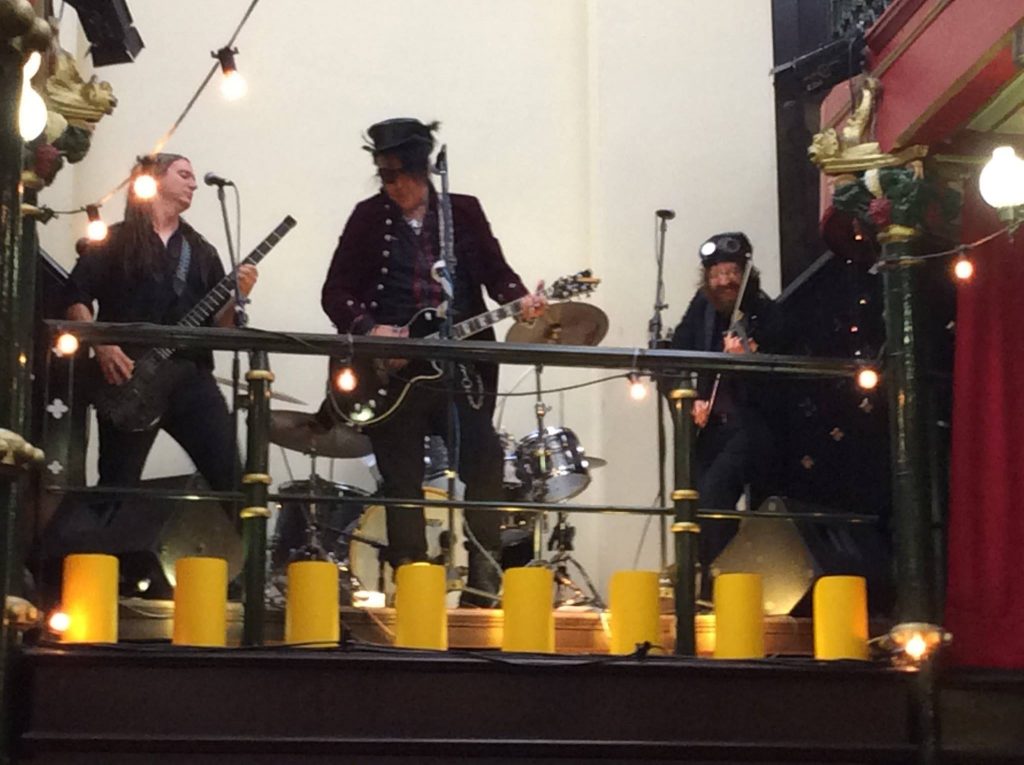 Or with two?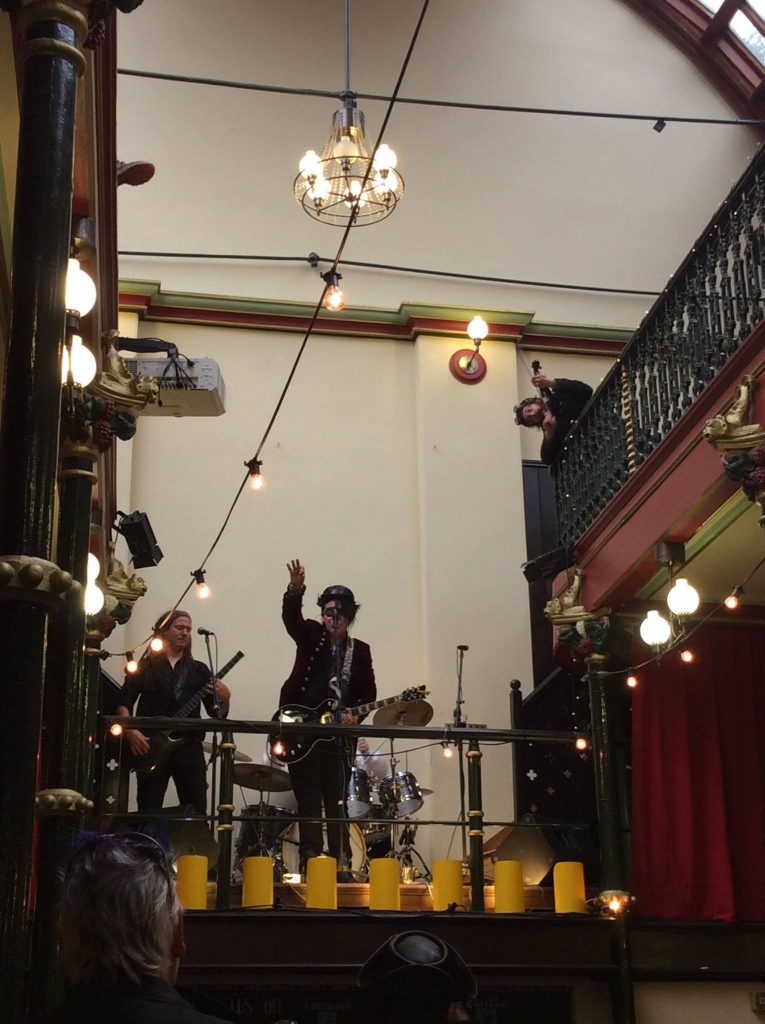 This was also the gig at which we achieved as a band a goal I think we will struggle to better: someone in the audience actually danced so hard she broke her shoe. Stretch goal: someone breaks both shoes dancing to our set. All in the all the most fun anyone's had on a Sunday afternoon in quite a while.
While July still held another stretch in a nominal orchestra pit (see post to follow), these three configurations own almost all my bookings for August. Come back again (or check the gig list on the home page) to keep up with those outings.