Curiously enough, the last job I've just come off was theatrical and involved a reduced instrumental group but an undiminished cast from the original version. It has that much in common with the job I need to reach back to in order to restore something like chronological order to my posts, though (as will eventually become clear) little else!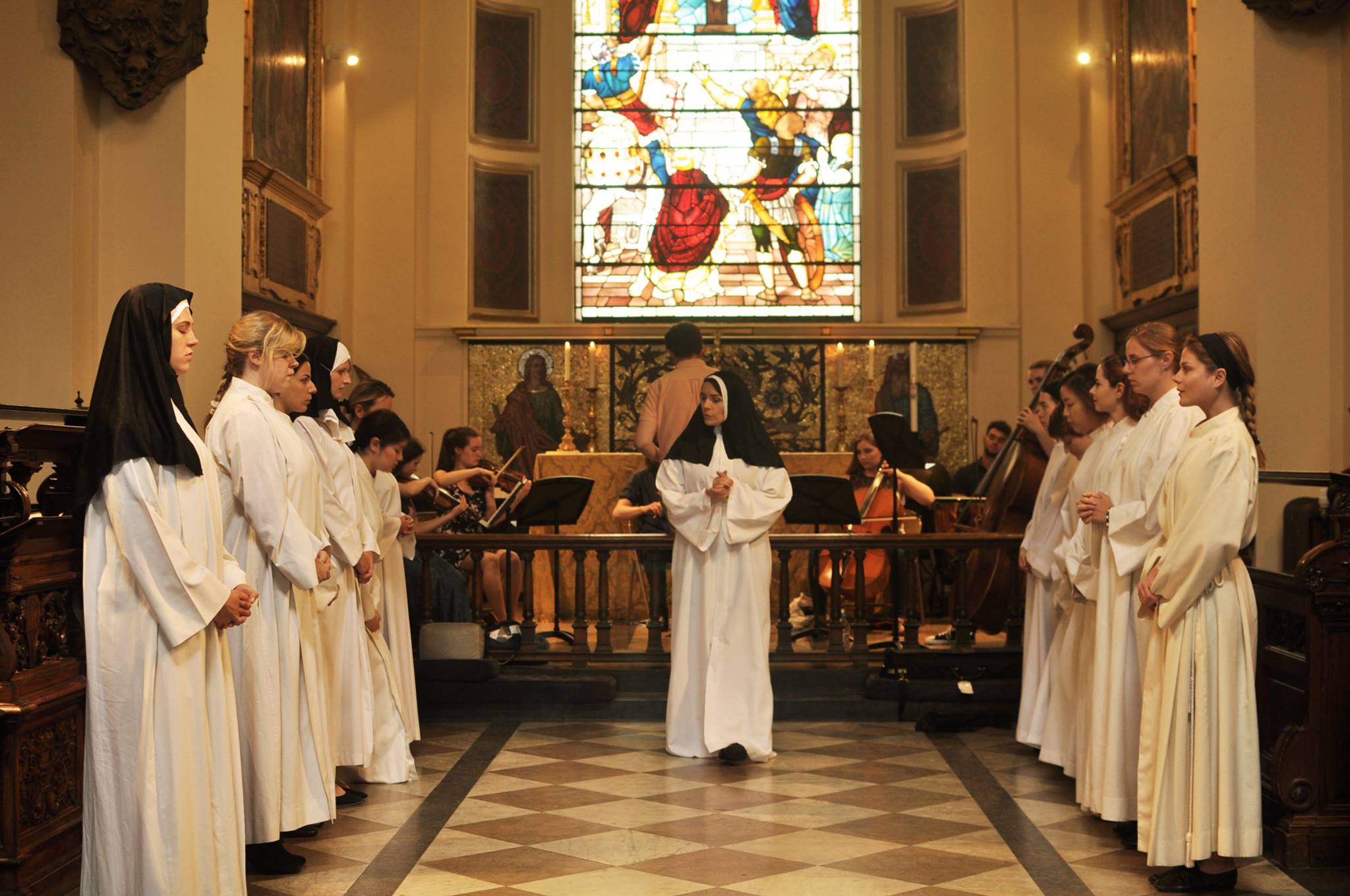 The 10th to the 14th of August saw LunchBreak Opera present their début production – Puccini's Suor Angelica. I have some history with profit share opera companies, and so (besides understanding the main reasons why they exist) have some appreciation of the imagination that went into making this one actually get an audience and have some profit to share out at the end of the process, besides being artistically substantial. Here's roughly how it goes:
Step 1: Pick a short opera. Suor Angelica is a one-act drama, normally performed in a double bill with something else as it runs for just under an hour in most versions. That enables, at least in part:
Step 2: Actually do a run, not a single performance. There were nine performances over five days, aiming to catch audiences on lunch breaks (1-2pm) or after work (6-7) – I had to dep out the last one as I was travelling to Wantage to do my next job, but that's another story. This means you get many more people through the door, and because you aren't paying by the hour in a profit-share model (except perhaps for the venue) your overheads only rise minimally.
Step 3: Stage the opera. Sounds obvious, but all my other experience of profit-share (as opposed to amateur) opera has been concert performances. Which shouldn't be under-rated, but putting on 'actual' dramatically realised opera for entrance by donation, in a just-round-the-corner church rather than a forbidding grand opera house, definitely has the appeal of the unusual in a way that concert performances (which end up feeling like another classical choral/orchestral concert with soloists) tend to lack. But I'm getting ahead of myself on musical details.
Step 4: Cut the number of heads involved. Sharing profits always means cutting overheads to the bone, but if you want the shares to be worth having, the obvious response is to then minimise how many shares there are. In this instance, the cast was not huge (though I think there are real limits to how small you can make the 'chorus' in this opera, as they are subdivided, given solos, etc.), but the real advance was in the orchestra.
Take a look at the dress rehearsal photo above. You can only see my bowing arm; the harpist wasn't in that rehearsal; and the organist is out of shot; but otherwise that is the whole 'orchestra' for these performances. Musical director Matthew O'Keefe took on the less than enviable task of reducing Puccini's vast symphony orchestra score to five solo strings, harp, organ (and a fairly small electronic organ at that) and percussion, without losing its scope.
A diversion here to the nature of playing Puccini, which was new to me. He occupies a more or less unique position among major operatic composers, I would suggest. Musically, he is fairly straightforwardly of the late Romantic (though chronologically he overlaps with the emergence of Modernism, it had little noticeable influence stylistically); certainly singing Puccini appears to a non-singer to be somewhat similar in purely sonic terms to singing Verdi or Wagner. Dramatically, however, his great step is to abandon the clean number-divisions and almost ceremonial progression that grand opera inherited from Classical-era opera seria by way of bel canto. The action of a Puccini opera proceeds seamlessly through an entire act (since 19th-century scenery, and scenery moving equipment, demanded an interval for a change of set), and the music flows continuously over the same span of time – of course, in this case that was the entire opera, it being in one act. So much I knew from watching Puccini; what I discovered is that there are correspondingly no divisions in the score. Labels such as 'aria', 'intermezzo' and so on, which are used in discussing portions of Puccini operas, are in fact merely conventional labels; they are not marked into the music, where almost any earlier composer would have made them movement headings. There are no larger breaks in musical thought than pauses and changes of time signature or speed.
That said, while Puccini's dramaturgy is that of the 'well-made plays' that emerged at the end of the nineteenth century – Wilde and Shaw being the most notable English exponents – and broke the grip of spectacular melodrama in theatrical writing, the emotional level is not, and the intensity to be achieved by all performers is definitely that of his late Romantic musical landscape, whether entirely psychologically plausible to a detached mind or not.
For all sorts of reasons, Puccini roles cannot be sung in a much more intimate style than its composer had in mind, even if the accompaniment is much quieter and the building much smaller than he intended – full-blown operatic soprano technique is indispensable. Suor Angelica having an all-female cast, soprano is particularly the point here, and especially the title role, full of emotional wracking and culminating (spoilers) in suicide and last-minute repentance. Sufficiently much so, in fact, and so demanding are the vertiginous high notes towards the end, that the company split that role, with Demelza Stafford and Alexandria Wreggelsworth taking roughly half each. Mezzo Christie Cook, having to perform almost equally challenging vocal gymnastics at the other end of the female vocal range as the ice-queen villain of the piece, was required to stay the whole course.
In any case, the impact on we eight instrumentalists was a need to match almost undiluted operatic performance as a chamber group, rather than a sweeping symphonic texture. You could almost say we were outnumbered. Of course there is something immediate about one-to-a-part playing and smaller groups which can be perhaps more intense than vast textures into which individual parts blend; but there are restrictions on volume, and reducing a vast score to a smallish one inevitably produces extra technical challenges to the individual players which can be a distraction from truly communicative playing. Overall, Matthew had to roughly spend the first part of the run making all the loud sections of the score louder and more intense (particularly the organ(!)), for both practical and expressive reasons; and then (the point at which I really started to respect his musical vision) the remainder of it making the quietest ones quieter, so as to create the maximum possible range and contrast. Romantic opera should almost always be a roller-coaster; the bigger the dips and rises, the better.
The final challenge of this performance was working with, in a sense, new music: the composition was far from new, the arrangement entirely so, and that meant extra adjustments of mind-set for both the instrumentalists playing new parts and the singers having to stand upon, as it were, new versions of cues and accompaniment. While I'm not new to new music (paradox?), it always adds an extra shot of adrenaline for there to be no exactly corresponding recording to check up against, no straightforward reference point.
All in all, definitely work out of the ordinary, and an experience I would happily repeat for all that it was hard work! Those statements at least were in common with the two jobs I went on to (both with my partner Stevie on cello, as it happens) over the weekend running off the end of the Suor Angelica run. But for that, you'll definitely have to wait for another post.