Following on from the theme of yesterday's post, some gig mishaps are, however, not of one's own making or liable to one's own solving …
Like, for instance, when you show up to the venue to find the keyholder went away for the bank holiday weekend and the organisers have not yet managed to gain entry, five hours after they hoped to. By the time The Filthy Spectacula and the night's other three acts finally got in, doors were scheduled to open in 15 minutes. Audience did indeed start to come in, but clearly getting music playing on time wasn't going to happen for anyone unless we were doing the literally unplugged set.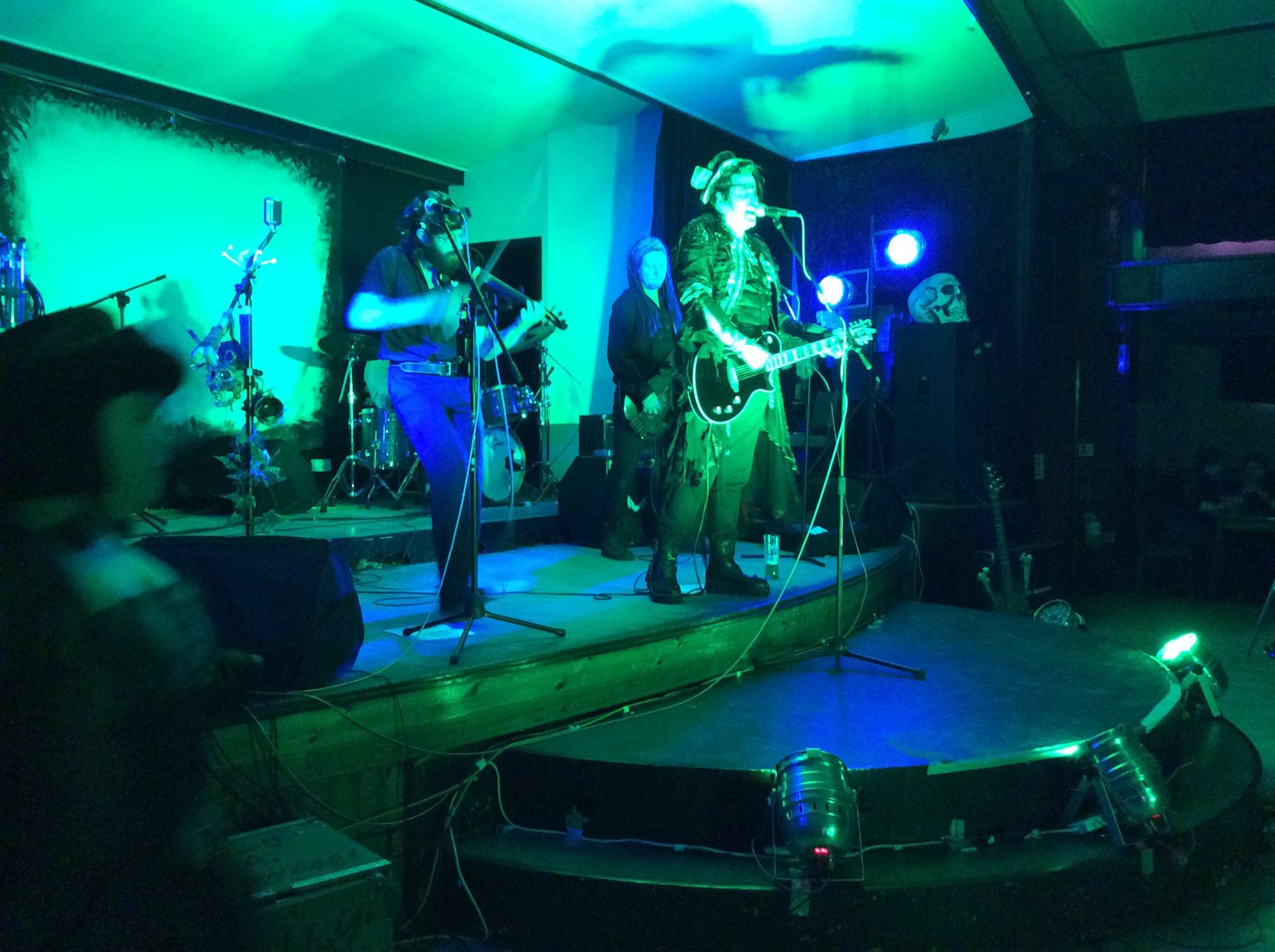 However, the camera doesn't lie. In this instance. A set was played, and enjoyed, and I got a bit closer than that to the audience too. Not before a still unidentified glitch (possibly somebody else's radio mike) sadly caused me to have to resort to old-fashioned jack lead input as the wireless signal was coming and going like Nigel Farage from the UKIP leadership position (and that is the most politics I'm allowing myself online. Promise.). But being flexible in adapting to circumstances, and not being too much of a diva about monitor mixes, is the sort of thing that makes promoters like working with this band, however much the audiences love us acting like idiots once the set starts.
Luckily steampunks are a patient bunch, since they had to wait through one more soundcheck before getting the other three acts (in this order, the Wattingers, Victor and the Bully and Professor Elemental) – all of which know at least some of us and the first two we've shared a stage with before. Probably about the closest to a scene I've ever felt like the disparate threads of music booked for steampunk events have achieved. Though even here I'd have to admit the most in common you could plausibly propose for those four acts is 'Well, they all have vocals. And some of all their words are about old-fashioned stuff?'
At this point we Filthy crew take a moderate breath from having got the summer started, before really rolling with the punches next month through to September. At that point the all-knowing (don't quote me on that) gig list shows we are doing a nominally steampunk one-off event with gothic and punk support acts (actually a much better musical fit for our style – don't tell the steampunks); an evening at a scooter rally (Mods ahoy! good luck reclaiming the union jack / RAF roundel … again … ); the UK's first steampunk bar, which strangely becomes some kind of very well-dressed sweaty rammed rock pub whenever we play; and the steampunk festival in a West Country market town where we met the Wattingers (and Miss von Trapp, but that's another story). In the space of about six weeks, playing anything from 40 minutes through headline to the whole evening to ourselves. I'll give you another heads-up nearer the time!
For my own gig list (it's on the homepage btw), the immediate future looks a bit, er, quieter. In literal volume terms, not frequency of engagements: this Saturday sees a rare return to bar gig work for Kindred Spirit Duo, out in Staines at the Wheatsheaf and Pigeon. The eight days from 17 June are a blizzard of unusual (for me), in one way or another, classical performances, which I think also deserve another post to themselves. If you want dates, homepage has them – otherwise, watch this space …