Kindred Spirit are doing a string of weekend concert appearances at present, and travelling far and wide to do so. On Saturday 25 March we self-promoted a gig in a church, with support slot by the vicar's daughter (you'd never catch The Filthy Spectacula engaged in such shenanigans). Kathryn Gleeson, the young woman in question, is one to watch in my opinion (though maybe I'm biased towards a fellow viola player) – a multi-instrumentalist singer-songwriter with a penetratingly clear but ungrating soprano register and a very nice line in flowing piano compositions.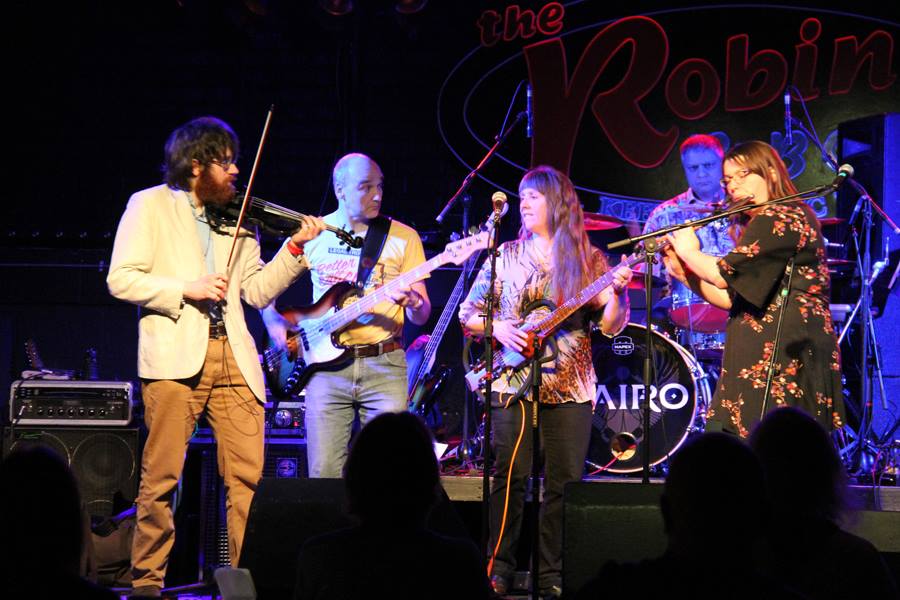 Sunday gone, 2 April, we travelled up to Bilston's Robin 2 venue to kick off a day-long showcase for Nineteen73 Artist Promotion, who have been involved in the various magazine features and album reviews we've received over the last nine months or so. The turnout was good for lunchtime on a Sunday (I imagine, that far away from our territory, most of those there were taking advantage of single entry tickets to see all five bands once they'd decided to go at all); and if the low point of our set may have been an unidentified connection issue somewhere between my effects unit and the sound desk, the high point appears to have been this 'death leap' towards the end of our closing number:
It certainly attracted a lot of comment!
The sequence rounds off (for now) with this Saturday's trip out to Bracknell, where we're instrumental (and vocal) in the second annual FourPlay Festival:
Also featuring three other live bands (you'd never guess would you?), in the now up and very actively running community venue theacousticcouch, slap in the heart of Bracknell (no jokes about how the heart of Bracknell is a multi-storey car park please … ). See you down the front and I'll try not to jump on you!