Think back to the start of June this year.
The very beginnings of easing were coming to lockdown. A few musicians were cautiously glad it was legal – with other conditions in place – to go and do recordings if they were solo tracking, with no other musicians playing and the engineer in a separate control room. Face coverings hadn't even been made mandatory on public transport yet (though the takeup by Londoners hardly seems to have increased when it did become the law), let alone in shops.
Multimedia artist Zahed Sultan and I consulted and examined the then-current guidance in some detail. I ventured beyond cycling distance of my house for the first time since before the start of lockdown, and travelled to his home studio across London (scarf tied across my face as I would only invest in some bespoke masks a little while later). There, we spent most of a day layering violin and viola drones, trills and answering phrases for two tracks he was working on, with a lot of ideas being tried out for the next take and recording everything to pick out what worked later. It was intense and exhausting (and the combination of sound insulation and infection prevention meant I was in an airless sauna of a room), but creative, fulfilling and unique. My first paid work in nearly 3 months; my first work outside the house in the same amount of time. It was to be another substantial wait for the next working journey!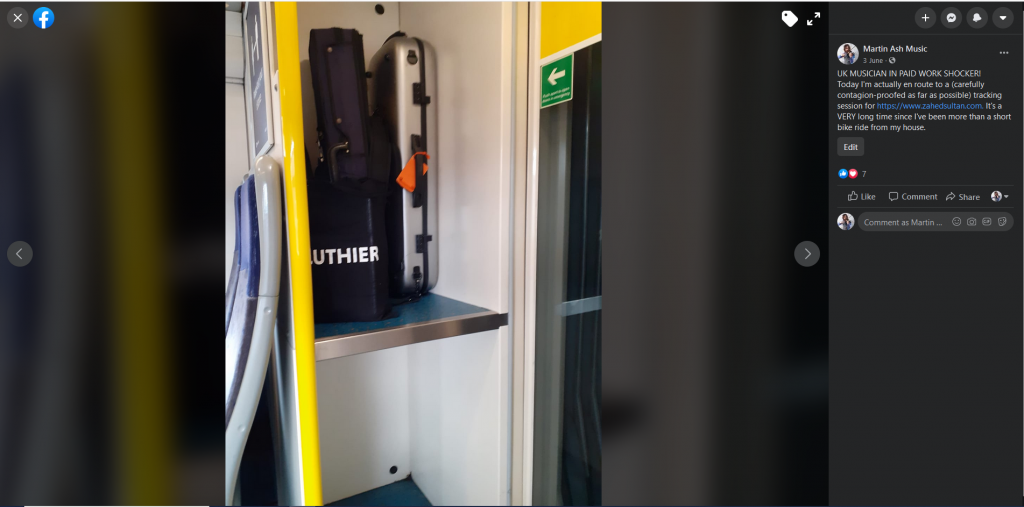 The first of those tracks is now out!
I've never heard anything quite like 'Layl'. It shows absorbing electronic and urban influences doesn't have to mean accepting predictable lowest-common-denominator-Western rhythmic patterns; dynamism and range over a track doesn't have to mean moving harmony; and there are many ways to square the Arabic-Western musical fusion circle. Take a listen for the string parts that stayed off the cutting room floor! and watch this space for the other track I worked on with Zahed. Thankfully studio recording is no longer quite so epoch-making; but I'm looking forward to equally productive future sessions in this collaboration.