You can't make as much marketing-type advance noise about an event as I did about my recital at Fidelio without quite a lot of people who couldn't be there asking 'how did it go?'. So here is an approximate report back.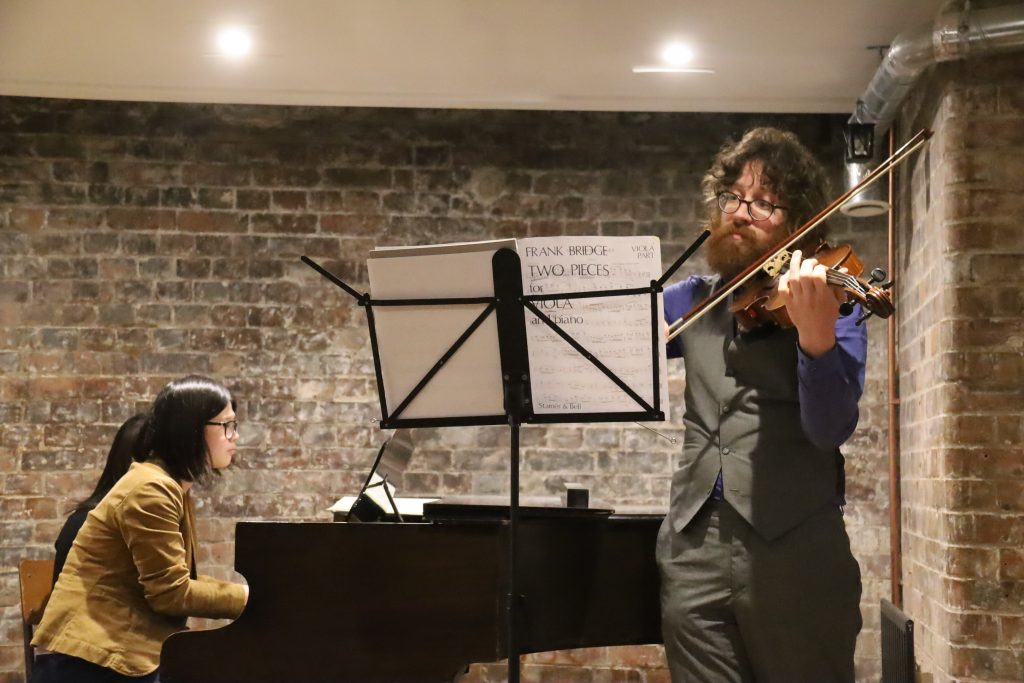 Less than a week beforehand, it was still looking like we might be playing to less than half a dozen people. I can now thankfully reveal that this was down to audiences leaving commitment to the last minute, rather than rejecting the idea altogether. While on paper we sold only just over 50% of capacity, in practice for the size room without cramming people in (and I'd much rather they were able to relax!) we had plenty of audience even after an inevitable proportion of no-shows.
Some of them were close friends, some were several degrees distant connections of connections (arguably more of a win – I hadn't been able to guilt-trip them directly! Thanks to Charlie and Frances (who will know who they are if they read this) for selling the event on my behalf). One couple, rather gratifyingly, had simply noticed the venue opening up on their walk from work route and popped in the first time it was open after Christmas!
My genuine impression is the vast majority, at least, of the audience actively enjoyed the concert – which I don't think was inevitable with a relatively 'difficult' (in many senses) programme and an entry price austerity-hit Brits don't part with on too much of a whim, even if Londoners pay it for two pints and a tiny bag of nuts without batting an eyelid on the occasions they're actually in a pub.
That can serve as counterweight to my realising, going through the audio of the concert, that I talked for at least twice as long as I'd planned to over the course of the performance and it therefore overran by something like a quarter of an hour (for what was supposed to be an hour-long event). At least my barely-prepared jabbering probably did give people a way into some of the less accessible music …
Besides talking less, my other resolution (already starting to be enacted) from the recordings is to spend more time on scales, position changing exercises and generally accuracy and reliability of tuning in so far as receding chronic fatigue syndrome allows me to actually practise beyond the demands of playing the notes of imminently upcoming jobs at all. Call it a belated new year's resolution for 2020 (but hopefully a durable one).
So you're not going to get extended opportunities to examine my playing at leisure through the medium of recording. But, in celebration of my public début as an art music composer (!) going off without disaster and even with some people saying it was their favourite piece of the programme (this may say more about the other choices, especially for non classical music buffs … ), here are undeniably committed versions of the bookending movements of my sonata. Sheet music available on request!